Advertisement

What will it take for Virginia GOP Chair John Anti-Semitic "Joke" Dude Whitbeck to finally move against his party's Central Committee member, Fredy Burgos? If you've been reading this blog regularly, you certainly know who Burgos is, but if you need a refresher, check out: VA GOP Central Committee Member Claims Long-Time Activist Resigned Due to "his cultural Marxist point of view"; Leading VA Conservative Blog Calls Out "Disgusting," Reprehensible" "Bigotry on [VA GOP] State Central" Committee (note that this same guy, Burgos, who called Islam a "death cult organized by Satan," topped that one with a white supremacist rant about how the "idea that white people, instead of birthing white babies, should interracial marry or adopt non-white children" is a "cancer", and "must be cut out."); and "Anti-Semitic VA GOP Chair John Whitbeck Scolds Republican State Committee Member for Religious Bigotry." 
And now, for Fredy Burgos' latest, check out the following tweets…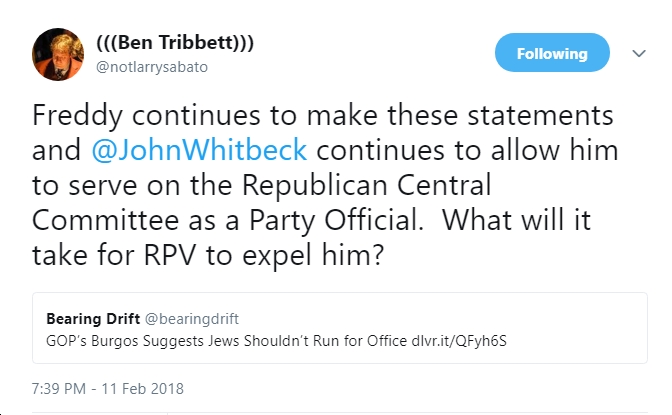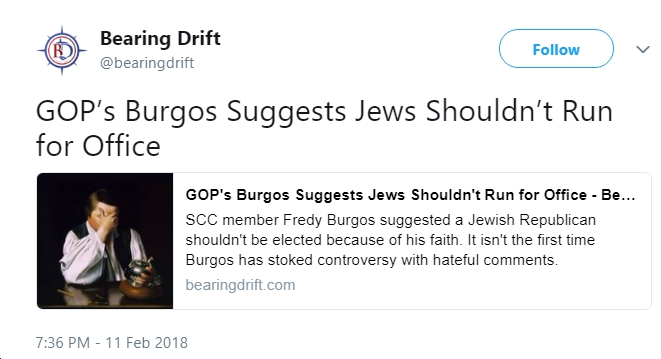 That's right; according to Virginia Republican blog Bearing Drift, "Burgos took to Facebook in support of a religious test for party office, attacking one candidate for his Jewish faith as part of what Burgos called a 'duty' to oppose non-Christians running for office." Burgos proceeded to justify his opposition to the candidacy of a Jewish man, Mike Ginsberg, for Fairfax County Republican Committee Chair, as follows: "Having a preference for Christians over non-Christians as political leaders is not bigoted."
Yeah, seriously. So…the question is, will THIS finally push the Virginia GOP to oust Burgos from the party's State Central Committee? Of course, that would require action by the Virginia GOP's Chair, and that guy – John Whitbeck – has his own, er, "issues" with anti-Semitism. See, for instance, the following video of the anti-Semitic "joke" Whitbeck told during a Ken Cuccinelli rally back in 2013. As Cooch himself always likes to say, "you can't make this stuff up." And no, I wouldn't recommend holding your breath for action from Whitbeck, who in addition to his odd sense of humor, also has loyally defended the Bigot-in-Chief and the homophobic, Islamophobic Vice President as well. That, ladies and gentlemen, is today's Republican Party – an ugly, ugly, picture.
There's no paywall on Blue Virginia, and we definitely want to keep it that way! If you want to help support our work, you can donate here - thanks!
Also, you can
sign up for our weekly email list here
.