Advertisement

See below for some photos and video from Tim Kaine's 2018 kickoff tour this week (this morning in Alexandria). Note the positive, forward-thinking, inclusive energy that Sen. Kaine brings with him everywhere he goes? Now contrast that with the "vicious," "brutal" campaign of 2018 Virginia GOP frontrunner Corey Stewart, which involves (among other things) demonizing immigrants, attacking Tim Kaine's family, playing to the most extreme elements of his party's "base" (e.g., white nationalists), etc. It's truly a striking difference between where the Virginia GOP's at these days vs. where Tim Kaine's Virginia Democratic Party is at. Which is why we need Tim Kaine to not just win this November, but win YUGE. Let's do it!
I think people really like this @timkaine guy. pic.twitter.com/r8toE8kGoh

— Ian Sams (@IanSams) April 7, 2018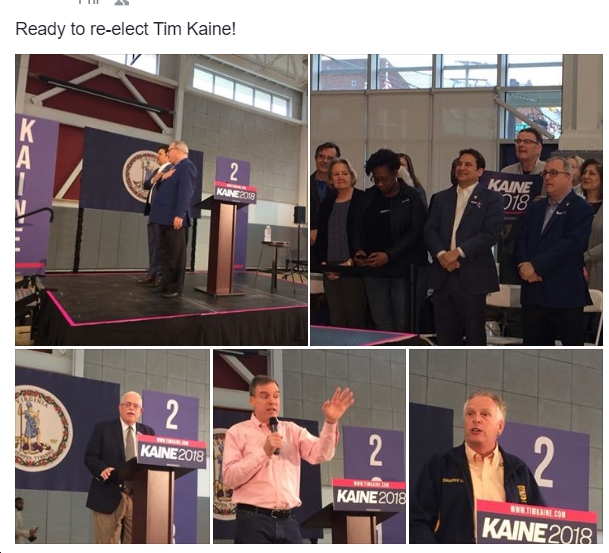 Day 5 of my campaign kickoff in the books – from Loudoun to Fairfax, Prince William, and the Northern Neck. Virginia has grown because we've embraced the future: education, infrastructure, immigration, inclusion, innovation. We could use more of all that these days. pic.twitter.com/BqcQQi0nko

— Tim Kaine (@timkaine) April 7, 2018
if you're not following @timkaine on instagram, you're truly missing out – bitmojis, harmonica, polls, selfies, boomerangs – once you pop, the fun don't stop ↪️ https://t.co/UzTtv3Y9sx pic.twitter.com/M1VZUHjLQK

— jessalyn reid (@jessalynsays) April 5, 2018
Just toured IKEA's Danville manufacturing plant. Asked if the tariffs worry them. They're ok for now, but because they import a lot of raw materials, they're concerned about what's to come. We have to stop this rash policy before it hurts even more U.S. businesses and workers. pic.twitter.com/f5fNO67ky1

— Tim Kaine (@timkaine) April 5, 2018
Glad to join so many in Burke this afternoon for Senator @TimKaine's office opening off of Ox Rd.

We can't take this race for granted, folks. Let's all do what we can to send Senator Kaine back to Congress to work on our behalf! pic.twitter.com/fFyuC9HD39

— Dave Marsden (@SenDaveMarsden) April 6, 2018
Back home in Richmond to hit the hay but we closed out our 16-hour day really strong: with a rally in my wife Anne's native Roanoke. I laid out my vision for a Virginia that works for all, with no region left out or behind.

Next up: Southside & Lynchburg! https://t.co/sZuqLsHBQ0 pic.twitter.com/uafFpjFtZF

— Tim Kaine (@timkaine) April 5, 2018
When @timkaine comes to town, don't expect some politician to just talk AT you.

Expect him to listen. pic.twitter.com/SyIqA8IAfX

— Ian McNally (@ianmcnally) April 5, 2018
Packed house of 400 in Blacksburg for @timkaine event on gun violence, just steps away from Virginia Tech's campus, where 11 yrs ago April 16 we saw what was then the worst mass shooting in US history. "We need universal background checks and to ban assault weapons," Kaine says. pic.twitter.com/Z8xjd3ldrD

— Ian Sams (@IanSams) April 4, 2018
We can improve health care in Southwest Virginia by:

1️⃣ Expanding Medicaid
2️⃣ Passing my public option plan "Medicare X" so all can have access to insurance
3️⃣ Making VA addiction-free by 2030

Talking with health care experts in Abingdon as my campaign launch rolls on. pic.twitter.com/cyuwYjCtpa

— Tim Kaine (@timkaine) April 4, 2018
Had a blast introducing dear friend Senator @timkaine at a high-energy Kaine 2018 rally in Newport News! Let's re-elect this great public servant in November! #VA4ALL #TK4VA #WeRiseTogether pic.twitter.com/20mb56gorW

— Justin Fairfax (@FairfaxJustin) April 4, 2018
Today only got better—met 100+ @_HamptonU students for a Q&A and closed out with a Newport News rally with @FairfaxJustin & some fired-up Virginians! Day 2 of our Virginia For All launch tour in the books.

Next up: Big Stone Gap, Abingdon, Bristol, Blacksburg & Roanoke tomorrow! pic.twitter.com/E8MC8cDKjQ

— Tim Kaine (@timkaine) April 4, 2018
Day 2 of @timkaine epic re-election launch. Norfolk with @BobbyScott @RalphNortham Portsmouth with @SenLouiseLucas Hampton with @_HamptonU students and Newport News with @FairfaxJustin @PriceForDel95 @MayorPriceForNN @SenatorLocke @Joni721. #VA4all pic.twitter.com/5UdnVoll6h

— Keren Dongo (@KDongo) April 4, 2018
Great day so far in Virginia Beach and Norfolk—roundtable conversation with veterans and military families, then a rally with so many friends. It's great to be barnstorming Virginia again. Next up: Portsmouth, Hampton U, and Newport News! pic.twitter.com/bkl8CUB88G

— Tim Kaine (@timkaine) April 3, 2018
There's no paywall on Blue Virginia, and we definitely want to keep it that way! If you want to help support our work, you can donate here - thanks!
Also, you can
sign up for our weekly email list here
.