Over at the Amazon/Bezos/Washington Post, they apparently decided to go all "click bait" on the story of right-wing Republican Del. Greg Habeeb announcing he's leaving the Virginia House of Delegates. Thus, according to the Post, Habeeb "is resigning his seat representing an area near Roanoke, potentially jeopardizing the GOP's delicate 51-49 advantage in the House of Delegates." Finally, if you make it down to paragraph #6, you get this:
A special election to replace Habeeb offers a chance for Democrats to gain the seat and achieve parity with Republicans, but the district will be a tough one for them to win. The 8th House of Delegates district — which consists of the city of Salem, Craig County and parts of Roanoke and Montgomery counties — is reliably Republican.
Got that? Dems have a "chance…to gain the seat," even though the district is "reliably Republican." How "reliably Republican" are we talking about? A minute or so on VPAP will give us the answer.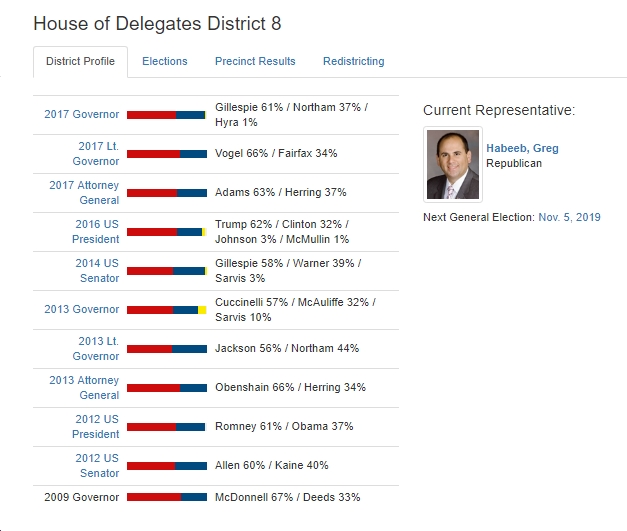 So…yeah, this is a district – located west of Roanoke (see map, below) – that Trump won by 30 points; that freaking' E.W. Jackson won by 12 points; that Jill Vogel won last year by 32 points; that Ed Gillespie won by 24 points…in a "blue wave" gubernatorial election year, no less.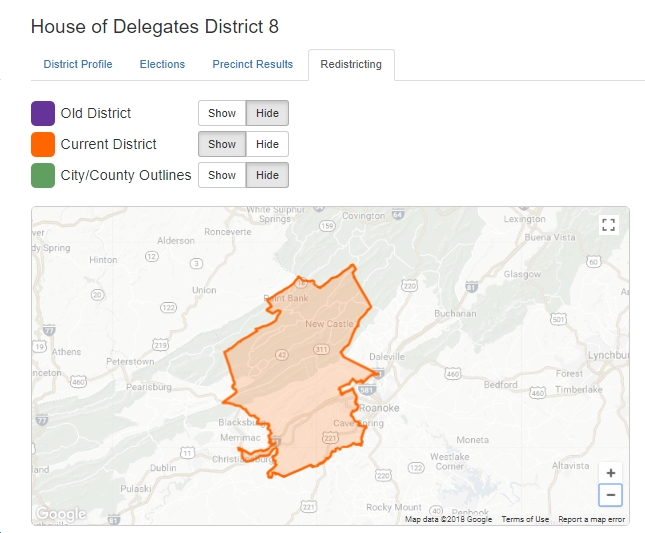 Also note that this rural district's demographic profile is 92% white, 5% African American and just 2% Latino. So basically…this is Trump country epitomized.
But what if this special election is on November 6, 2018, the same day as Congressional elections? Might that not help a bit? Hard to see how, given that Rep. Morgan Griffith (R-VA09) – who used to represent this district in the House of Delegates – will be on the ballot, presumably racking up huge margins in HD08.
So what should Democrats do here? I mean, I'm all for competing every seat – and of course we'll need a serious, strong candidate, while hoping that the Republicans go with an unqualified nutjob – but let's not fall for corporate media clickbait and think that Habeeb's resignation actually does significantly "[raise] chance of a power shift," as the WaPo headline blares. Our much, MUCH better chance of taking back the House of Delegates – and the State Senate – will come NEXT year, when every single seat will be up for grabs, and when it's quite possible that Trump's approval ratings will be the same or even lower than they currently are. Let's stay focused.