Advertisement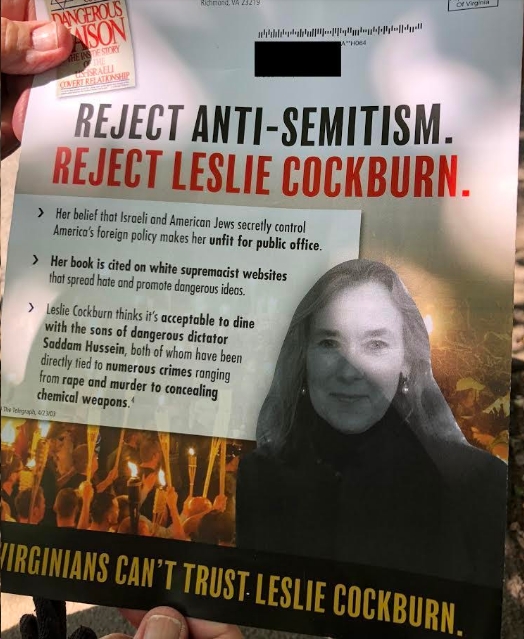 From the Leslie Cockburn for Congress (VA-05) campaign. Note that I heard about this mailer yesterday, but still haven't seen it. I'll post it if I get an image…but for now, I can just imagine what the Virginia Republicans are up to (hint: it can't be good, that's for sure).
UPDATE: I now have a photo of the mailer (see to the FAR right) and it's as disgusting as I expected from Virginia Republicans. Just vote every one of them out of office. By the way, this type of tactic reminds me of what Karl Rove et al did to John McCain in South Carolina, with the false/racist smear campaign against him. Sadly, it worked. Let's make sure THIS one does NOT work.

VIRGINIA'S CLERGY SPEAK OUT AGAINST GOP MAILER
WARRENTON, VA – Outraged clergy across Virginia's 5th district are speaking out today to denounce the Republican Party of Virginia for their abhorrent use of the Charlottesville Unite the Right rally to falsely attack VA-05 congressional candidate Leslie Cockburn in a mailer sent to voters.
Leslie has spent 35 years giving a voice to the voiceless, that is why so many clergy across Virginia's 5th stand with Leslie today. In Congress, Leslie will stand up against bigotry and hatred in all its forms. Leslie's strong support of the Jewish community and Israel is clear and Leslie is committed to protecting Israel's security both militarily and financially. That is why she has been endorsed by one of the largest pro- Israel advocacy groups – J Street PAC.
Clergy members across the 5th district denounced the Virginia Republican Party for the abhorrent use of August 12th in this anti-Leslie Cockburn mailer.
"The citizens of Virginia's Fifth Congressional District deserve far better than the gutter tactics currently employed by the Virginia Republican Party.  We deserve candidates who will care about and address the issues we care about. We deserve candidates who will engage one another and us in open, honest, and civil discourse so that we will be able to become knowledgeable about their views and vote for the candidates whose values match our own.  It is deeply dismaying to see Virginia's Republican Party follow the debased example of the current occupant of the White House by engaging in ad hominem attacks and appeals to fear. Leslie Cockburn stands against all of that and that is why I enthusiastically stand with her." — Rabbi Daniel Alexander, Rabbi Emeritus, Congregation Beth Israel, Charlottesville, VA 
"This is not the Leslie that I know. I condemn the Virginia Republican Party for their fanning the flames of hatred and bigotry in our communities. I endorse Leslie Cockburn because she stands for equality and justice, and will make sure all of us have a voice in Washington." — Reverend Frank D. Lewis Sr., Pastor Antioch Baptist Church, Madison, VA
"As an African American member of the Clergy, I find it appalling that members of the Republican Party expect me to not be offended by invoking the Charlottesville tragedy to play politics. My people were enslaved, discriminated against and deprived of our Constitutional rights by those claiming a "white supremacy" and playing politics with this hateful ideology is shameful." — Reverend Thomas Motley, Elba Missionary Baptist Church, Danville, VA
"I know Leslie to be a person of faith who deeply values the fundamental equality of all people, regardless of race, nationality, faith, wealth, or sexual orientation. She will work against white supremacy and any other expressions of racism in our society to foster racial harmony and cooperation." — Swami Dayananda, LOTUS Center for All Faiths, Yogaville, VA
"Let he who is without sin cast the first stone. It is shameful that Republicans, the same Republicans who papered our communities with vitriolic and venomous anti-Jewish flyers during the Christmas season are now, in desperation, willing to throw anti-Jewish and anti-Israel sentiments into Leslie Cockburn's run for Congress based on political assessments made in a book co-authored with her husband in 1991. Those voting in the 5th District should focus on all she will do for her constituents, and all the positive things she will bring to the table, and not be blinded by misguided hatred." — Rabbi Rose Jacob, Syria, VA
"As a person of faith, I find it immoral to exploit a horrific moment of white supremacy as a means to discredit such an honorable candidate for public office." — Reverend Doctor Susan A. Minasian, Sojourners United Church, Charlottesville, VA
"Leslie has visited with my congregation several times and I have found her to be an honorable and intelligent person who will represent everyone fairly. It amazes me that the Virginia Republicans would create this false narrative to further their agenda." — Pastor Paul Wilson, Union Hill / Grove Baptist Church, Buckingham, VA
There's no paywall on Blue Virginia, and we definitely want to keep it that way! If you want to help support our work, you can donate here - thanks!
Also, you can
sign up for our weekly email list here
.