From the Jennifer Wexton for Congress (VA-10) campaign:
Comstock Tries To Pass Off Fundraisers As "GOTV Events"
LEESBURG – Anyone who has spent time around a political campaign knows the telltale signs of a get-out-the-vote event. People wearing walking shoes and warm, casual clothing adorned with stickers and pins supporting their candidate gather together to pick up clipboards and campaign literature and perhaps hear a speech from the candidate or their surrogates. Something like this.
This week the Wexton campaign noticed that VA-10 Barbara Comstock has recently taken to posting pictures of what she labels "GOTV events" which have a decidedly different look. People wearing fancy clothes in large houses at night, holding beverages. The kind of thing most campaign veterans associate with high-dollar fundraisers.
Take a look and judge for yourself: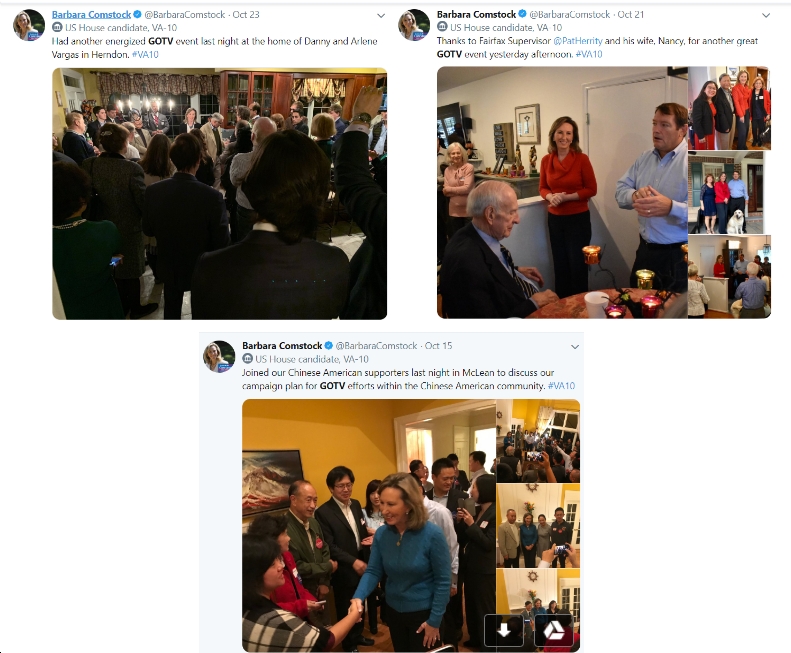 That Comstock feels the need to fake voter turnout events suggest that her campaign has seen less enthusiasm and engagement than it wants to project. Comstock's "lead" is also apparently evaporating in leaked bogus internal polls that suspiciously conceal their methodology and crosstabs.
The Wexton campaign has noticed a marked increase in volunteer energy, which tracks with recent trends in grassroots fundraising and polling favoring Jennifer. We do not have to fake rallies or canvass launches.