It's not a complicated concept or a difficult one to understand: if you keep pumping poison into the environment, whether it's greenhouse gases into the atmosphere or toxic political rhetoric onto social media, radio, TV, etc., it's inevitably not going to end well.
In the former case, it means the strong possibility of turning our planet – the only one we've got – into a hellhole over the next few decades. In the latter case, while of course it's not possible to DIRECTLY connect political violence with violent political rhetoric, it doesn't take a rocket scientist to figure out that if you keep leading chants of "lock her up"; if you keep talking about liberals, progressives and Democrats as destroying America or whatever, then it's going to lead at least a few less-than-stable people to take action.
This morning, for instance, we have bombs sent to former President Barack Obama and 2016 Democratic presidential nominee (and popular vote winner) Hillary Clinton, both of whom have been relentlessly demonized and dehumanized for years by the right-wing noise machine (Rush Limbaugh, Sean Hannity, Laura Ingraham, Mark Levin, etc.), not to mention by far-right politicians like Donald Trump, Corey Stewart, etc. We also had a bomb threat to CNN this morning, which again follows years of demonization by right wingers (including, first and foremost, Donald Trump) of the "liberal media." Finally, just this week (on Monday), there was a bomb sent to the home of George Soros, a liberal philanthropist who is almost constantly depicted as evil incarnate by the far right (e.g., Corey Stewart).
See below for what I'm referring to, as well some reactions by Virginia politicians and also some other highly revealing screen shots (e.g., Dave Brat cozying up to some of the same far-right forces who are leading the dangerous demonization). The answer to this is not only political – it's also a matter of changing the culture for the better, for instance – but for starters make absolutely sure that you vote – and that you remind everyone you know to vote – straight Democratic, up and down the ballot, on November 6.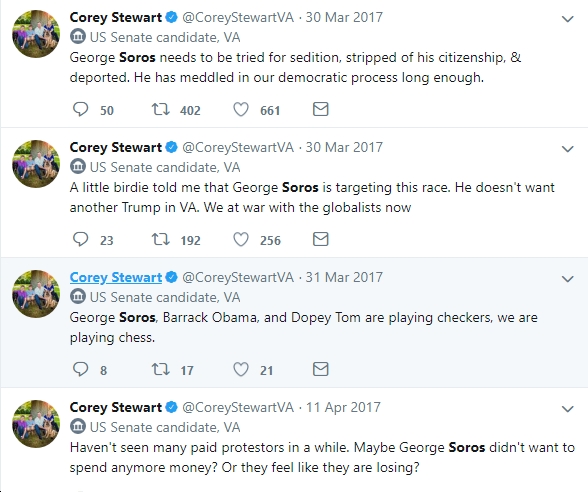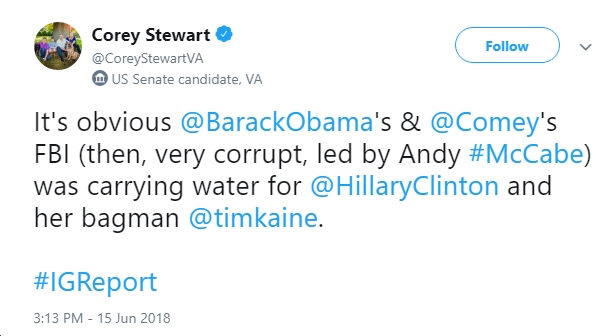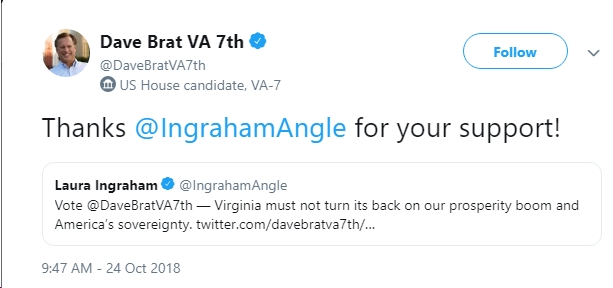 >