From the Vangie Williams for Congress (VA-01) campaign:
Vangie Williams: Rob Wittman Must Denounce Political Vandalism NOW
Fredericksburg, Va. – The latest act of political vandalism in the 1st Congressional District occurred last night in Prince William County at the intersection of Prince William Parkway and Old Bridge Road where a 4' x 8' Vangie Williams sign, featuring Williams' face, was slashed apart with a sharp object. Remnants of the sign remained attached to the post.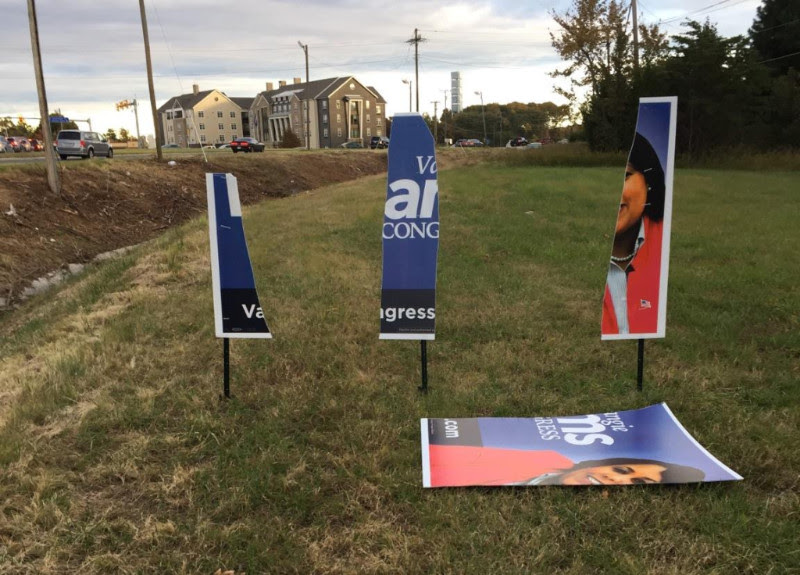 "This sign is on private property and merely expresses the support of the property owner for Vangie," said Joel Leonard, Williams' campaign manager. "This goes way, way beyond typical vandalism. This is a violation of the sign owner's property rights and also constitutes trespassing. And the fact that Rob Wittman has yet to condemn this ongoing trend is shameful."
The Williams campaign recently listed five localities in which vandalism of campaign signs has been an ongoing issue.
"I am calling on Rob Wittman to immediately denounce this kind of behavior and join me in calling for the perpetrators to be brought to justice," said Vangie Williams.
"I don't want the vote of anyone who destroys a Wittman for Congress sign thinking that it helps my campaign. It does exactly the opposite – it demeans our democracy. I would hope that Rob Wittman would feel the same way, but he's remained oddly silent as if he approves of this kind of behavior.
"The congressman's silence only proves what I have been saying throughout the campaign – we deserve better."
Vangie Williams is a public servant and strategic planner who solves problems for our federal government. A real-world professional with 30 years of experience, Vangie is not a career politician who will put corporate interests above people. She is committed to an economy for everyone, healthy families and investing in our communities. Learn more about her vision to put people first at www.vangieforcongress.com.