Here are some reactions to Amazon's HQ2 Crystal City announcement. I'll keep adding new ones as I see them….
Sen. Tim Kaine:
KAINE STATEMENT ON AMAZON HQ2 ANNOUNCEMENT
WASHINGTON, D.C. – Today, U.S. Senator Tim Kaine released the following statement after Amazon announced that half of its new headquarters will be based in Arlington, Virginia:
"I'm thrilled that our skilled workforce helped persuade Amazon to bring a major new headquarters and its tens of thousands of jobs to Virginia. Congratulations are in order to Governors McAuliffe and Northam and the local leaders who worked to ensure that this deal includes investments in our education and transportation infrastructure." 
While serving as Governor of Virginia, Kaine focused on job training and education and by the end of his term leading publications ranked Virginia the best state to raise a child and the Best State for Business. Kaine has been a vocal advocate for Amazon bringing HQ2 to Virginia.
Sen. Mark Warner:
STATEMENT OF U.S. SEN. MARK R. WARNER
~ On Amazon HQ2 Announcement ~ 
WASHINGTON – U.S. Sen. Mark R. Warner (D-VA) issued the following statement after Amazon selected Crystal City in Virginia as one of two sites for their second headquarters: 
"As a former Governor, now Senator, but also as a former technology executive, I'm really excited about the potential Amazon offers not only to Northern Virginia but the whole capital region and the entire Commonwealth. We've seen that major investments like these can bring not only thousands of direct jobs but also lead to job growth in other industries. As we welcome Amazon's new investment in Virginia, we must commit to implementing this announcement in a way that will benefit the whole region and all of the Commonwealth."
Rep. Don Beyer:
Beyer Statement on Amazon HQ2
November 13, 2018 (Washington, D.C.) – Congressman Don Beyer released the following statement today on the announcement that Amazon will move half of its HQ2 campus to Arlington County, Virginia:
"Amazon's announcement that it will bring half of its HQ2 to Arlington is a validation of a generation's worth of work to make northern Virginia an economic engine of the nation.
"The Northern Virginia of my youth was a bedroom suburb of the nation's capital.  The Northern Virginia of today is an economic and cultural dynamo, on the leading edge of the technology revolution that is bettering lives around the world. This transformation involved leadership by all sectors — business, higher education, government, and community.
"Based on my conversations with Amazon and state officials, I am excited to welcome Amazon to Virginia's 8th — already one of the nation's most iconic and most educated congressional districts. This is a district that is steeped in history, including George Washington's home and the final resting place for hundreds of thousands of patriots. It is now also the place where the future is coming to life. The infusion of jobs, the diversification of our tax base, the Commonwealth's dramatic expansion of computer science training in Virginia colleges and universities, starting with a new Virginia Tech graduate campus in Alexandria: these are some of the tangible gains of this victory. I am also eager to learn more and to work together as a state and region to confront the challenges this will inevitably bring to affordable housing and transportation.
"The people who have worked hard to attract Amazon to our community have been involved in this endeavor for months. Most of our citizens are just learning the details today. Now it is their turn to ask questions and to understand the implications for our region. These questions, and maybe even some serious concerns, are entirely legitimate.  I intend to take the lead in making sure that good questions get equally good answers and that all voices are heard.
"We all know that success presents its own challenges:
Ensuring that all members of the community share in prosperity;

Ensuring that transportation infrastructure connects these next generation jobs without punishing commutes;

Ensuring that the quality of life — parks and open spaces, safe neighborhoods, well-educated children — keeps pace with rising wealth.
"Everything in my career — in the private sector and as a Virginia public official — has taught me that communities rise and fall together.  The infusion of jobs and investment that Amazon will bring to the region will benefit many people who will never collect an Amazon paycheck.
"Congratulations to Governor Northam, and all my fellow Virginians, for winning a robust national competition. And congratulations to Amazon for selecting a very special community and region, ripe with diversity and promise."
Congresswoman-Elect Jennifer Wexton's Statement on Amazon HQ2
"This historic move by Amazon to bring half of its HQ2 to Virginia will yield good-paying, sustainable jobs that will allow Northern Virginia's economy to compete globally for decades to come. I'm glad Amazon recognizes that Northern Virginia is a top location to raise a family and grow a business.
However, I share the concerns of my constituents regarding whether we have the necessary infrastructure, including roads, transit, schools and affordable housing, to properly welcome Amazon to our region. I look forward to working with Amazon now and in the future, and call upon them to be a responsible corporate citizen, to ensure that the quality of life of their future employees and current northern Virginia residents is not adversely impacted by this move."
Del. Marcus Simon
During the last several recessions local governments got creamed when Real Estate values plummeted and during almost a decade of Federal austerity and sequestration budgets we all talked about the need to diversify the local economy to make us less vulnerable and less dependent on a single economic driver. I fully expect lots of folks to slam the incentives and inducements it will have taken to lure Amazon here. The economy is already good, they will say. We don't need more economic activity. This is corporate welfare. The money could be better spent on Schools and Roads.
That all may be true to a degree. But I've sat in the room where decisions were made about what to cut and by how much and how big to let class sizes get when the money wasn't there for local budgets because real estate values were falling or were flat while enrollment and demand for services grew. There is only so much you can gain through more "efficiency"
I'll wait to see the details emerge, and I think it's very important to ask questions about big incentive packages, but I think we need to ask smart questions and remember that this isn't about luring one company one time, but part of a larger effort to rebrand and remake our local economy so we are more than just a bedroom community of the Federal Gov't.
Could we be that without Amazon? Maybe, but let's reserve judgment and be wary of Hot Takes that we've all been had.
Del. Mark Keam:
I think the initial reaction for most Virginians is positive, and I would agree that landing Amazon HQ2 in Northern Virginia is good news.
Having spent two decades in the tech industry, I welcome the opportunity to solidify Virginia's reputation as a national and global leader in innovation and in being able to create thousands of new high-skilled jobs of the future.
And locating this in Crystal City will be a much-needed economic boost to the southeastern portion of Fairfax County and the Historic U.S. Route 1 Corridor along Richmond Highway.
However, I do have some concerns about what it could do to the already-exorbitant cost and availability of affordable housing, not only for the new Amazon workers, but for others who are already struggling to make ends meet in our community.
I'm also concerned about our ability to absorb the additional traffic and congestion in an overly-burdened public transportation system, and roads that were not designed for so many cars.
I'm sure that the smart people in Virginia and Seattle who negotiated this deal have a good plan for handling all the many changes to come.
I do want to hear from Virginians who will be most directly impacted by the growth, and I hope folks will let us know how things go over the coming months and years.
Final point.
When we were first married 20 years ago, my wife and I lived in an apartment on Jefferson Davis Highway in Crystal City, which always bothered me when I had to write our address.
Now that Crystal City will be home to a young and diverse group of 21st Century workers, I hope that Arlington County will seek to change the name of that road, like the City of Alexandria has already decided to for the portion that's within the city's limits.
Under the Dillon Rule, a name change within county limits will need the Virginia General Assembly approval, and I will be happy to vote for it.
PW County School Board Chair Babur Lateef
We need a school system that will produce students capable of innovation, discovery, and good citizenship.
I am excited to see the Amazon will pick Northern Virginia for their headquarters. Our terrific schools have played a part in their decision. Let's keep it going and make our schools even better and attract others to our area!!
With Amazon's decision to move part of HQ2 to NOVA, it is all the more urgent that we have reps who are willing to invest in our infrastructure, schools, and affordable housing.
From Alexandria Mayor Allison Silberberg
I am proud to share this news. We in Alexandria could not be more excited and proud for Amazon to call National Landing home. Throughout this process, we have worked with our colleagues in Arlington to highlight the collective strengths of our communities – our workforce, education, infrastructure and our unparalleled quality of life – all of which will be strengthened by this new investment from Amazon, the Commonwealth and our localities. Alexandria is an exceptional place to live and work, and we welcome partners who are committed to our continued growth and prosperity. We are thrilled to be able to partner with Virginia Tech as they deliver a world-class innovation campus in Alexandria's portion of National Landing.
This is a game changer for us and Virginia Tech and our region.
Amazon will invest approximately $2.5 billion to establish a new headquarters in National Landing, which will create more than 25,000 high paying jobs and occupy 4 million square feet of energy-efficient office space with the opportunity to expand to 8 million square feet over the next 12 years. The National Landing site, one of the National Capital Region's most accessible mixed-use communities, sits in the heart of an area recognized for having the most highly-educated workforce in the nation and is home to a growing number of companies and agencies contributing to the metro area's reputation as a technology hub of the East Coast. National Landing, as the name suggests, is situated adjacent to Reagan National Airport and across the Potomac River from Washington, D.C. My personal thanks to Governor Ralph Northam and his outstanding team for their strong leadership. And my thanks to City Manager Mark Jinks, Alexandria Economic Development Partnership CEO Stephanie Landrum, and our city staff as well as my colleagues on the City Council for the team effort.
Alexandria Mayor-Elect Justin Wilson
Diversifying our economy to ensure the vitality of this region in the future is critical to protect our quality of life.
The attraction of Amazon.com with the creation of a Virginia Tech Innovation Campus in our City will become a cornerstone of our economy.
Arlington County Board Chair Katie Cristol
Fellow Arlingtonians, today is a big day. I know our community members have many questions about what Amazon's decision means for the future of our community, and I'm really looking forward to our public conversation ahead. 
You can read about many of the details of our local plans – and excitingly, new state partnerships – for our transportation infrastructure and affordable housing, as well as the new financial resources we anticipate for our public schools and other community priorities, at https://www.arlingtonva.us/…. 
Tonight at 6:30 pm, I'll be hosting, along with County Manager Mark Schwartz, a "virtual town hall" to answer initial questions (the first of a series; more details on the website). 
This is only the beginning of our public discussions. I believe that Amazon chose Crystal City because of Arlington's values, like sustainability, diversity and great public spaces, and because of our long-run vision for the neighborhood and our County. Those plans and values are the result of citizens' contributions and hard work, and your engagement is more important than ever in the months ahead.
SD-35 Democratic candidate Yasmine Taeb
Amazon has decided that our community will serve their needs. We need to decide if Amazon will serve our community's needs. Given Amazon's disappointing track record on unions, wages, and worker safety, we cannot simply trust them to be good neighbors — rather, we need a strong community-minded force at the negotiation table. And at the end of the day, we need to decide if $600 million in taxpayer money is best spent on this or on other priorities.
Del. Patrick Hope (D-Arlington)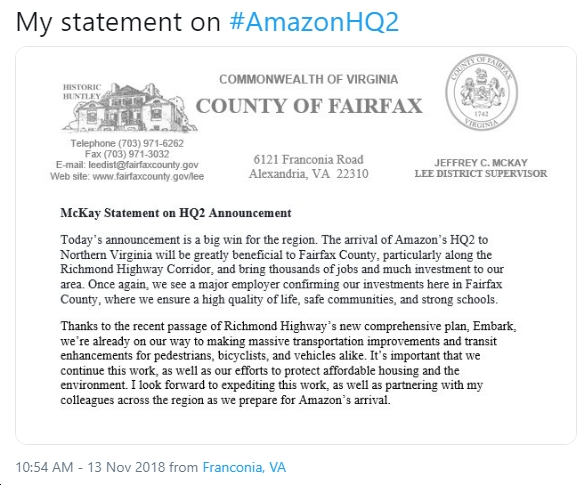 State Sen. Barbara Favola, along with State Sen. Adam Ebbin, Gov. Ralph Northam and Lt. Governor Justin Fairfax