Video of the debate and vote to follow, but for now let me just say a few things. First, that Martin Luther King, Jr. was a fighter for, among other things, workers' rights – including fair/living wages. Second, that Senate Republicans today, after spewing out discredited and fallacious talking points (e.g., note that there have been many studies – for instance see The Effects of Minimum Wages on Employment by the Federal Reserve Bank of SF – that have shown higher minimum wages have a positive net impact overall) about the supposed horrors of a higher minimum wage, voted on a party line to go directly against what MLK, Jr. would have wanted. And third, that Republicans SHOULD be ashamed of themselves, but of course they won't be. So finally, let's all remember this in November and vote these corporate tools out of office.
P.S. The bill the Republicans killed is here – "Increases the minimum wage from its current federally mandated level of $7.25 per hour to $10 per hour effective July 1, 2019, to $13 per hour effective July 1, 2020, and to $15 per hour effective July 1, 2021, unless a higher minimum wage is required by the federal Fair Labor Standards Act (FLSA). The measure also provides that the Virginia minimum wage applies to persons whose employment is covered by the FLSA and to persons employed by the Commonwealth, its agencies or political subdivisions, or a public body."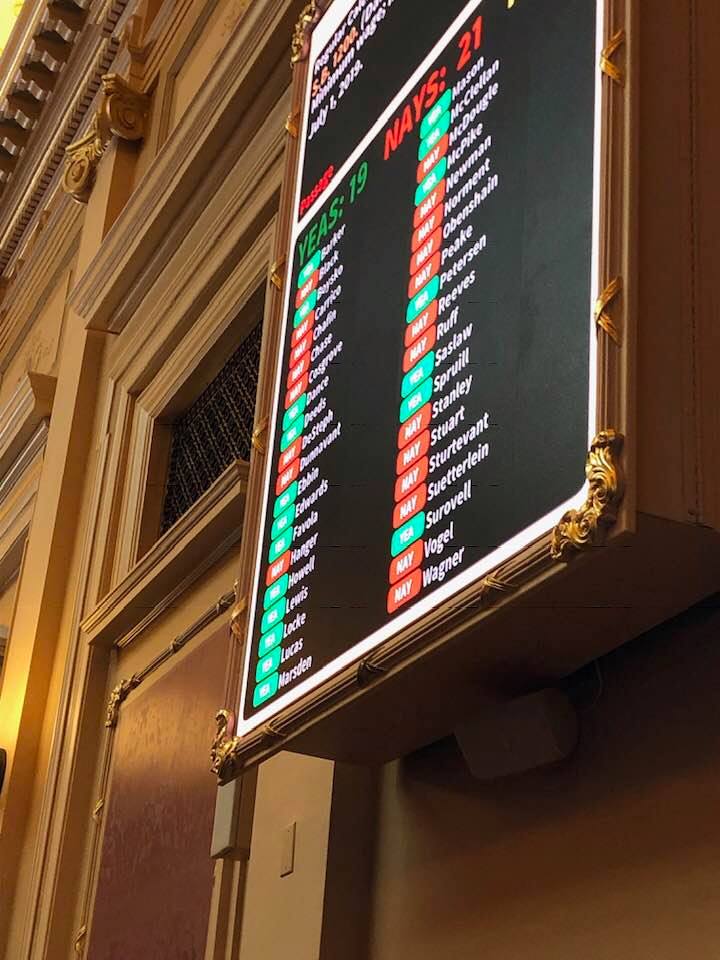 From Progress Virginia:
Virginia For All Of Us Campaign Condemns Senators Dunnavant and Sturtevant for Voting Against Raising the Minimum Wage
Richmond, Virginia—On Monday afternoon, the state Senate voted down Senator Rosalyn Dance's SB1200, a bill that would have raised the minimum wage to $15 per hour. Senators Siobhan Dunnavant and Glenn Sturtevant both put special interests ahead of their constituents and voted against the bill. The Virginia for All of Us Campaign believes that hardworking Virginia families deserve a raise and are disappointed that Senator Dunnavant and Senator Sturtevant refuse to stand up for them, choosing instead to vote in support of corporate special interests.
"Senator Dunnavant and Senator Sturtevant are playing games with people's lives," Anna Scholl, Executive Director of Progress Virginia said. "People in our community work hard and deserve to make a wage that allows them to raise their families with dignity. No one should have choose between putting food on the table and keeping the lights on, but that's the reality for many families when the wage is only $7.25 an hour. We need to raise the minimum wage to $15 so that families in our community can feel financially secure."
"Everyone deserves the opportunity to work hard and thrive in our communities. But right now people are working hard, but have no opportunity to get ahead because no matter how many hours they work, they can never earn enough money to pay for everything they need," David Broder, President of SEIU Virginia 512, said Monday. "The minimum wage hasn't been raised since 2009 and it's well past time for Virginians to get a raise. It's shameful that Senator Dunnavant and Senator Sturtevant put corporate special interests ahead of the families they supposedly represent."
"When working families have more money, not only are they able to breathe a sigh of relief knowing that the work they do will actually allow them to pay their bills, but they spend more money at local businesses and boost our economy," Tram Nguyen, Co-Executive Director of New Virginia Majority said. "Republicans need to vote for legislation that supports the families that elected them, not a wealthy minority. This vote will say a lot about who they serve. A votes against minimum wage increase will have consequences come election day this year."
Increasing the minimum wage will have wide ranging benefits for working families in Virginia. 88% of workers who will see a raise are affected workers are 20+ years old, 56% are women, and 28% are supporting children. The average minimum wage worker is 35 years old. 368,000 children would see their parents' wages rise because of an increase in the minimum wage.
The Virginia for All of Us Coalition is a statewide coalition of organizations working to make a Virginia that works for everyone, no exceptions. Member organizations include The Commonwealth Institute for Fiscal Analysis, SEIU Virginia 512, New Virginia Majority, Virginia Civic Engagement Table, Virginia Education Association, Planned Parenthood Advocates of Virginia, Chesapeake Climate Action Network, and Progress Virginia.