Advertisement

So far, there are a bunch of Democratic primaries for Virginia House of Delegates, but very few against an incumbent Democratic delegate. In fact, according to VPAP, as of yesterday the only cases of that were: Andres Felipe Jimenez vs. Del. Kaye Kory in HD38, JD Spain vs. Del. Alfonso Lopez in HD49, Sally Hudson vs. Del. David Toscano in HD57, Monique Nicole Gatling vs. Del. Jeion Ward in HD92. Well, add another one to the list, as Republican-turned-Democrat Mark Wolfe – elected three times to the Manassas City Council, twice as a Republican and most recently (in 2016) as a Democrat – has just thrown his hat in the ring in HD50 (Prince William County, Manassas City; 58% Northam district). See below for video from Wolfe's kickoff, and also a tweet from the incumbent he's challenging – "Democratic Socialist" Del. Lee Carter, who declares, "The 2019 primary season has begun," and who adds: "We've fought these last 2 years for a Virginia where everyone can live and work, free from worry about how they'll put food on the table, or pay the rent, or see a doctor. It's an uphill fight, but I'm confident the people of Manassas and Prince William want to keep fighting."
This should be a very interesting primary, with Carter clearly on the left end of the Democratic spectrum (broadly speaking) and with Wolfe more in the "center," as far as I can tell, of the Democratic Party. For instance, in the following video from his kickoff on Thursday, Wolfe emphasized the following:

He will run a positive campaign – "there will be not one negative word about any other person that comes from me or anyone else association with my campaign."
His "first and foremost driving principle" is that "everyone, regardless of color or gender or who you love or anything, everyone is absolutely equal before and under the law – period end of story."
"The second thing is that climate change is real, and it is the existential clear-and-present danger of our times; we have to address it…we've got to have a pragmatic, real-life, honest approach to solve these problems and solve them today."
"Number three gets back to me – health care. Health care needs to be made affordable and accessible for everyone….It is not enough spending more money…We need to fix and change the system, and we need again practical and pragmatic approaches to get that done so that people can be taken care of."
"And the fourth is democracy. I believe fervently that our democracy is in peril, it's under attack, and that our democracy is better served by the more people that participate in the process. Gerrymandering, whether it supports Republicans or Democrats, has got to go away…Voter suppression efforts to disenfranchise parts of our community is wrong, it should be made illegal, and it's got to stop today."
He emphasized his work on the Manassas City Council to "make education better" and "improve spending for schools." He said "we've got to work on infrastructure, and that means transit...we've got to get a leap ahead…fixing our transportation needs for the next 30, 40, 50 years…thing big." And he said we need to focus on "jobs" to "give people an opportunity to move up the economic ladder" and "create opportunities for our children."
In sum, Wolfe's kickoff speech sounds like a classic Democratic, moderately progressive perspective to me. Which is basically where I'm at, ideologically (e.g., I do *not* consider myself to be a "Democratic Socialist"). So we'll see how this one goes, but I'm definitely interested in Wolfe's candidacy and am glad that there will be a choice for Democratic voters in this and other districts. Because as far as I'm concerned, primaries are where we fight it for the direction we want our party – and ultimately our state and our country – to go. Let the best candidate, with the best ideas, win!
P.S. A Twitter account called "PWCProgressives" responded to Wolfe's announcement by tweeting, "Very upsetting @carterforva is being primaried by a LIFELONG republican who only recently became a a democrat. Who has hundreds of thousands of federal and state tax liens against him currently. This is an un-needed distraction." Also, "Truly upsetting to see true progressive candidates challenged by the establishment. What do we truly stand for?" And also information about tax liens.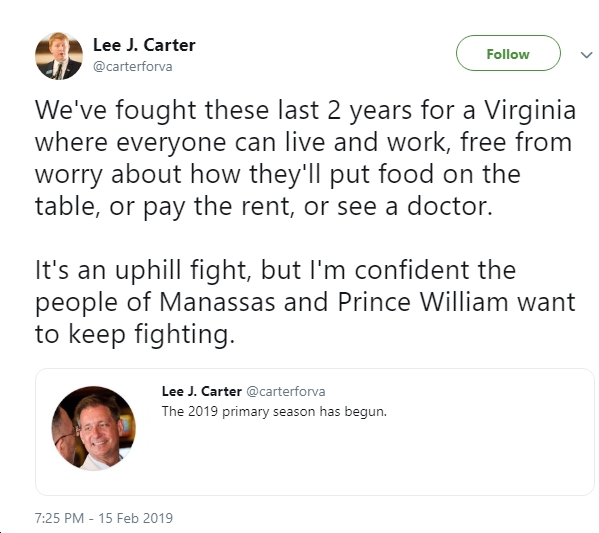 There's no paywall on Blue Virginia, and we definitely want to keep it that way! If you want to help support our work, you can donate here - thanks!
Also, you can
sign up for our weekly email list here
.