See below for photos, posted in public/shareable mode on Facebook, by opponents of the Mountain Valley Pipeline (MVP) who visited AG Mark Herring's home yesterday to demand that his office: a) issue a "stop work order" on the MVP; b) "explain publicly your staff's contradictory advice"; c) "appoint special counsel to consult with the Water Control Board without the presence of your staff or DEQ staff."
First, I'll just say that I'm not a big fan of protesting at people's private homes, even if they're public figures. The main thing is that the protest is legal, peaceful and non-threatening, which in this case it seems to have been. As to the substance of the issue, I'm convinced that Virginia has significant authority under Section 401 of the Clean Water Act, but I'm not clear what authority the AG's office specifically has with regard to issuing "stop work orders" on the Mountain Valley Pipeline and/or Atlantic Coast Pipeline – even assuming they *want* to issue "stop work orders," which I doubt they do. My view is that if the AG's office *can* issue "stop work orders," it absolutely should do so, as these pipelines are a complete debacle in every way – environmentally destructive, economically nonsensical (at best!), corrupt/rotten to their core. And obviously, under no circumstances should the AG's office be helping to facilitate the construction of these pipelines, for instance by advising citizen water or air boards to approve permits or whatever.
By the way, when I interviewed AG Herring back in December, I asked him "what other tools can/should the AG's office bring to bear. Section 401 of the Clean Water Act? Stop-work order? Stream-by-stream analysis? Other?  There are a lot of serious questions whether we even need these pipelines – I'd argue we definitely don't." AG Herring's responses to that question, and to my follow-up questions, were as follows:
"I am making sure they are all following the law, making sure they're given good advice about the limits and extent of their authority, and when there are permit violations or violations of environmental standards as we've seen recently with the lawsuit I've brought in the Mountain Valley Pipeline, that I won't hesitate to go after the developers, hold their feet to the fire, and make sure they're in compliance…Our office gets involved when information about violations are referred to us from the Department of Environmental Quality…I will say we are stepping up that type of enforcement…I think you'll see more of that in the future as there are violations that are referred to us, we're going to continue to step that up…We're enforcement, so when the Department feels like they've done everything they can do with stop-work orders or negotiating consent orders and things like that, then it's referred to us and they're starting to do that, which is good…[Approving/disapproving/setting conditions on pipelines constructed in Virginia] would fall under the purview either of the Water Board, Air Board or DEQ."
With that, here are the photos from yesterday's visit by pipeline opponents to AG Mark Herring's house.
P.S. Also see State board's vote in Mountain Valley Pipeline's favor raises questions for opponents.
Marilyn Karp: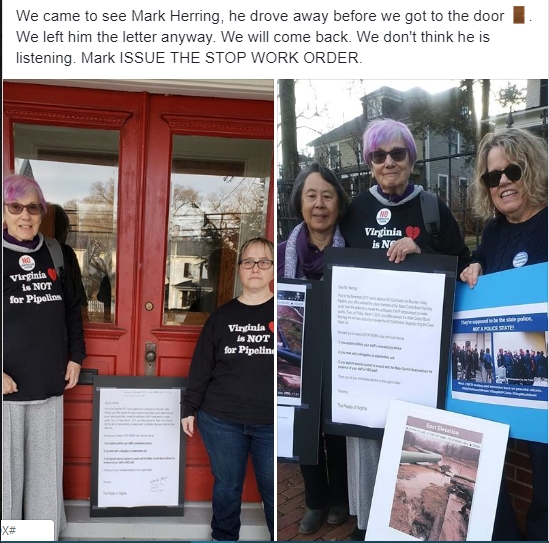 Natalie Pien: "Adding a note to the letter, 'We missed you. Noticed that you drove by the house once. We would like to meet with you.'"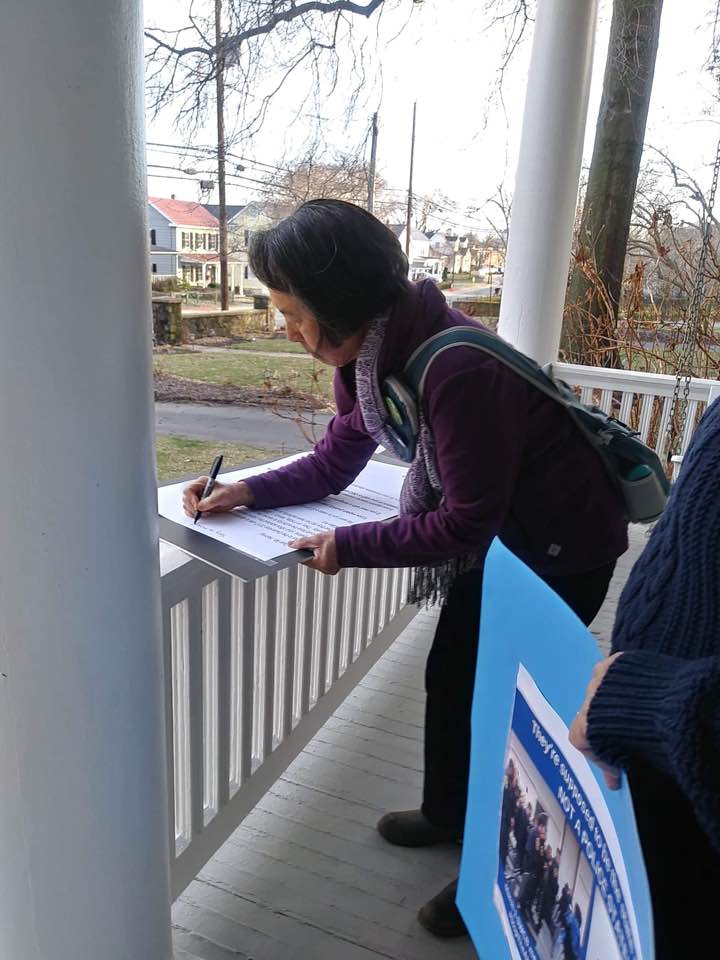 Natalie Pien: "With Marilyn Karp & Kathie Beynette in front of AG Mark Herring's Leesburg home. Wanted to deliver a large, 20" X 30" letter requesting a Stop Work Order on the MVP. He drove away. Left the letter on his door."

Natalie Pien: "The letter on his front door. Later, it was gone."