Which Virginia legislators have the largest and smallest securities portfolios, and what's in them? See below for a new graphic from VPAP which answers this question.
Briefly, here are the top 15: 1) Sen. Bill DeSteph (R; $6.8 million+), 2) Del. Kathleen Murphy (D; $3.1 million+), 3) Sen. Tommy Norment (R; $2.7 million+), 4) Sen. Janet Howell (D; $2.2 million+), 5) Del. Scott Garrett (R; $2 million+), 6) Sen. Ben Chafin (R; $1.8 million+), 7) Del. Kaye Kory (D; $1.7 million+), 8) Del. Mark Levine (D; $1.6 million+), 8) Sen. Mark Obenshain (R; $1.6 million+), 10) Del. Rip Sullivan (D; $1.5 million+),  11) Sen. Scott Surovell (D; $1.3 million+), 12) Del. Chris Jones (R; $1.2 million+), 12) Sen. Dick Saslaw (D; $1.2 million+); 14) Del. Danny Marshall (R; $1.1 million+), 15) Del. Dave LaRock (R; $1 million+).
As for the poorest Virginia legislators (in terms of securities portfolios), the following have ZERO holdings: Delegates Lee Carter (Democratic Socialist), Chris Hurst (D), Lashresce Aird (D), Danica Roem (D), Emily Brewer (R), Will Morefield (R), Sam Rasoul (D), Kelly Fowler (D), Jeff Bourne (D), Lamont Bagby (D), Elizabeth Guzman (D), Hala Ayala (D), Debra Rodman (D), Chris Collins (R), Charniele Herring (D), John McGuire (R), Cliff Hayes (D), Steve Heretick (D), Joe Lindsey (D), Jeion Ward (D), Kathy Byron (R), Charles Poindexter (R); Senators Dave Marsden (D), Rosalyn Dance (D), Emmett Hanger (R), Bill Carrico (R).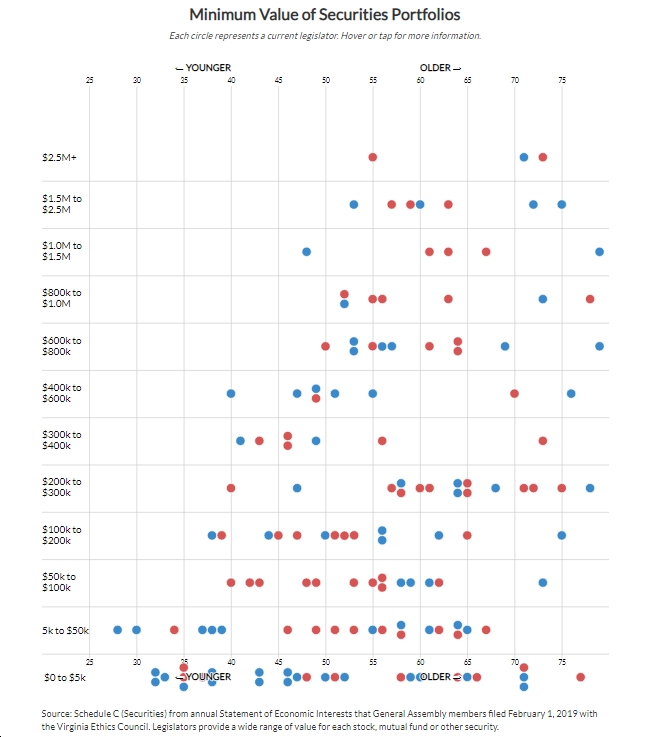 And what do the legislators own? See the Legislator Stock Holdings graphic, below.
Some random observations from the VPAP graphic: 1) Dems seem to love holding Apple and Microsoft stock, 2) Republicans seem to love holding Dominion stock (which is, of course, a MASSIVE conflict of interest, given that Dominion is a theoretically STATE-REGULATED MONOPOLY, with a huge amount of business before the very legislators who own lots of Dominion stock; can we say "the Virginia Way?"), 3) seven legislators – Delegates Reid, Bell, Sullivan, Keam, Peace, Webert, Robinson) own stock in Amazon, which just concluded a huge deal with Virginia. What else jumps out at you?