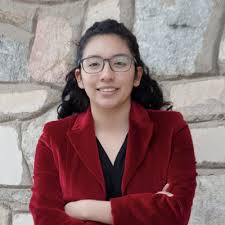 by Mary Supley, who volunteers as a grassroots activist and has lived in Fairfax County for more than 40 years.
I've volunteered and worked at a number of nonprofit organizations in Fairfax County in the last 15 years. Through that experience, I have learned more about the needs of my neighbors and fellow county residents. Over the past three years, I have, alongside people from a number of organizations, advocated for policy changes by our state and county governments. I've learned and benefited so much from the knowledge and perspectives shared by these other advocates and activists, including Irma Corado, whom I met in 2017.
Irma is a grassroots organizer and one of the founding members of La ColectiVA. She is passionate and tireless in her efforts to advocate for marginalized communities, for people who are often overlooked. In the years that I've known her, she's voiced concern about conditions at Farmville Detention Center, called out the vilification of immigrants and racist policies, fought for greater transparency from our elected officials, empowered communities to stand up for their needs in the face of gentrification, and pushed for an end to Fairfax County's voluntary collaboration with ICE.
From her experiences growing up in Fairfax County as an immigrant in a working-class family and as an organizer, Irma has a deep understanding of how our government works and, perhaps more importantly, how it doesn't work for so many of the people that it is supposed to serve, how too many of our elected officials are not representing the needs and concerns of their constituents.
I've gone door-to-door with Irma to talk with residents about issues and listened as she engaged in meaningful conversations about difficult topics. She is equally at ease discussing and answering questions about complex issues as she is listening to concerns and points of view that are different from her own. She brings people together to develop solutions that work for the entire community because they come from the community.
In her campaign to become the Braddock District Supervisor, Irma is focusing on issues that affect the everyday lives of everyday residents: affordable housing, education, climate justice, and transportation. She is also working to ensure that our government is more accessible and responsive and that our county is inclusive. Irma is a woman of action; she will not prolong the status quo by offering only well-meaning words. She was the first candidate to sign Fairfax for All's pledge, committing to introduce within 45 days of taking office the Ordinance to Protect Equal Justice for All, which would end Fairfax County's voluntary collaboration with ICE. This is just one example of Irma's leadership, of Irma acting on her values, of Irma standing up for the rights of others.
Irma belongs to the generation of leaders that has the experience and progressive vision we need now. I believe our county would not only be well served, but lucky, to have her represent us on the Board of Supervisors.