See below for some photos and video (by yours truly and also by the Catherine S. Read) from day #1 of the Virginia Women's Summit 2019. Yesterday evening, a packed house of fired-up women, and some men (myself included) too, listened to great speakers including:
Moderator Barb Jones (asked if everyone was "fired up, ready to win?")
Senator Tim Kaine (who talked about the importance of local elections and of keeping up our energy level in this non-federal, non-gubernatorial election year)
former First Lady of Virginia, former Virginia Education Secretary and incoming GMU President Anne Holton (touted the importance of School Board members and their impact on daily lives)
Rep. Gerry Connolly (VA11; said that local government is the most important level of government, as you "actually have to do something…it's where things happen"; also, Connolly is very displeased about the immigration bill…video still uploading as of Saturday AM)
Rep. Abigail Spanberger (VA07; "the more we have that diversity in Congress, the better we can serve the needs of our broad and strong constituencies"; "I am there because of people like you"; talked about the importance of women getting involved in their democracy and even running for office…when that happens "we see tremendous results")
Loudoun County Board Chair Phyllis Randall (who explained that "you are the crew!" and talked about the importance of Democratic women having each other's backs and of taking back the Loudoun County Board of Supervisors from Republicans this November)
Virginia House Democratic Leader Del. Eileen Filler-Corn (quoted from the Beyonce song which said "girls run the world" and who talked about the importance of electing women; also said "Kirk Cox and the Republicans say no, Democrats say yes" on a whole host of important issues)
State Sen. Janet Howell (talked about how when she first ran back in 1991, a lot of people didn't think a woman could raise money or win elections, but she demonstrated that this belief was – and IS – totally wrong)
Del. Mark Keam (talked about all the "badass women in this room"; about the importance of overcoming internal divisions in Democratic primaries and taking on Republicans; and how we need to finish the job of taking back the Virginia General Assembly this year – with women candidates leading the charge)
Nancy Rice of Win Virginia
Prince William County Democratic Committee Executive Director David Pala (talked about the role of Commonwealth's Attorneys and introduced several Commonwealth's Attorney candidates)
Fairfax County Democratic Committee Chair Dan Lagana (said we need to build up our bench)
Fairfax County School Board Chair Karen Corbett Sanders (introduced Fairfax County School Board member Karen Keys-Gamarra and candidates Karl Frisch, Elaine Tholen, Ricardy Anderson, Laura Jane Cohen, Stella Pekarsky, Abrar Omeish, Rachna Sizemore Heizer)
Fairfax County School Board (at-large) candidate Rachna Sizemore Heizer (vowed to get rid of Trump and his "hate" in 2020, emphasized that "School Board is important…our children are your future"; introduced several other school board candidates – from Prince William County, Loudoun County, Albemarle County, Fauquier County)
Several Democratic Commonwealth's Attorneys (e.g., Shannon Taylor from Henrico County) and candidates (e.g., Parisa Tafti from Arlington/Falls Church, Steve Descano from Fairfax County, Jim Hingeley from Albemarle County, Buta Biberaj from Loudoun County, Amy Ashworth from PW County) – video still uploading as of Saturday AM
Gene Rossi (note: the juice ran out on both my phones, so I didn't get his speech about the great former Connecticut Gov. Ella Grasso – the first woman elected governor in the United States, back in 1974 – among other things)
Del. Danica Roem ("surprise guest" at the end of the program).
All in all, it was a great program last night, with lots more to come today and tomorrow morning. The enthusiasm and turnout exhibited last night demonstrates that Democratic women continue to be fired up, even in this "off/odd" election year, to take back the Virginia General Assembly; to win elections up and down the ballot for Democrats in counties and cities across Virginia; and to get ready for our opportunity next year to make more gains in the U.S. House of Representatives, to take back the U.S. Senate and to most DEFINITELY boot the corrupt "p***y-grabber in Chief" out of the White House and to replace him with, quite possibly, the first woman President of the United States!
Gene Rossi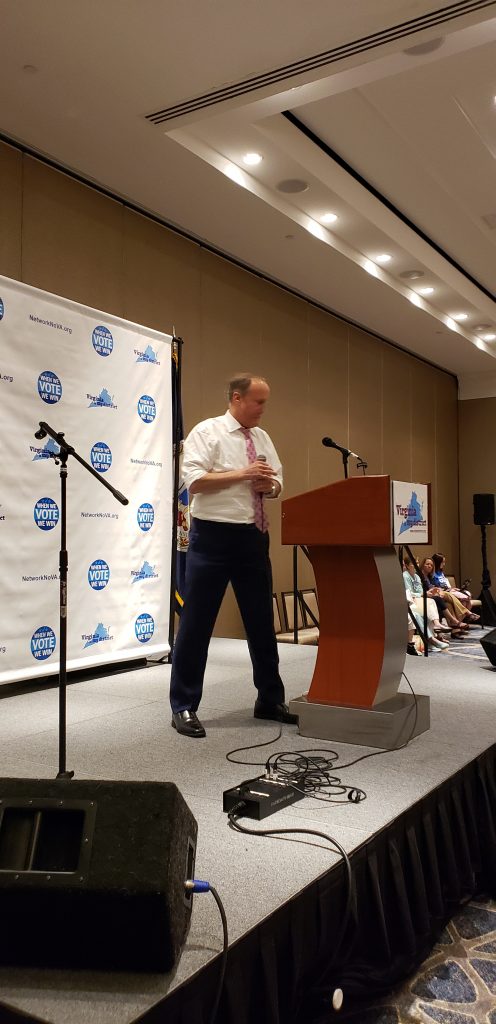 Phyllis Randall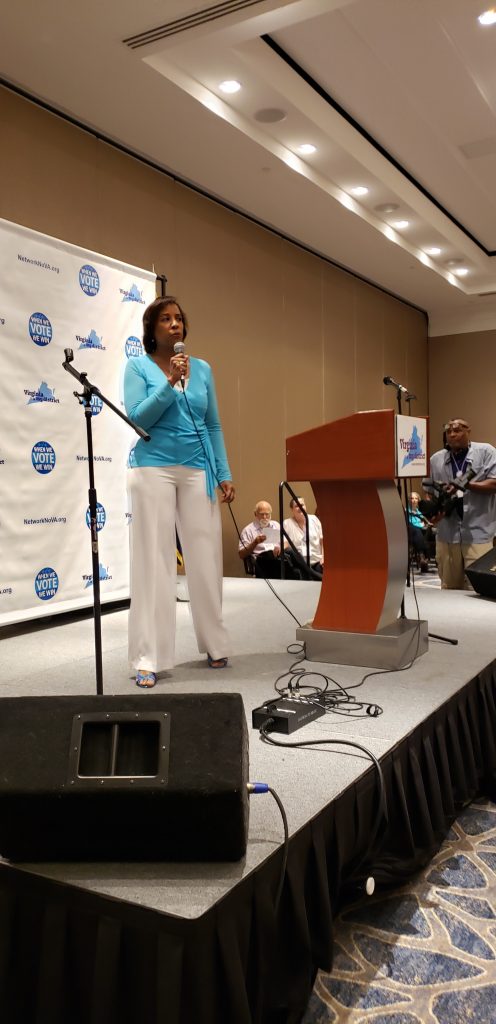 Anne Holton, Tim Kaine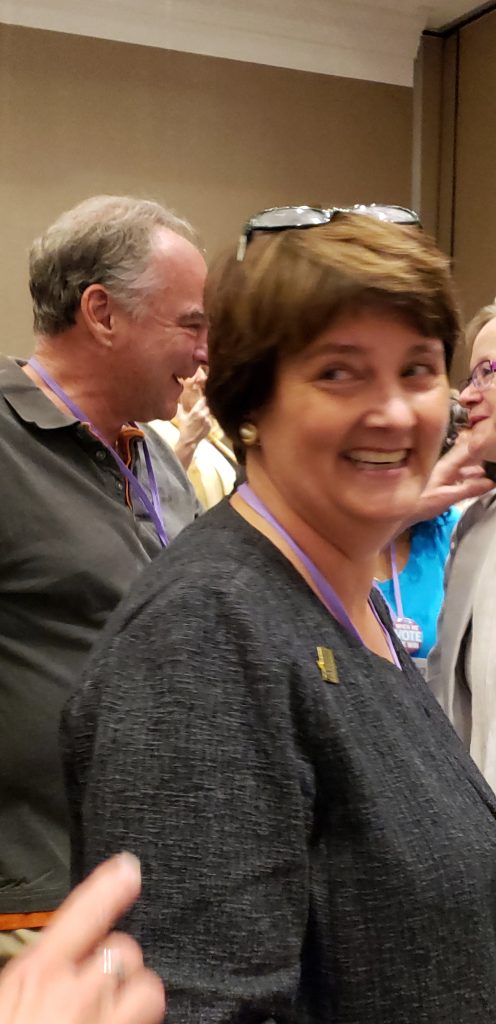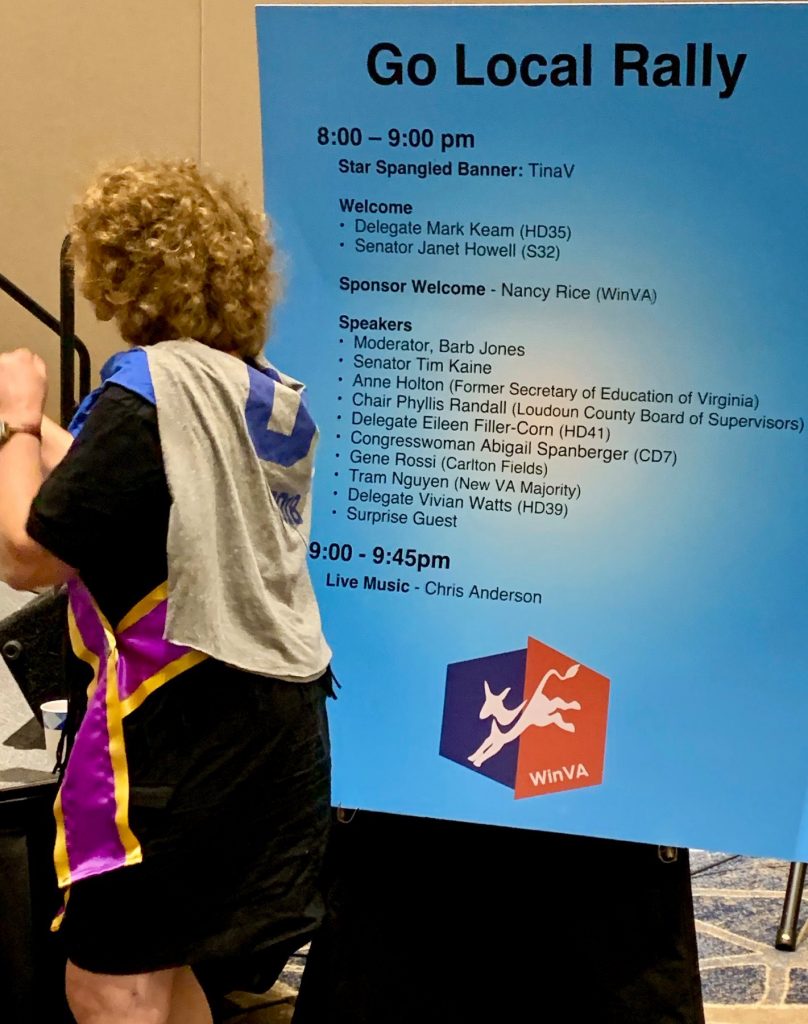 Phyllis Randall, county board candidates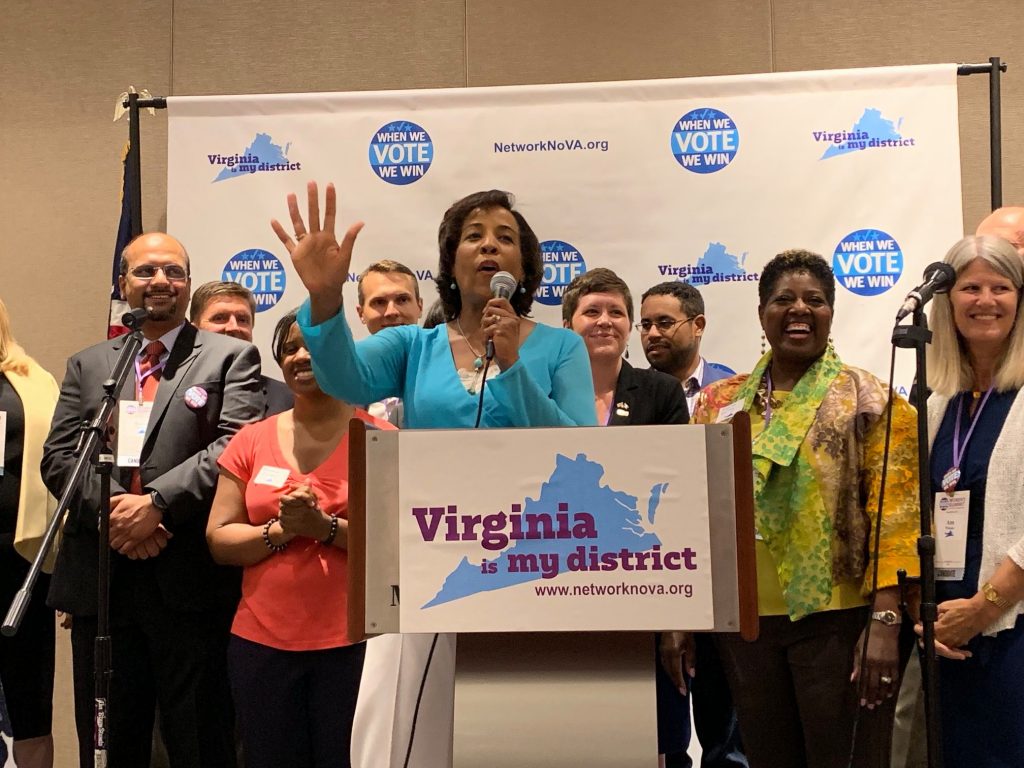 Commonwealth's Attorney Candidates – Shannon Taylor, Jim Hingeley, Parisa Tafti, Buta Biberaj, Steve Descano, Amy Ashworth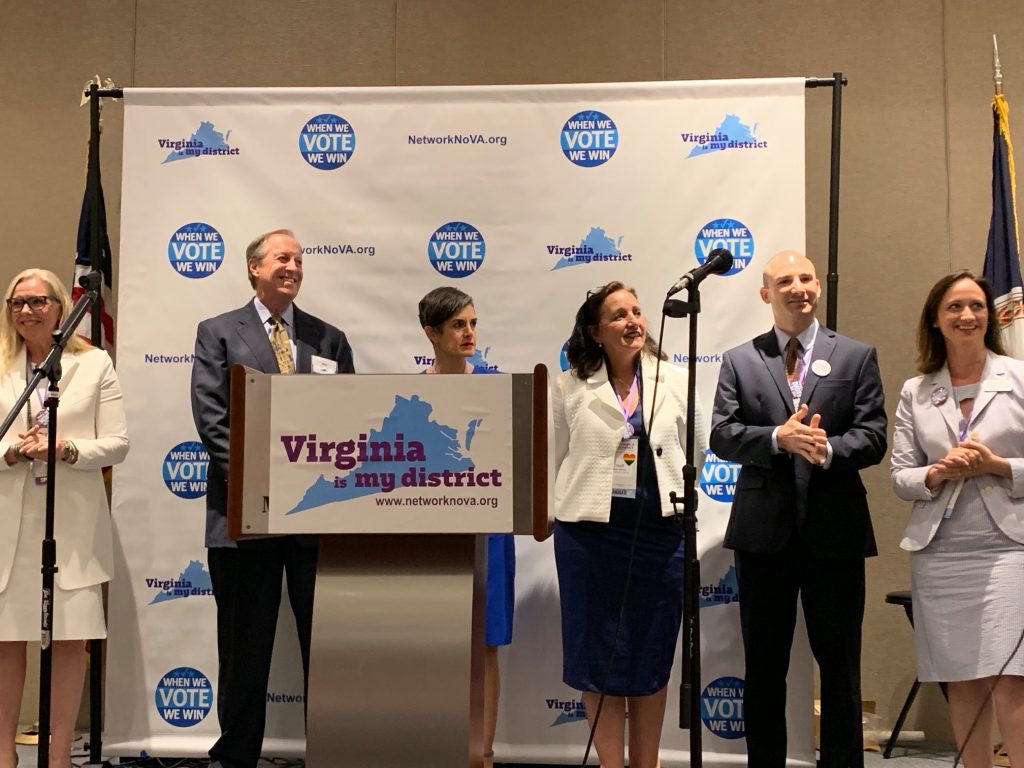 Karen Corbett Sanders, Fairfax County School Board candidates (Rachna Sizemore Heizer, Abrar Omeish, Stella Pekarsky, Laura Jane Cohen, Ricardy Anderson, Elaine Tholen, Karl Frisch, Karen Keys Gamarra)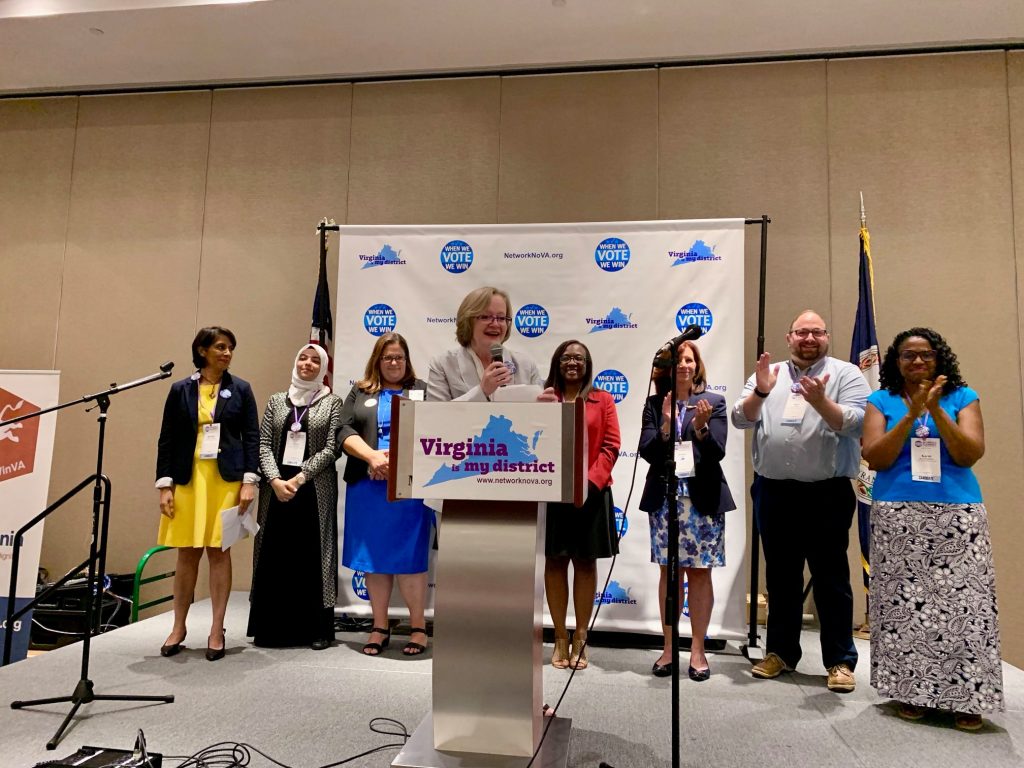 Rachna Sizemore-Heizer, Abrar Omeish, Laura Jane Cohen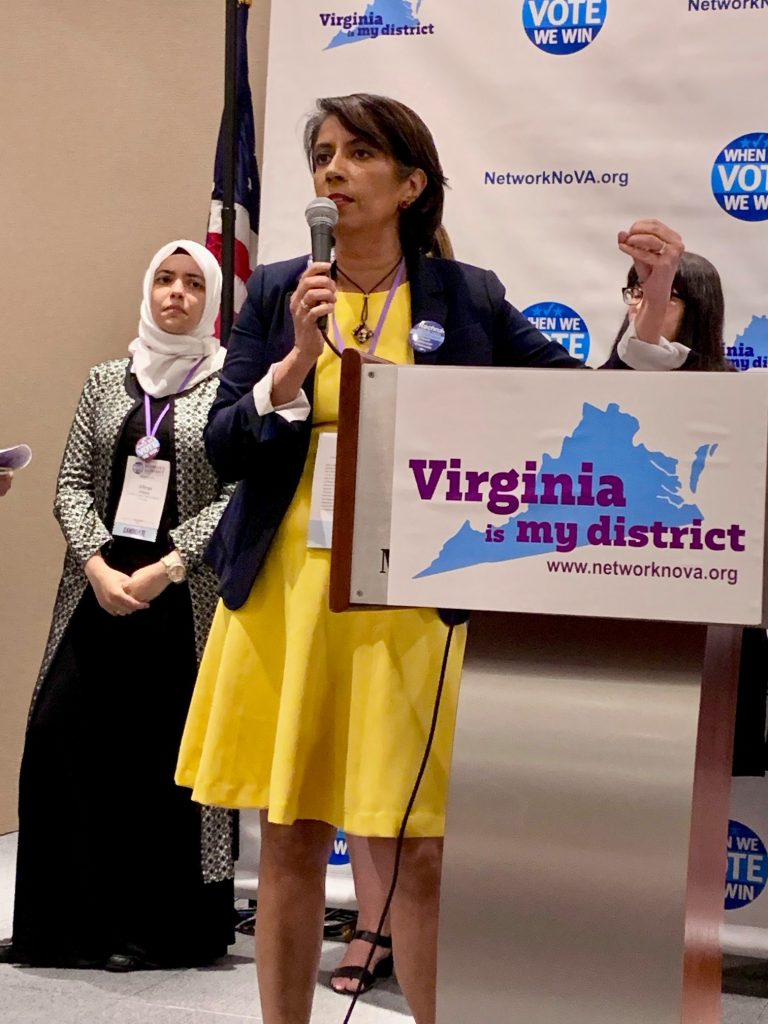 Nancy Rice of Win Virginia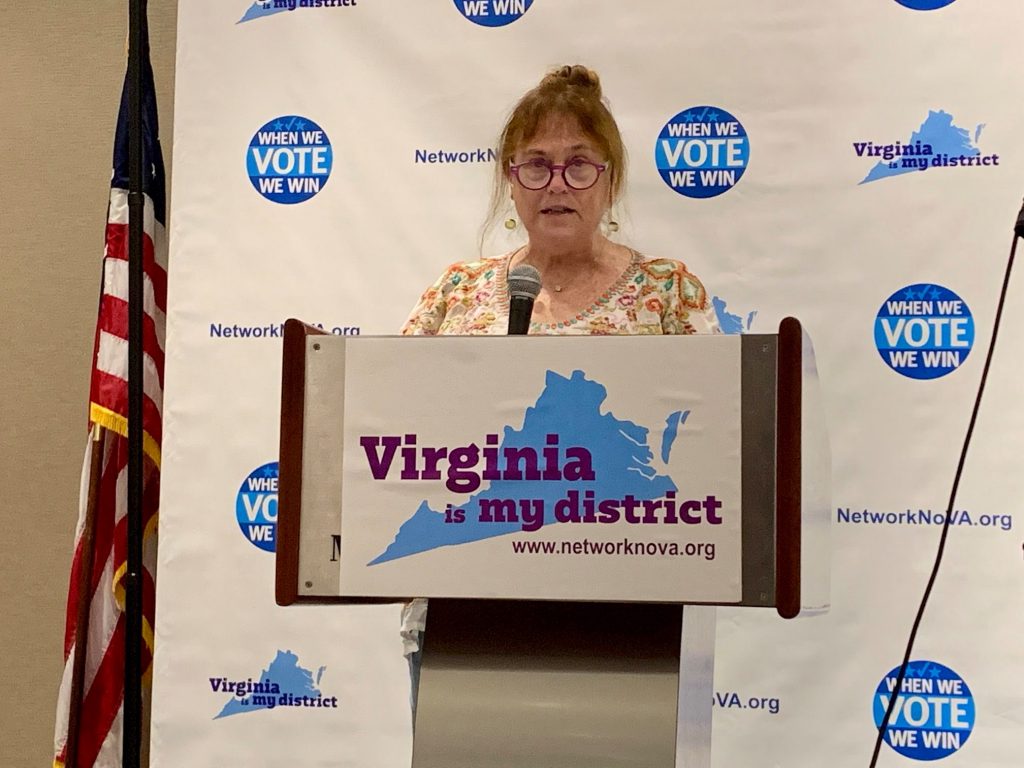 Phyllis Randall, Tim Kaine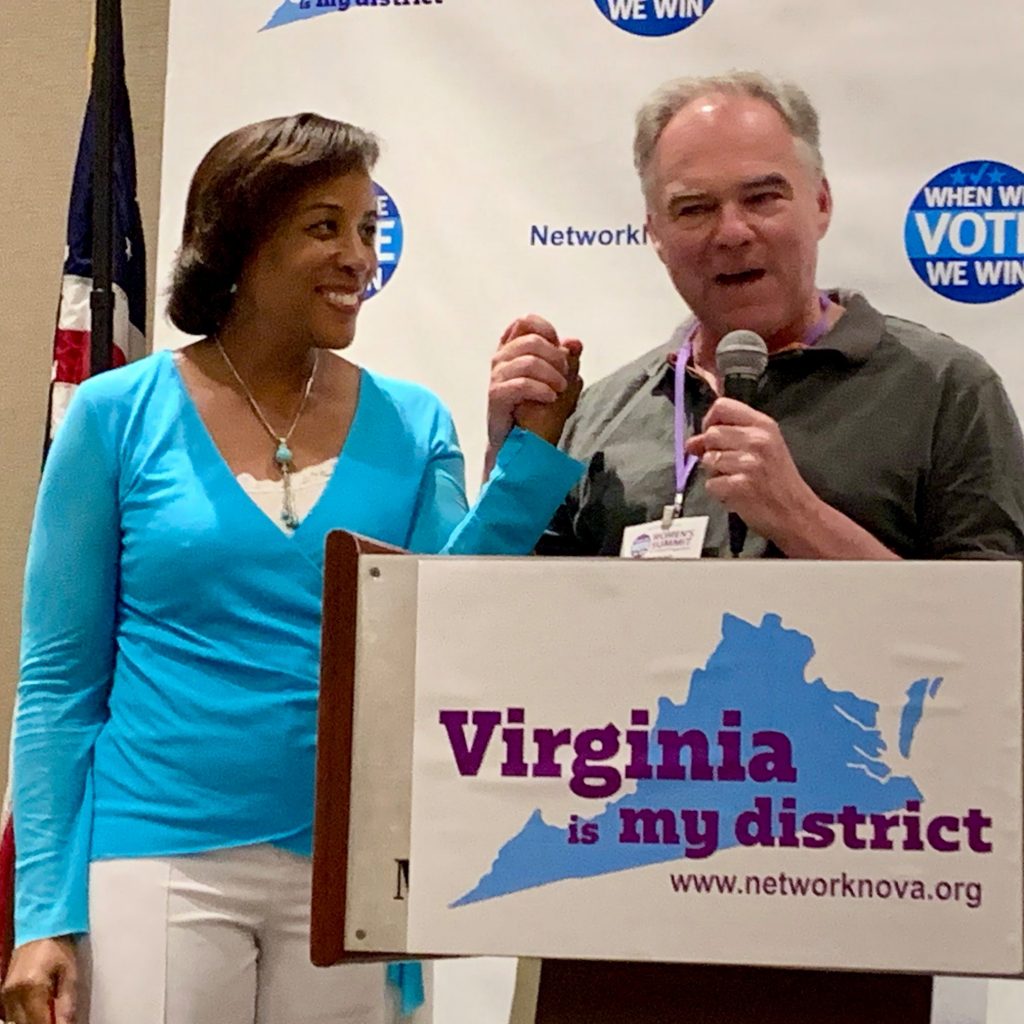 Alicia Plerhoples, Vangie Williams, Sheila Bynum-Coleman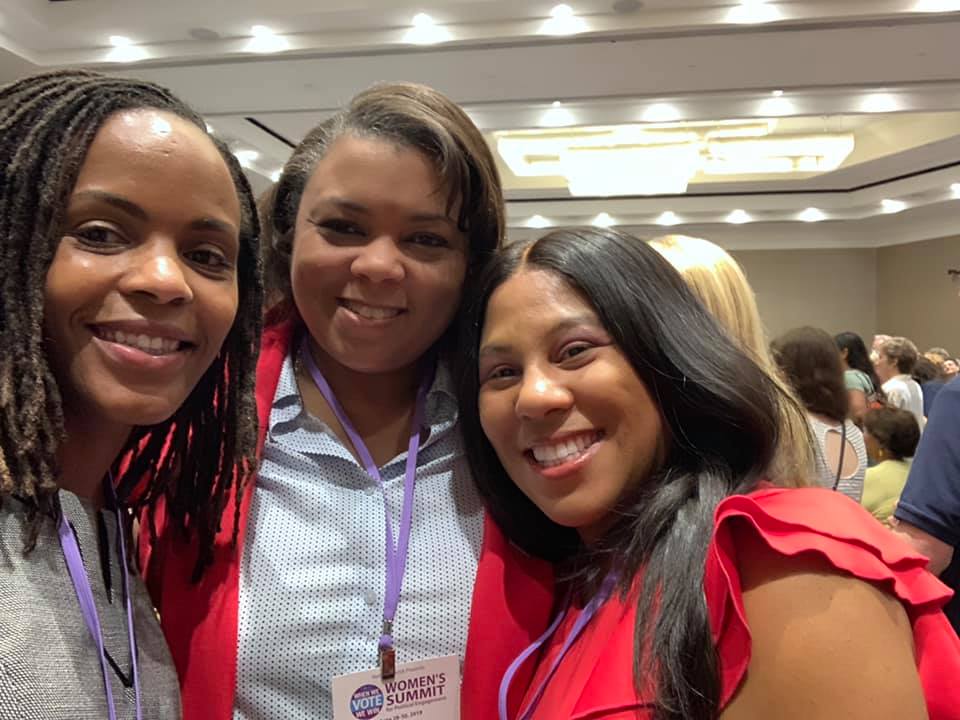 Alicia Plerhoples, Shyamali Hauth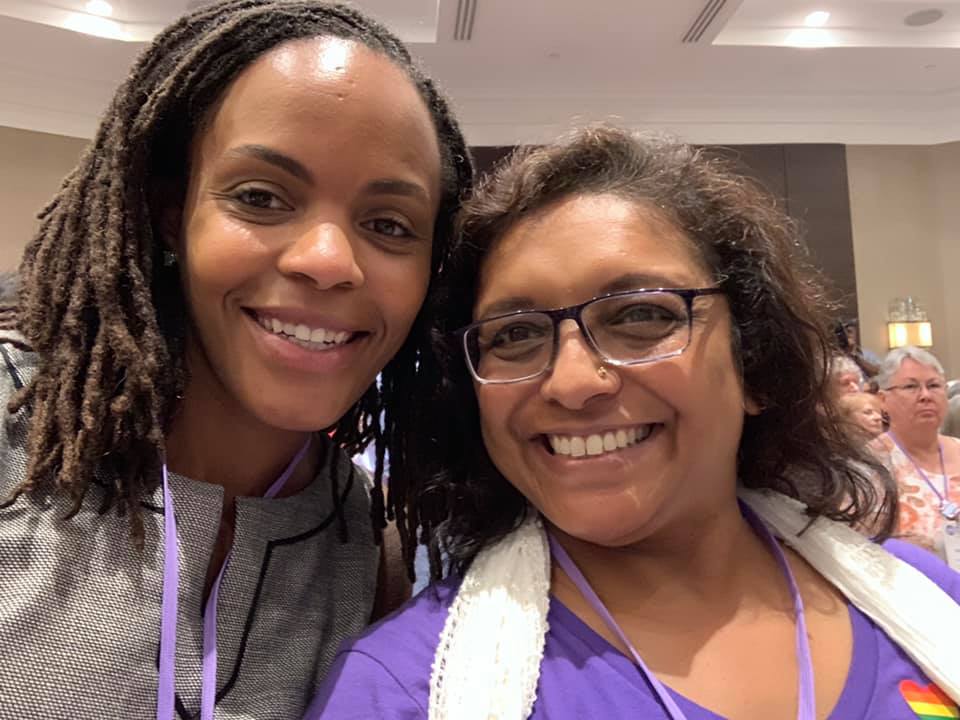 Alicia Plerhoples, Holly Seibold, Stella Pekarsky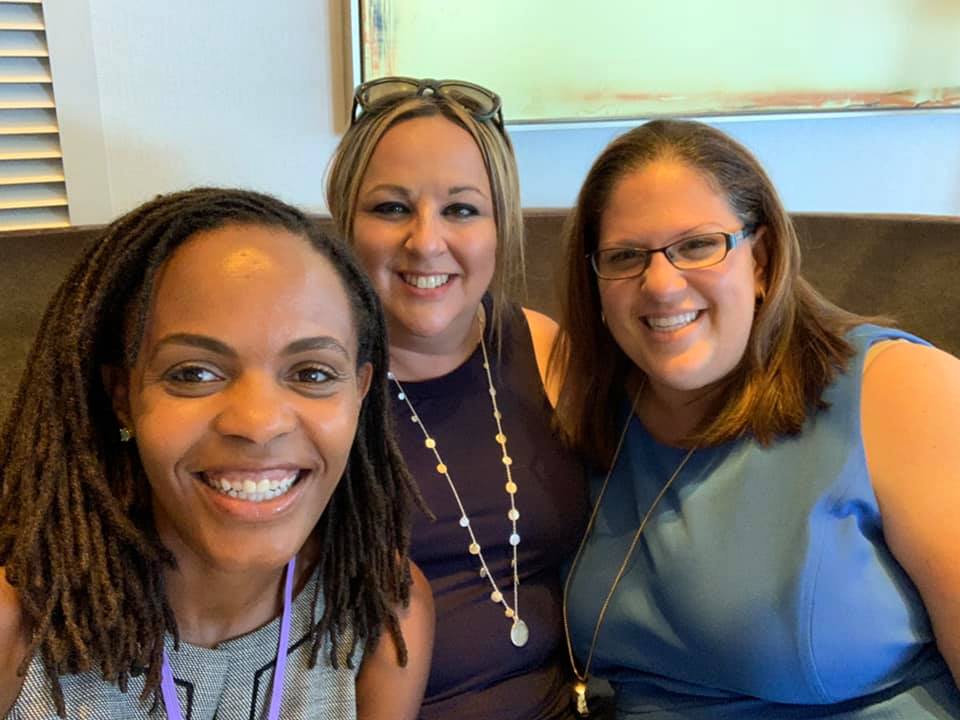 P.S. Also check out this amazing rendition of the National Anthem by Tina V!