by Al Nevarez
Since Loudoun voters purged the only politician in the country running an SPLC certified hate group, Loudoun Republicans have been trying to find their identity. They have a rabid pro-Trump base in a county that made a sharp left turn and hit the gas. Starting in 2015, Loudoun began replacing the Republicans who occupied 32 of the 36 elected offices (not including statewides) that touch Loudoun. Including special elections, Democrats have won 9 of the last 10 races, and it appeared Republicans didn't have an answer. They couldn't recruit candidates who weren't cuckoo or bush-league, and were standing on the beach staring at a blue tsunami with nowhere to go.
Well now they're roaring back with a who's who of Republican bigots in preparation for the biggest showdown in Virginia. And Democrats in Loudoun need your help to beat them.
So how did they do it? Well, they dusted off some bigots of elections past and rebranded. It started with hyperpartisan twitter troll John Whitbeck, the former chair of RPVA, who returned to Loudoun to challenge Phyllis Randall for Chair of the Board of Supervisors. Whitbeck used to make headlines regularly for rolling out bigoted one liners, like when he "joked" that the "head of the Jewish religion" presented the pope with a "bill for the Last Supper."
But Whitbeck came to Loudoun with a rolodex that only a state party chair could acquire, and made great use of it. He's already raised $300,000 – more than any Supervisor candidate has ever raised in Loudoun. More than Chair Randall and the Loduoun County Democratic Committee have raised combined, despite Randall far exceeding any previous Democratic Chair candidate's fundraising marks for each filing, and despite the LCDC raising more money in the first six months in 2019 than it had in any entire calendar year in its history.
Whitbeck immediately began putting that money to work. He has flooded social media with ads painting himself as a moderate, good governance Republican who just wants to keep taxes low. And it appears to be working, as more and more institutional donors who like to bet on winners choose to invest in his campaign.
Next, they put up the typically more closeted bigot, Catoctin Supervisor Geary Higgins, up to run against the younger, more moderate Ron Meyer to replace Dick Black (more on him later). To make sure he beat Meyer, Higgins let his racist colors show with an ugly, anti-immigrant campaign: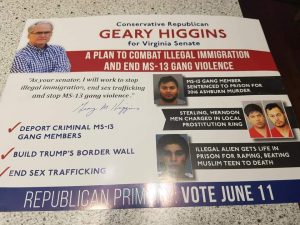 He won the primary with 65% of the vote, and immediately began to try and present a moderate image himself: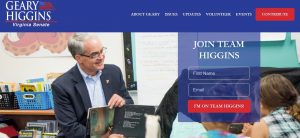 With Delegate John Bell running against him, Higgins knows he'll have to try and copy the Whitbeck playbook to win and give Republicans a chance to hold on to the Senate.
And now, in a last minute, post-primary candidate swap, Mick Staton is running for Supervisor. Staton is the son-in-law of Senator and longtime Grand Wizard of the Loudoun Republican Party, Dick Black. When Senator Black is not moonlighting as a less-than-covert agent on behalf of Syria's genocidal Bashar al-Assad, or standing up for a man's right to rape his wife and force her to carry that unwanted pregnancy to term, he's concocting stories to drum up hate against gay people to deny them equal rights, like this one:
"I recall one particularly terrible situation, where, this was in basic training, there was a young fellow who went to the showers at night, and there were two homosexuals lurking — they were also basic trainees – and they strangled him with a towel and forced him to submit to, you know, things that we won't talk about on the air."
Son-in-law Mick Staton is a real chip off the old Black block. Blogging for the conservative "Bull Elephant", Mick has littered the Internet with garbage like "Loudoun Schools Embrace Mental Illness", where he covers the passage of equal rights protections for LGBT staff and students in Loudoun public schools by attacking trans youth. He's running for Ashburn District Supervisor against retired Air Force Colonel Mike Turner. Turner is an excellent candidate who barely lost to then-incumbent and former President of the Loudoun Chamber Ralph Buona. He has been preparing to run again since the day he lost in 2015, and most people who follow Loudoun politics closely assumed this race was Strong D.
Mike Turner needs an influx of money and volunteers to keep Dick Black's homphobic son-in-law out of office, because it's pretty much guaranteed at this point that the "Black Brigade" will be out in full force. Chair Randall and Delegate Bell need a lot of help too to keep their rebranded opponents out of office as well. Reach out to their campaigns now to see how you can help them win in the key battleground county of Loudoun.
Mike Turner for Supervisor
Website: https://miketurnerforashburn.com/
Twitter: https://twitter.com/@turnerashburn
FB: https://www.facebook.com/MikeTurnerForAshburn/
Phyllis Randall for Chair
Website: http://friendsofphyllisrandall.com/
Twitter: https://twitter.com/search?q=phyllis+randall
Facebook: https://www.facebook.com/randall4chair/
John Bell for Senate
Website: https://voteforjohnbell.com/
Twitter: https://twitter.com/DelegateJBell