What would the corrupt, incompetent, insane orange buffoon's reaction be if he were greeted by the following headline the morning after the Virginia elections on November 5? My guess is that, among other things, his head would likely explode with rage and frustration. And yes, that would be a very good thing. 😉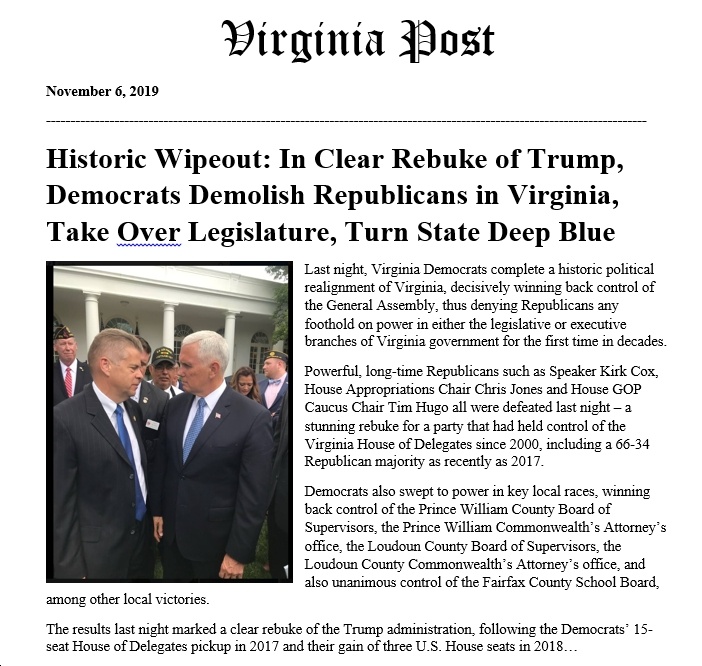 The bad news, of course, is that this news story is only hypothetical at this point – certainly hasn't happened yet, and very well might never happen.
The good news? This outcome is something Virginia Democrats can actually work to make happen over the next 72 days. Or, again, we can FAIL to make it happen over the next 72 days. But if we *do* work our butts off between now and November 5 to make that news story happen, not only will it be a great thing in and of itself – imagine the legislation that Dems could pass, from gun violence prevention to a clean energy transition to ratifying the ERA to expanded healthcare access, to…you name the issue – but it would also create a superb narrative heading into the crucial 2020 elections. Imagine if we could point to the continued "blue wave" in Virginia in order to motivate Democrats and, hopefully, demoralize/de-motivate the Trumpsters? And yes, I strongly believe in the power of narrative, particularly when it taps into core emotions, given that this is the way humans have communicated since time immemorial.
The other thing, I'd argue, is that it's important to envision success, then work towards it. Of course, that's not the same thing as *assuming* success. But right now, there are so many distractions – the 2020 presidential race, Trump's daily insanity, the Amazon burning, you name it – that Virginia Democratic activists might not be focused as laser-like as they should be on the elections for our entire General Assembly, plus important local offices, this November 5. Perhaps envisioning a "Dems demolish Rs in Virginia heading into 2020" headline might help with that focus?
By the way, it's interesting to look back at previous election cycles, to see if there's any relationship – or how strong a relationship – between what happens in Virginia in the odd years and what happens nationally in the even years. For instance:
In 2005, Democrat Tim Kaine won the Virginia governorship by a strong, 52%-46% margin, while Democrats also picked up three seats in the House of Delegates. On the other hand, Democrats barely lost the LG race (by 1 point) and the AG race (in a recount), so there was not clear sign here of a "blue wave" building.
The next year, 2006, that "blue wave" most definitely appeared, with Democrats winning control of the U.S. House of Representatives (Ds gained 31 seats, going from 202 to 233 and the majority) and U.S. Senate (six Rs replaced by 6 Ds, including of course Jim Webb defeating Sen. George Allen here in Virginia). Was that foretold in any way by the 2005 Virginia results? Not particularly, as far as I can see, although clearly the declining popularity of George W. Bush after Hurricane Katrina, and with the war in Iraq raging, was clear by late 2005.
In 2007, Virginia Democrats picked up four seats in both the State Senate and House of Delegates. Not bad at all.
A year later, in 2008, Barack Obama won the White House, while Democrats made even more gains in the U.S. Senate (+8 seats) and U.S. House of Representatives (+21 seats). So in this case, one could argue that Virginia 2007 was a foreshadowing, to a degree anyway, of 2008.
In 2009, Democrats suffered horrendous losses in Virginia, with Republican Bob McDonnell crushing Democrat Creigh Deeds for Governor by 18 points (!); with Republican Bill Bolling defeating Democrat Jody Wagner by 13 points; and with Republican Ken Cuccinelli (ugh!) defeating Democrat Steve Shannon by 15 points. Democrats also lost five seats in the House of Delegates, dropping them to 39 seats out of 100.
The next year, in 2010, was the Tea Party wipeout election, with Republicans picking up an incredible 63 seats in the U.S. House of Representatives (regaining the majority and making John Boehner Speaker) and six seats in the U.S. Senate. So yeah, in this case, the Virginia 2009 disaster most certainly seems to have foreshadowed the broader, national Democratic debacle in 2010.
In 2011, Democrats lost seven seats in the Virginia House of Delegates and two in the State Senate.
In contrast, 2012 saw President Barack Obama winning reelection, plus Democrats gaining two net seats in the U.S. Senate and eight seats in the U.S. House of Representatives. So definitely no carryover or predictive power from 2011 in Virginia to 2012 nationally.
In 2013, Democrat Terry McAuliffe narrowly defeated far-right Republican Ken Cuccinelli for the governorship, with Ralph Northam easily defeating "extreme team" member E.W. Jackson for Lt. Governor and with Mark Herring narrowly (in a recount) defeating hard-right Mark Obenshain for Attorney General. Democrats held steady in the Virginia House of Delegates, with just 32 seats out of 100.
The year 2014 saw Democrats nationally losing 13 seats in the U.S. House of Representatives and a disastrous nine seats in the U.S. Senate. It's hard to see any particular foreshadowing of the national 2014 results in the 2013 Virginia results.
In 2015, Democrats lost control of the Virginia State Senate, although in fairness, that was mostly the result of Democratic State Sen. Phil Puckett vacating (in June 2014) his deep-red, Southwest Virginia seat, which Republicans promptly regained. More than that, though, Democrats appeared to have a great chance of taking back the State Senate in November 2015 elections, but failed to do so, despite running in districts that had been drawn by Democrats. So that wasn't a good sign at all. And in the House of Delegates, Democrats basically just bounced a bit off the bottom, going from 32 to 34 seats. Not horrible, but not great either.
In 2016, of course, Donald Trump was elected, even as he lost the national popular vote by nearly 3 million (2.1 percentage points) to Hillary Clinton. In the U.S. Senate, meanwhile, Democrats picked up two seats – not enough to take back control from Mitch McConnell et al. And in the U.S. House of Representatives, Democrats gained six seats…not horrible, but not great either, and definitely not enough for Democrats to take back control (kinda like Virginia in 2015).
In 2017, of course, Democrats romped in Virginia in a massive "blue wave," sweeping all three statewide races by hefty margins, and picking up a whopping 15 seats in the House of Delegates. Amazing.
A year later, in 2018…yep, the Democratic "blue wave" continued, but this time nationally, with Democrats picking up a massive 41 seats in the U.S. House of Representatives, returning Nancy Pelosi to the Speakership. Democrats also gained 7 governorships, and something like 350 legislative seats and control of six state legislative chambers. The one disappointment – Democrats actually lost two seats in the U.S. Senate, albeit with a tough map. Still, overall 2018 was an excellent year for Democrats nationally, especially if you also count Democrat Doug Jones' special election win in Alabama over far-right Republican Roy Moore on December 12, 2017. So yeah, in this case, the 2017 Virginia elections most definitely foreshadowed/anticipated the 2018 results.
In sum: These results are somewhat suggestive, but ultimately I'd argue they're inconclusive. Thus, Virginia 2005 had signs of a possible "blue wave" building, and nationally in 2006 that "blue wave" definitely appeared.  Virginia 2007 was a good year for Democrats, followed by a great year in 2008 for Democrats nationally. Virginia 2009 was a disastrous year for Democrats, and then 2010 nationally was…yep, a disastrous year for Democrats. Virginia 2011 was a bad year for Democrats, while 2012 nationally was a strong year for Democrats, so that one definitely wasn't predictive. Virginia 2013 was a good year, in the end, for Democrats, even if the victories were narrow ones over an "extreme team" of far-right nutjobs. But no, that was NOT predictive of 2014 nationally, when Democrats got their a**es handed to them. Virginia 2015 was a mixed/"meh" year for Virginia Democrats, and 2016 nationally was…definitely a mixed year for Democrats, although of course overwhelmed by the absolutely disastrous electoral college win for Trump. Finally, the 2017 "blue wave" in Virginia was largely replicated in 2018 nationally, with massive gains for Democrats in state legislatures, governor's mansions and the U.S. House of Representatives.
Regardless of how predictive Virginia's odd-year elections actually are (or aren't) of national elections the next year, I'd still very much argue that a big Democratic victory in the November 5, 2019 Virginia elections would not only be good in and of itself, but would create a superb narrative line heading into 2020. And if that helps motivate Democratic activists to get/stay involved and engaged, I'm all for it.