This is a post-version of a Twitter thread I wrote while being frustrated about not being able to contribute as much time as I would like to the November 2019 campaigns – maybe you empathize? – Kai Degner
In 2016, as a single, self-employed, local elected in Harrisonburg, I chose to fill in as Democratic candidate in an unwinnable, five-month congressional race in the 6th CD. Everyone who helped during that time seemed to share at least in part a motivation – in the unlikely event he won – to tell our (grand)children we worked against electing Donald Trump.
As I traveled through the Shenandoah Valley, past Trump signs on the way to Roanoke and Lynchburg, as news stories kept breaking about Trump's indiscretions, racist language, and sexually abusive actions, I was consciously aware that if Trump won, my conscience would be clear because I ran.
Of course, I lost to the 24-year incumbent House Judiciary Chair (who resigned after the next term), Bob Goodlatte – and Trump won. My campaign had totally disrupted my real estate business and I didn't have the energy to start that back up from scratch, especially while caught up in the new reality.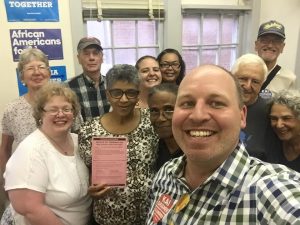 So, I was more or less unemployed going into 2017, trying to get various projects off the ground that didn't take off in any meaningful way.
Luckily, my friend Brent Finnegan, won a 2017 primary to run for state delegate in Harrisonburg/Rockingham (HD26), and I became campaign manager for the general election.
Brent over-performed, getting within 5 points, on a November 2017 night Virginia Democrats when took picked up 15 seats in the House of Delegates, and previewed what was to come nationwide in the 2018 midterm elections.
But I needed a full-time job. I started exploring local government consulting, training positions, faculty appointments, and other opportunities to leverage my experience, technical and business education, sales/marketing, etc. Richmond was a likely landing spot, until a position fit here in Harrisonburg.
Since starting that job in November 2017, I've become engaged, married, and we are expecting. I purchased a house and made it home, and I enrolled in a PhD program. It's all very good, privileged, and wonderful.
But it's not exactly full-time contribution to the resistance.
Meanwhile, the relentless volunteers and paid political staff have kept their head down, putting aside family, education, friends, jobs, and wellness to build structures to channel the outrage and momentum into turnout on election days. They're heroes in my mind.
Since my first run in 2008, I've been continually amazed at the endless hours volunteers commit week after week to do the thankless work of making phone calls, knocking on doors, staffing poll locations, hosting events, and donating money to elect Democratic candidates.
Many would say to me, "Thanks for your time," and I would say something like, "It's easy for me because I don't have kids or a family and I work for myself – I don't know how you find the time with all you have going on!" Now, with job+family+studies+homegroanership, I understand that point even more.
The volunteers and poorly-paid political staffers from 2008 are still engaged but have been joined by new people, energized and motivated since Trump took office. They are at local Democratic campaign offices, knocking on hot summer and rainy fall days. They're stuffing envelopes and making smalls financial donations. They're wishing more people would join in, and staying the course in mean time.
Of course, candidates are out there, too. Brent Finnegan, for example, is running again: his Election Day is November 5, 2019. This time, he has the advantage of a three-year campaign, impressive fundraising, having already earned more votes in 2017 than he'd need to win in 2019 – and a team. (Also, Tim Kaine received more votes than Corey Stewart in HD26 – providing the first such proof in decades of this being a winnable district for Dems.)
Brent – like other candidates – has put in endless hours for years now (just look at the photos on Facebook). But he would be the first to say he wouldn't have the chance to win if it weren't for all the volunteers. He has a volunteer night Wednesdays, full-time staff, paid and volunteer canvassers that knock *all the time* and *all over* the district (yes, including the rural areas).
Now, we are within a month from Election Day 2019.
At the same moment, Trump is openly inviting foreign election interference in our democracy, Republican "leaders" are putting Trump over the Constitution and our country, and this is the most urgent time ever for people to engage.
So, my question to myself is, what amount of time can I put in to contribute before November 5, 2019, to improve Brent's chances to win, knowing I can't commit full-time and know it would never be enough as I'd like?
I need to flip my own internal dialogue that less than all-in is too little to be worth it. I'm looking to the volunteers for this leadership example.
I can find a few hours per week to get the word out to my friends, to share how winnable Brent's race is if we all pitch in, and, yes, to knock doors.
Doing any less would be enabling Trump, Trumpism, corruption, greed, etc.
If you're busy with life, but have the space, health, and privilege to be able to volunteer your time, to help Election Day turnout, to write letters to the editor, to email and message your friends, to donate money: it's crunch time now. You can make a difference in Virginia now.
I urge you to join me in finding a local delegate or senate race in Virginia to support now.
Or, for those in Harrisonburg/Rockingham, visit BrentFinnegan.com and donate money and sign up for a couple volunteer shifts. Message your friends and make sure they know there's an election THIS November 5 – thank them in advance for joining you at the polls.
If you're not in Virginia and want to help, follow that link and donate to Brent. If he wins, we likely flip the entire Virginia House of Delegates. Or, of course, donate to another campaign of your choosing.
I'm thankful for the people that have put in the time throughout the year to allow the rest of us to plug in when it matters most – which is now. Let's honor their work by doing what we can between now and November 5, 2019.