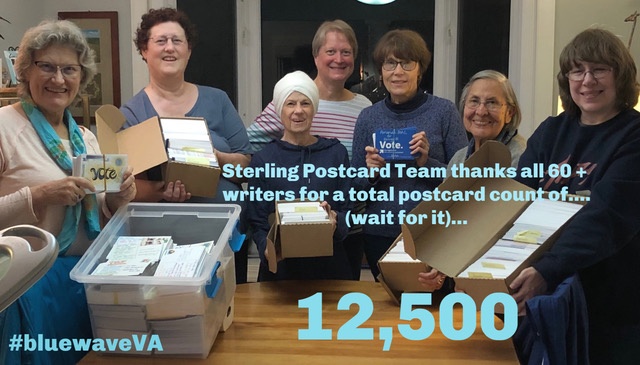 by the Postcards4VA Team: Robbin Warner, Lisa Howard, Dianne Holland and Bridget Kraft
A half dozen people carrying boxes filled with postcards gathered by the mailbox drops outside of the West Springfield post office for a group photo. Since January, members of Postcards & Politics, run by the trio of Christine Swirbliss, Keli Jacewitz, and Melissa Chabot, have met every Thursday to write postcards for their local Delegate, Kathy Tran (HD 42). They were mailing 6,000 of their 11,937 total postcards.
While at the drop box, a woman drove up to mail her postcards. Elizabeth Haas had written for candidates Gayle Johnson (HD 82) and Missy Cotter Smasal (SD 8). Elizabeth didn't know the Postcards & Politics group,  but she got out of her car to chat for some 'postcard bonding'.
Seeing someone else mailing postcards will not be unusual this week as postcard writers up and down the state mail their personal notes to voters reminding them to go to the polls on Nov. 5th.
Such groups include Shakta Khalsa and her Sterling Postcard Team who wrote 12,500; Missy Dixon and Mary Farrell's Vienna Whole Foods Postcard Group who wrote 6,000+ cards; Stair Calhoun and Claire Bawden's Starbucks Superstars with 5,000; and no listing of groups would be complete without acknowledging the powerhouse Postcards4VA Alexandria writers led by Sarah Bagley, Marcy Butler, and Jen Runkle who with their 250 writers mailed 35,600 postcards for 34 candidates. These groups represent just a fraction of the hundreds of groups and thousands of individuals throughout Virginia and the nation who write postcards regularly.
In total, over 253,000 handwritten postcards are making their way to Virginia voters. We know the total number because we are the hub behind this effort.
We started Postcards4VA, an informal grassroots group to write postcards to Virginia voters, in 2017. We did it because we wanted to write postcards ourselves and, in typical grassroots style, we shared our system with others who wanted to write postcards too. In 2017 we worked with roughly 1000 volunteers and produced 132,000 postcards. We learned that people loved writing postcards, especially with like-minded friends at postcard parties.
In 2018, we focused our efforts on promoting and supporting groups hosting postcard parties by putting together a postcard party guide, a party calendar, and a searchable map for posting and finding parties. We even held a Postcard Party Palooza to see how many parties could be held in one week. In 2018, our Palooza culminated with 75 parties.  In 2019, our Palooza week increased to 111 postcard parties writing some 37,000 postcards.
This cycle, Postcards4VA helped coordinate postcard writing for 51 state-level candidates. These included candidates we supported in 2017, incumbents with challengers, candidates in newly redistricted districts, rural ground game candidates, and more. (See postcards4va.com for the full list.)  For the candidates we supported in deep red districts, we are planting blue seeds and helping give a voice and a choice to long uncontested districts. As Sue Gubisch (who wrote for Laura Galante, HD 18) put it, "Let's hear it for the Dark Horses!"
Postcarding is a grassroots effort that involves thousands of volunteers. It seems to be the most popular volunteer activity introduced by the resistance. Many neighborhood and political action groups now see postcard writing as the #1 way to involve new volunteers and engage returning volunteers!
There is no denying that these cards are handmade and not commercially produced.  The postcards may have typos, run-on sentences, and crossed out words. The penmanship may be sloppy. Some volunteers buy postcards online and others make them. Many writers choose to add personal touches to the cards by using colored markers, stickers, and drawings.
The messages are composed by the writers as well, not scripts provided by campaigns.  Some have short statements like, "Your vote is your voice. Make your voice heard and vote on Nov. 5th", while others are short stories about why this election matters to them. With today's toxic polarization of politics, these cards are refreshingly simple and honest in connecting one voter with another.
The writers donate their time and personally pay for the postcards and the postage. Talk about small dollar donors. This may be a grassroots effort, but it follows state campaign finance laws.  These in-kind donations are recorded and reported to the campaigns and all postcards have a disclaimer.
The postcard writing season for the 2019 Virginia election has ended as we celebrate 253,000+ postcards in the mail, but postcard groups are not stopping. They will continue to meet weekly writing postcards for special elections and to support issues like the ERA. But most importantly, they are already planning for 2020.