From VPAP, see below for some graphics on the cost of winning local elections ("Average spent by winners in November 2019 elections") in Virginia.
First: spending on Commonwealth's Attorney races was much, much higher in 2019 than it normally is in Loudoun, Fairfax and Arlington due to massive spending by George Soros' Justice and Public Safety PAC. In contrast, back in 2015, the winner in the Arlington County Commonwealth's Attorney race, Theo Stamos, spent just $20k, compared to $826k this time around by Parisa Dehghani-Tafti. Similar deals in Fairfax and Loudoun County.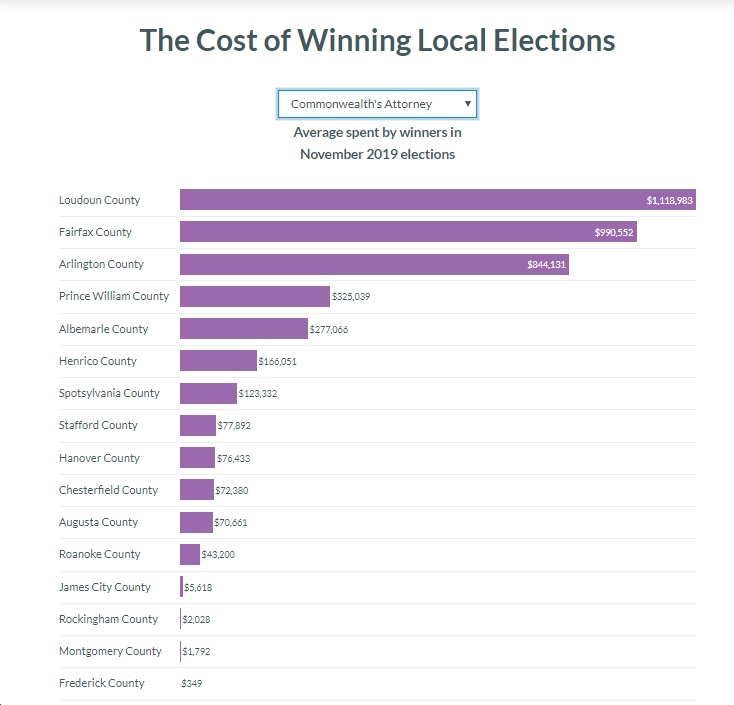 The three heavyweights in terms of spending last year for Chairman of the Board of Supervisors were in three of the largest counties in the state. Of course, Fairfax County ranking first is not surprising, given that it's a massive county (1.2 million; largest in Virginia by far) and that the incumbent Chair (Sharon Bulova) was retiring, spurring a highly competitive Democratic primary to succeed her. As for Loudoun County, also a huge county, that County Board Chair race was a slugfest between incumbent Chair Phyllis Randall (D), who was outspent by former Virginia GOP Chair John Whitbeck, but won by a wide margin anyway. And in Prince William County, Democrat Ann Wheeler crushed far-right Republican John Gray in both money and votes. Thank goodness.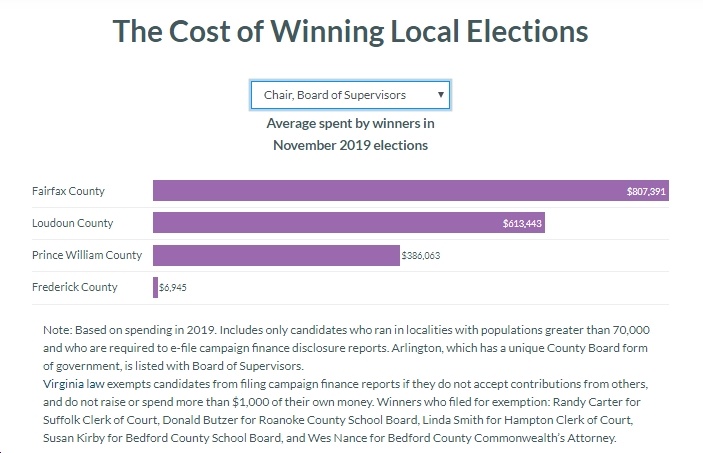 Again, it's not surprising to see Virginia's largest jurisdiction (by far) Fairfax County in front in terms of money spent for its Board of Supervisors races in 2019, especially since there were several incumbents retiring and several competitive Democratic primaries. As for Prince William County, the large amount of money spent there reflects the fact that it's the second-largest jurisdiction in Virginia, and also that it had numerous competitive races in a rapidly changing county politically speaking.  The next three counties – Loudoun, Henrico and Chesterfield – are also large counties in terms of population, and also competitive politically.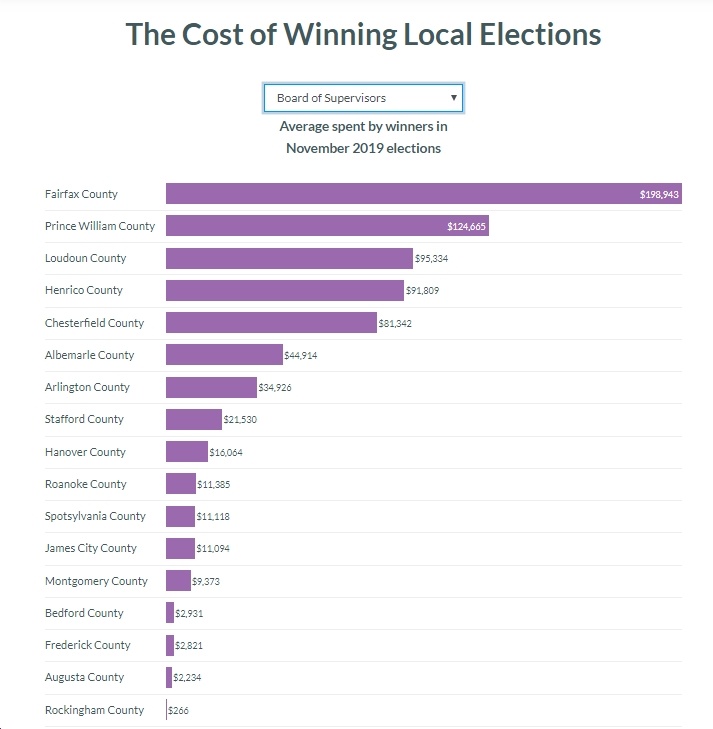 This is clearly a mistake by VPAP, as Fairfax County should be on the chart, almost certainly at #1, as the winning candidates raised and spent a TON of money there. For instance, at-large candidates Abrar Omeish raised $98k in 2019; Rachna Sizemore-Heizer $72k; and Karen Keys-Gamarra $50k. As for the magisterial district candidates, they raised/spent a lot as well. For instance, Karl Frisch (Providence District) raised $129k, while Laura Jane Cohen (Springfield District) raised $89k, and Stella Pekarsky (Sully District) raised $34k. In Arlington, Reid Goldstein – the only School Board member up for reelection – only raised $16k in 2019, and was unopposed in the General Election, so again, the VPAP graphic must mean "Fairfax County" instead of "Arlington County."