It really looked shaky for a while there, but in the end – that being a few minutes ago – a strong version of the Virginia Clean Economy Act (VCEA) passed the Virginia General Assembly and is now headed to Gov. Ralph Northam's desk for signature. Whether you like this bill (and I'm with Ivy Main and Adam Siegel on this one – the VCEA is not perfect, but it represents major progress towards a much cleaner Virginia electricity sector).
Anyway…after all the drama, hard work, etc., the VCEA passed on the last day of the 2020 Virginia General Assembly, almost strictly along party lines. Note that, yet again, it's *Democrats* who care about promoting clean energy and about fighting the climate crisis, while Republicans, with very few exceptions, do not appear to give a rat's hindquarters.
Of course, congratulations to the leaders in this effort, including Mike Tidwell and Harrison Wallace of the Chesapeake Climate Action Network (CCAN), Will Cleveland of the Southern Environmental Law Center (who did amazing work on this), the Virginia Sierra Club, the Virginia League of Conservation Voters, many other environmental groups, clean energy industry folks, a number of grassroots groups and advocates, etc. And great work by Sen. Jennifer McClellan, House Democratic Caucus Chair Rip Sullivan, House Majority Whip Alfonso Lopez, Speaker Eileen Filler-Corn, and many others.
Finally, let me just emphasize that passing VCEA has to be only the start, NOT the end, of Virginia's efforts at transitioning to a 100% clean energy economy and doing our part to fight the climate crisis. Thus, while VCEA addresses the power sector, it's still not aggressive enough. Nor is it comprehensive enough, as it doesn't really address the transportation sector, building sector, etc, etc. In other words, this is a great start, but there's a LOT more work left to do. And let's not forget that.
P.S. As CCAN's press release says, "In 18 years of campaigning, we at the Chesapeake Climate Action Network and CCAN Action Fund have never seen a coalition like the one that came together to pass the Virginia Clean Economy Act. We want to thank our many environmental partners, including the Virginia League of Conservation Voters, the Virginia Chapter of the Sierra Club, the Virginia Conservation Network, the Southern Environmental Law Center, Audubon Society, CERES, and others. Many thanks also to the scores of clean energy companies who fought day in and day out, from mom-and-pop residential installers to offshore wind heavyweight Orsted. Together, with leadership from the trade group Advanced Energy Economy, and with constant involvement of literally dozens of climate-committed legislators, we were able to meet Dominion Power at the negotiating table and hammer out a bill that transforms the company and the state."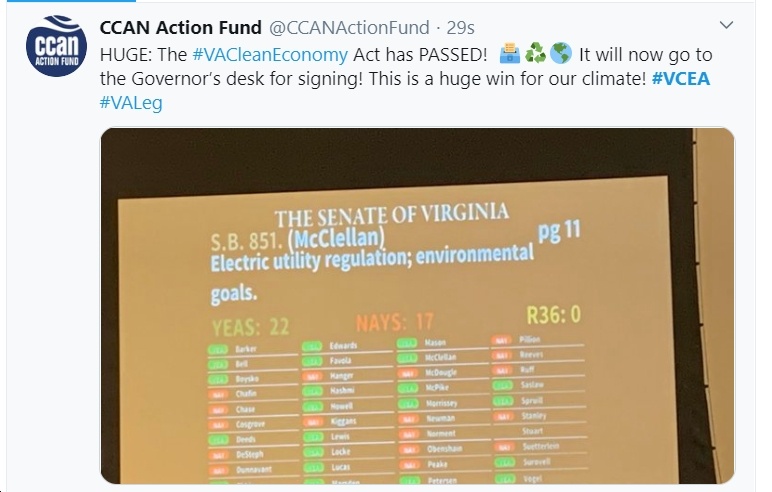 BOOM! Senate agrees to House version of #VCEA, bringing the negotiations to an end and passing Virginia's first mandatory portfolio standard, efficiency standard, massive offshore wind investments, and more! pic.twitter.com/CPZ2RdXYMn

— VAPLAN (@vaplan2018) March 6, 2020