Advertisement

Sensing a pattern here from Virginia Republicans – Del. Terry Kilgore, Sen. Mark Obenshain and Sen. Jen Kiggans? That's right, if you didn't get the hint, they want to ignore public health experts regarding the continued need for "social distancing" and other measures to combat COVID-19. Basically, their attitude is, damn the torpedoes, screw the experts and…open the state up ASAP! Of course, doing that would almost certainly result in lots of sick and dead people, *as well as* a ruined economy, the very thing these Republicans supposedly care about. But whatever…logic, science and reason are not exactly these folks' strong suit.
Oh, and absolutely do NOT miss the video, at the bottom (in more ways than one! LOL), from conspiracy theorizing Sen. Amanda Chase (R). According to Chase – yes, the same person who said "It's those who are naive and unprepared that end up raped" and  "The ERA Amendment is nothing more than a ploy by the left to eliminate gender altogether":

Gov. Northam is supposedly planning to announce, today at 2 pm, that he's shutting down the state "past June" – or maybe even  something she calls "beyond the pale."  She adds that Northam is "setting this up to extend the deadline…past August…do you see where I'm going with this?"
Gov. Northam is supposedly not "heeding the health care experts from across the country" that Virginia would "peak" in late April, and is supposedly "not looking at the entire picture."
"He is setting this up so that when all those laws go into effect July 1 and you're angry and you're upset and you want to storm the Capitol, he's setting it up – mark my words, I hope I'm wrong – that you can't go out and protest, because Virginia will still
be under his executive order. Do you see where I'm going with this?"
"We can go to Lowe's, we can go to the ABC store, and we can get abortions, but we cannot go to church and we cannot keep our businesses open."
"We also need to take into account some of these new discoveries, new drugs that are actually working and getting people back to work. They're allowing people to –
it almost seems like a cure for COVID. I mean, 24 hours later, people are
reovering, instead of the three to four weeks time period. So I think we need to look at there's there a couple states that are actually implementing that statewide."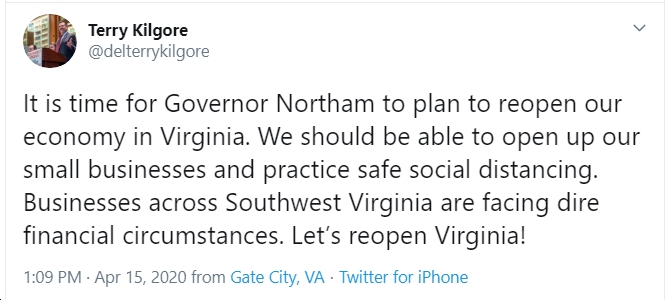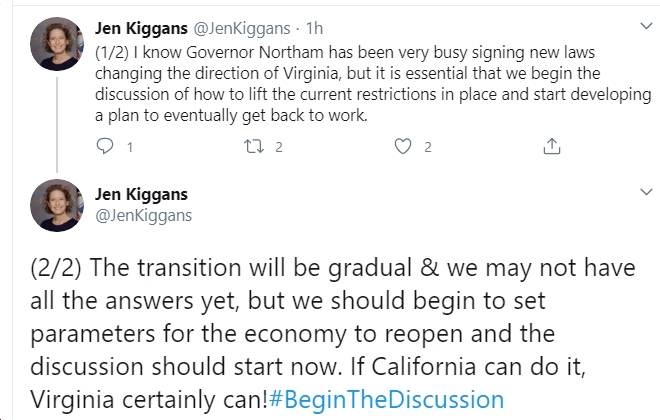 There's no paywall on Blue Virginia, and we definitely want to keep it that way! If you want to help support our work, you can donate here - thanks!
Also, you can
sign up for our weekly email list here
.