Advertisement

With the official announcement (see below) by Republican Omari Faulkner that he's ending his 2020 run for the nomination to run against get annihilated by Sen. Mark Warner (D) this November, it's now down to three Republicans. Note that Faulkner failed to get enough signatures to make the ballot, even after he "successfully sued to force the state to change its eligibility rules due to the COVID-19 pandemic…[and] a Richmond judge granted his request…to lower the petition signature threshold from 10,000 to 3,500."
Daniel Gade: A  retired U.S. Army lieutenant colonel and American University Professor, Gade had $142,818 cash-on-hand as of the end of 2019. Has been endorsed by former Rep. Scott Rigell (R-VA02), EW Jackson, former State Sen. Bill Carrico (R), etc.  His positions on the issues seem like mostly standard-issue conservative, with perhaps a touch of libertarian leanings in there as well?
Thomas Speciale: A U.S. Army Reservist, Speciale had *negative* $6,340 cash-on-hand as of the end of 2019. Here are his positions on the issues, which are definitely conserative, but also include – perhaps a bit surprisingly – "a pathway to citizenship for those people our past political leaders encouraged to come here illegally."
Alissa Baldwin:  A Civics & Economics teacher in Nottoway County, Baldwin had $475 cash-on-hand as of the end of 2019. Baldwin's positions on the issues, which are overwhelmingly conservative – can be read here, if you're interested.
In contrast to these three, Sen. Mark Warner had $7.5 million cash-on-hand as of the end of 2019, and is rated by Sabato's Crystal Ball as "Safe." This is in part because he's "well-regarded" (according to the "Crystal Ball"), in part because Virginia is leaning strongly "blue" at the moment, in part because he's doing a great job, and in part because (again, according to the "Crystal Ball") "it does not appear that Republicans will produce a top-tier challenger." For its part, the Cook Political Report says Warner seat is "not considered competitive and…not likely to become closely contested."

So…if Mark Warner is "safe," why should we focus on this race at all? As I argued on March 10, the reasons are:
"Our goal should be a massive reelection margin for Sen. Warner in order to send a clear, resounding message that we reject the Trump Republican Party and everything it stands for."
Second, by helping to reelect Sen. Warner by a huge margin, we can help guarantee that Virginia goes for the Democratic presidential nominee against Trump.
Third, and perhaps most importantly, the better Sen. Warner does in November, the better our Democratic "downballot" candidates – including potentially vulnerable, first-term incumbents like Rep. Abigail Spanberger (D-VA07) and Rep. Elaine Luria (D-VA02), plus potential pickups in tough, but possibly competitive, districts like VA01 and VA05 – should do as well.
And finally, Sen. Warner has been doing a great job for Virginia and for the country, really pushing back hard against the Trump administration's disrespect for the rule of law, working to safeguard our elections against foreign (e.g., Russian) interference, and also leading on important issues like the social media "wild, wild West" the "gig economy"/"rethinking worker benefits for an economy in flux," and of course responding to the COVID-19 crisis (e.g., Warner played a major role in helping to craft the $2 trillion economic "stimulus" package).
With that, here are Omari Faulkner's tweets, announcing his withdrawal from the race, and seemingly leaving Daniel Gade as the frontrunner right now.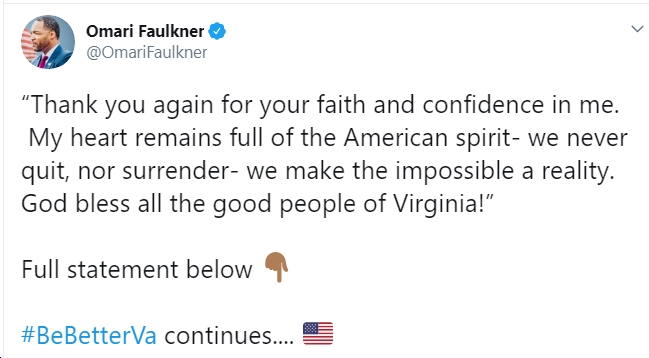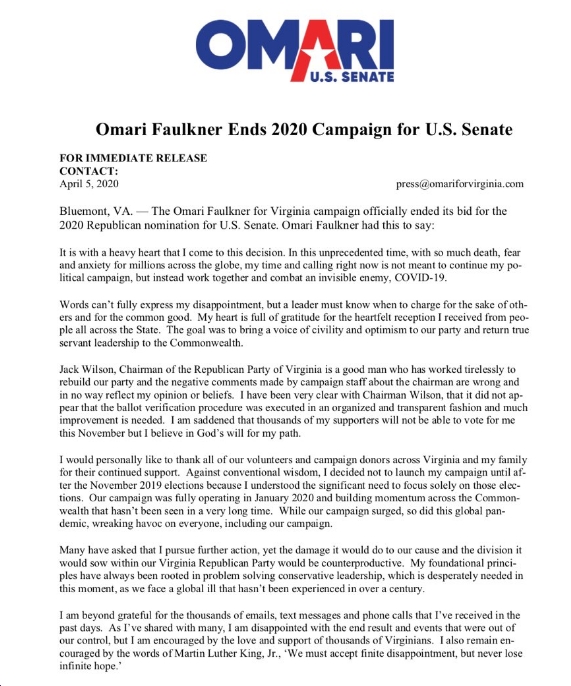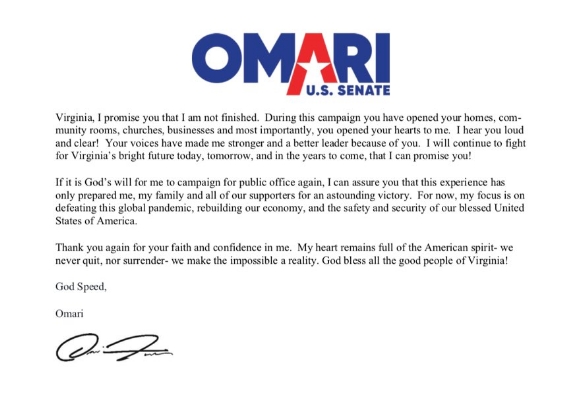 There's no paywall on Blue Virginia, and we definitely want to keep it that way! If you want to help support our work, you can donate here - thanks!
Also, you can
sign up for our weekly email list here
.