See below for some excellent news from AG Mark Herring, whose office continues to do superb work. Thank you!
By the way, there really is something called the "equitable doctrine of laches" (as mentioned in the court's main reason for denying the Plaintiff's motion): "The doctrine of laches is based on the maxim that "equity aids the vigilant and not those who slumber on their rights." (Black's Law Dictionary). The outcome is that a legal right or claim will not be enforced or allowed if a long delay in asserting the right or claim has prejudiced the adverse party. Elements of laches include knowledge of a claim, unreasonable delay, neglect, which taken together hurt the opponent."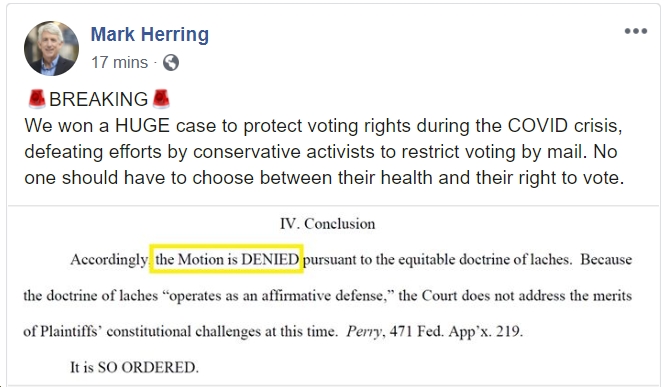 UPDATED: Statement from AG Herring's office.
"Attorney General Herring has successfully protected safe, accessible voting during the COVID-19 crisis and defeated efforts by conservative activists trying to restrict voting by mail and force Virginians to choose between their health and their right to vote.
Today, Judge Rossie D. Alston, Jr. in the Eastern District of Virginia decided in favor of Attorney General Herring and his team and denied an injunction sought by Republican-aligned activists who wanted to force Virginians to choose between voting in-person during the deadly COVID-19 pandemic and risking their health, or not voting at all fearing for their safety or the safety of others. Tens of thousands of Virginians would have been disenfranchised if the plaintiffs had been successful in changing the rules in the middle of an election cycle when thousands of absentee ballots have already been mailed and cast.
Vote-by-mail, which has been encouraged by Governor Northam, Attorney General Herring and even Trump's CDC, will save lives and allow Virginians to exercise their right to vote, while maintaining their health and safety…
…Attorney General Herring: "Today's ruling will save lives and is a huge win for Virginia and for democracy. Now, Virginians will not have to make the difficult choice between keeping themselves and their loved ones safe or exercising their fundamental right to vote. Conservative activists tried to use a deadly pandemic as a way to suppress voter turnout and disenfranchise tens of thousands of Virginians who fear that their health and safety would be jeopardized by voting in person, but they failed. I am incredibly proud of the work my team and I have done to make sure that Virginians continue to have accessibility to voting, even in the toughest of times."