Advertisement

Just in case you thought the far-right, extremist lurch of the Virginia GOP was only happening in the 5th CD (where they just booted out Rep. Denver Riggleman, who is hard right by any metric, in favor of even FURTHER hard-right Bob Good), check out the following from the VA10 GOP.
First of all, note how there are no resolutions being considered by the VA10 GOP on topics such as, let's just say, affordable/quality health care for all Americans? environmental protection/tackling the climate crisis? a top-notch education system? racial justice and equity? LGBTQ equality? supporting Metro and transit? a million other important issues that actually impact people's lives on a day-to-day basis?
Instead, what the VA10 GOP is focused on is, first off, the Bill of Rights, but…for some reason, only the 2nd, 5th and 6th amendments, *not* the 1st, 3rd, 4th, 7th, 8th, 9th or 10th.
They want to completely ban abortion and require that "any woman seeking to terminate her pregnancy be required to undergo a mandatory ultrasound prior to the abortion and be allowed to view her developing baby so she can make a fully informed decision about continuing with the abortion"
They want to protect marriage as "a union between one man and one woman" and declare that "[a]ll attempts to weaken or undermine the family must be opposed"
They assert that "the Church is a God-ordained institution with a sphere of authority separate from that of civil government and thus the Church is not to be regulated, controlled or taxed by any level of civil government"
They declare that "God is Sovereign over the world and has divinely instituted civil government among men for His glory and for the public good," that some of the main reasons for government are "to promote justice, restrain wickedness, punish evildoers," and that government should function "under the laws of nature's God and repudiates the socialist doctrine that the state is sovereign over the affairs of the citizens, and over the family and over the Church."
Is this the kind of platform that the VA10 GOP thinks will appeal to voters in places like Fairfax and Loudoun Counties? It certainly will be interesting to see how the VA10 electorate responds this November, and in future Novembers. LOL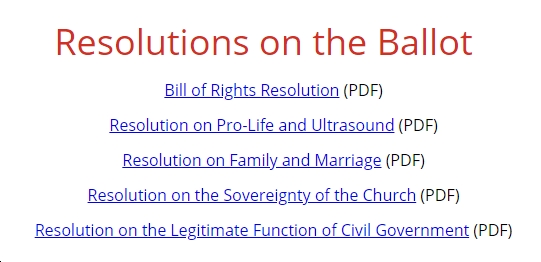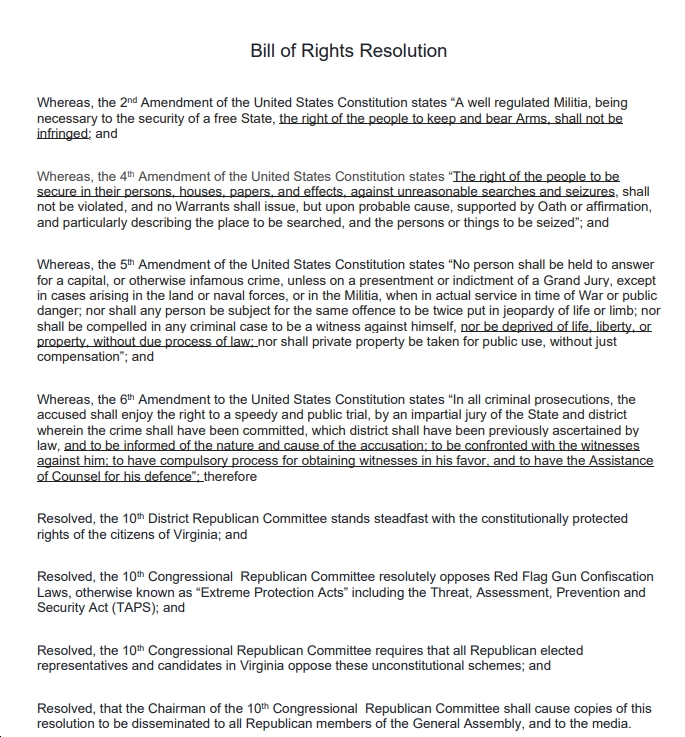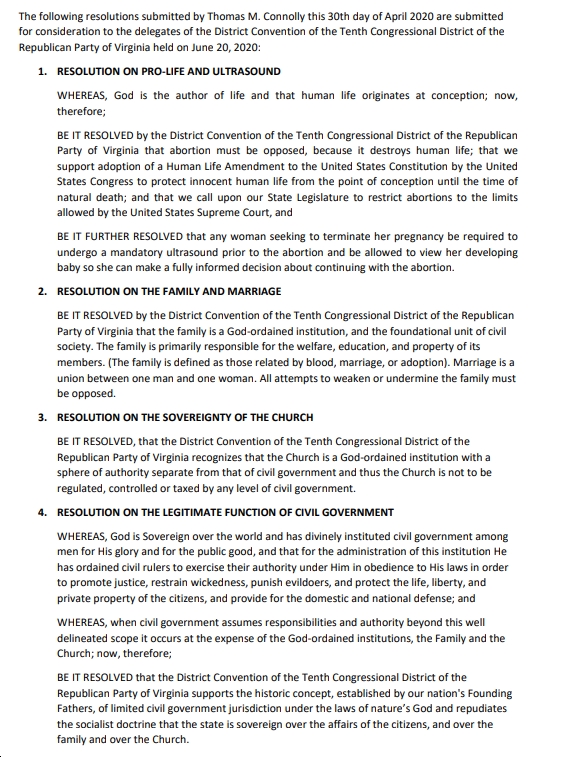 There's no paywall on Blue Virginia, and we definitely want to keep it that way! If you want to help support our work, you can donate here - thanks!
Also, you can
sign up for our weekly email list here
.