Advertisement

See below for video of Sen. Tim Kaine, speaking earlier today in Richmond; and three tweets by Sen. Mark Warner today, which encapsulate where we're at right now.
Sen. Kaine says: "I want to speak to the trauma that is in this country, especially to the trauma that is in our minority communities. And secondly, I want to encourage you not to let people change the subject. Don't let them change the subject…to have an individual not able to do the most innocent and innocuous life task without worrying that it will turn into a humilitation or a degradation or violence or death? This is what our minority communities deal with, our African-American and Hispanic communities. You can't go for a run without it turning into death. You can't sleep in your bed hoping to get enough sleep to go work your shift in a hospital…go to a store without it turning into death.  This is trauma that people are living every day. And that's what we're seeing on the streets of Richmond and everywhere. It's a trauma that falls heavily on some shoulders and not at all on others."
Sen. Mark Warner tweets that we can't continue to ignor the "truth and the shame" of systemic racism, police brutality, etc. as reflected in the deaths of George Floyd, Ahmaud Arbery and Breonna Taylor.
Sen. Warner tweets about Facebook shameful unwillingness to take action Trump's incendiary, irresponsible, dangerous posts.
Sen. Warner tweets about the tragic deaths of 100,000+ Americans from COVID-19 and how these are "not just statistics," but each "a life taken too soon."
About the only thing they didn't mention was the massive economic problems we're facing right now, with tens of millions of Americans out of work, and many others struggling. Put this all together, and as others have said, our country is now experiencing something akin to 1918 (pandemic), the 1930s (Great Depresssion) and 1968 (unrest, racism, the struggle for civil rights, deep divisions in the country, etc.) all at once, except this time with, essentially, a possibly even more racist and far more corrupt version of George Wallace as president. Oh, and also with the climate crisis – an existential threat we didn't face in 1918, the 1930s or 1968 – bearing down on us. It's a nightmare, and the only way we're going to start getting out of that nightmare is to change course big time, starting in November, when hopefully *all of us* head to the polls and vote Democratic up and down the ballot. No, that won't solve anything, but it's a necessary (albeit not sufficient) precondition to any possible hope of solutions…

Senator @timkaine says, "don't let people change the subject. There are a whole lot of folks who don't want to talk about police brutality. They will turn their attention away from the trauma that is real to preach a fake story." pic.twitter.com/21nQOQm973

— Sierra Fox (@Sierra8News) June 1, 2020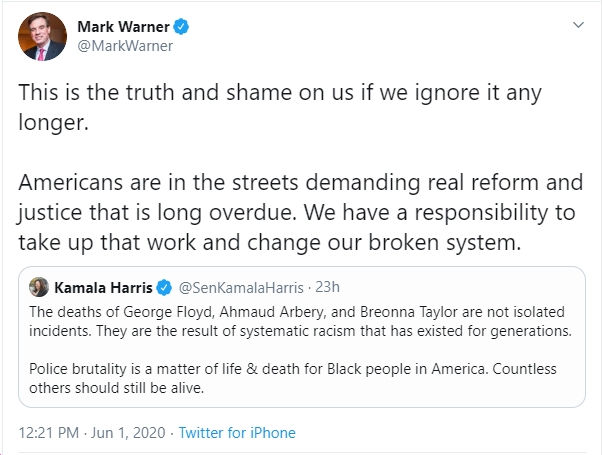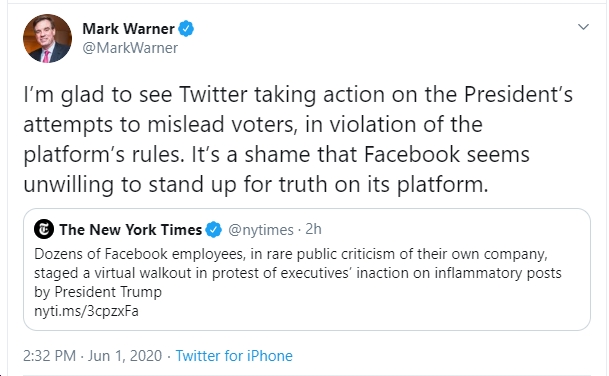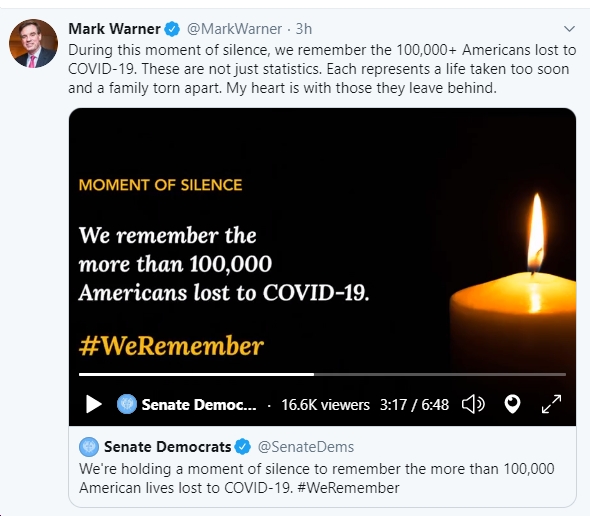 UPDATE: Here's the full Kaine video
There's no paywall on Blue Virginia, and we definitely want to keep it that way! If you want to help support our work, you can donate here - thanks!
Also, you can
sign up for our weekly email list here
.