Advertisement

A minute ago, the Virginia State Board of Elections (SBE) voted 2-1 to approve filing deadline extensions by Republicans Bob Good (the GOP nominee in VA05, defeating Rep. Denver Riggleman in a bizarre convention on June 14) and Nick Freitas (running for the GOP nomination in VA07; for the second year in a row, failed to file his SBE paperwork properly). See below for some tweets of the meeting from yours truly, plus reporters Graham Moomaw, Ben Paviour and Brandon Jarvis.
This decision has major implications for both the VA05 and VA07 elections. In VA05, Bob Good not being on the ballot could have helped Democratic nominee Cameron Webb big-time in this "red" district, and also could have influenced Rep. Denver Riggleman's thinking re: possibly running as an independent. In VA07, this decision to grant an extension could impact the GOP convention coming up on July 18, as Freitas' opponents won't be able to argue that he would not be on the ballot and therefore would almost certainly lose to Rep. Abigail Spanberger (D). Which would almost certainly have been the case, but now it's not going to be…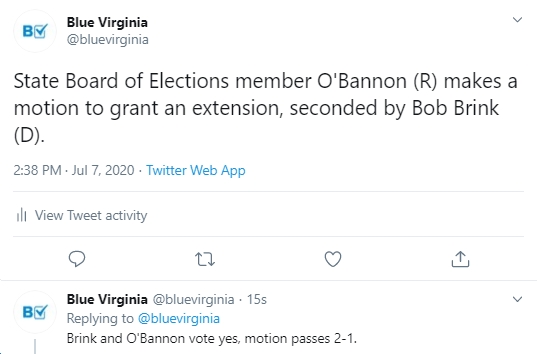 Several members of the public in a row have now argued, essentially, that we have rules and candidates need to follow them – period; also, that it's unfair to candidates who managed to get their paperwork on time to grant exceptions for some candidates…

— Blue Virginia (@bluevirginia) July 7, 2020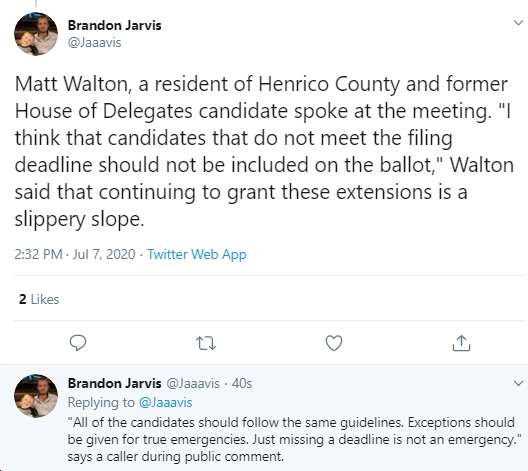 Former Rep. Tom Garrett (R) now reading the code and arguing that the State Board of Elections absolutely *does* have the authority to grant extensions.

— Blue Virginia (@bluevirginia) July 7, 2020
DCCC attorney now reiterating that the Board's authority to grant extensions is limited, and that granting such a "large extension" would be "unprecedented"…would conflict with the reason for creation of the statutory language.

— Blue Virginia (@bluevirginia) July 7, 2020
It's funny how election rules are never draconian to Republicans when Democrats bring legislation to change them; but only when Republicans can't manage to follow them. https://t.co/lbrFoNmq1T

— Cindy Cunningham (@CunningCindy) July 7, 2020
DCCC attorney now arguing to Virginia State Board of Elections that the penalty for missing the filing deadline is NOT "draconian," that "there IS a remedy" (e.g., can run a write-in campaign).

— Blue Virginia (@bluevirginia) July 7, 2020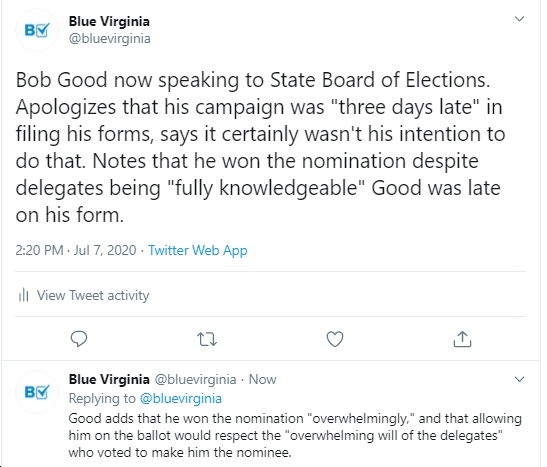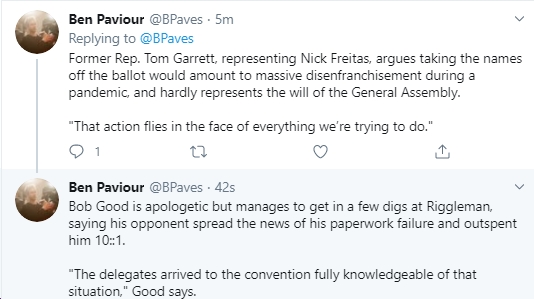 Ex-congressman Tom Garrett now speaking on behalf of Freitas, saying rejecting the extension would deny voters and parties the chance to put their candidates on the ballot across a big chunk of the state.

"That action flies in the face of everything we're trying to do."

Here are all 8 (!!) House candidates who missed paperwork deadlines.

CD-5 Robert Good (R)
CD-7 Nick Freitas (R)
CD-6 Nicholas Betts (D)
CD-10 Aliscia Andrews (R)
CD-7 Peter Greenwald (R)
CD-7 Andrew Knaggs (R)
CD-7 Jason Roberge (R)
CD- 10 Robert Jones (R)

— Ben Paviour (@BPaves) July 7, 2020

— Graham Moomaw (@gmoomaw) July 7, 2020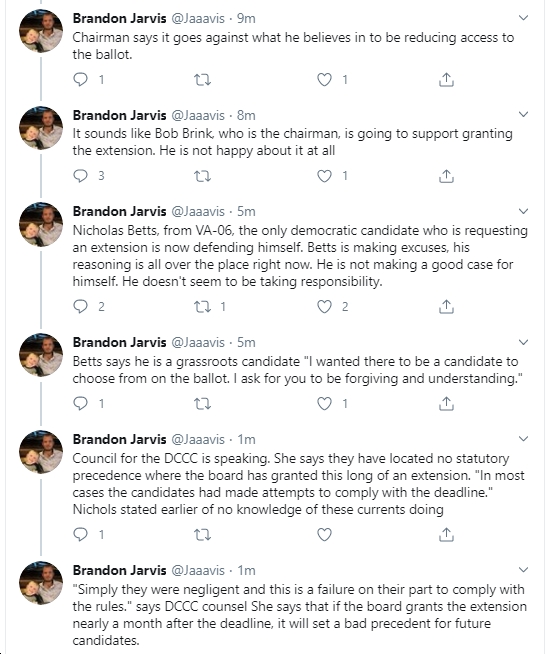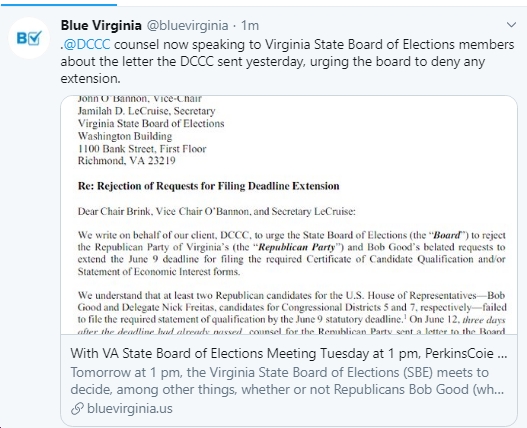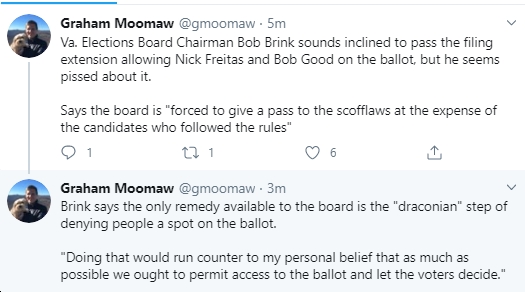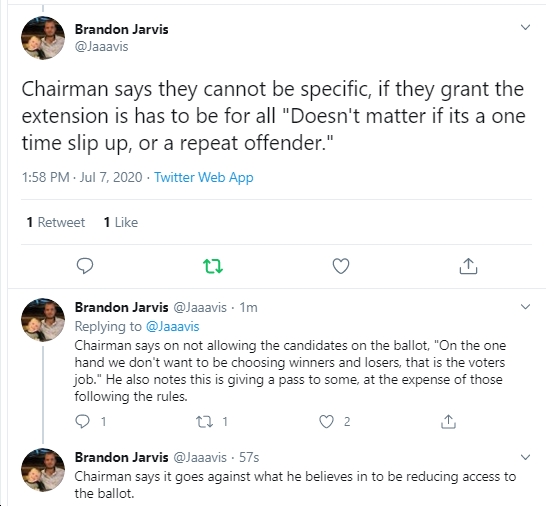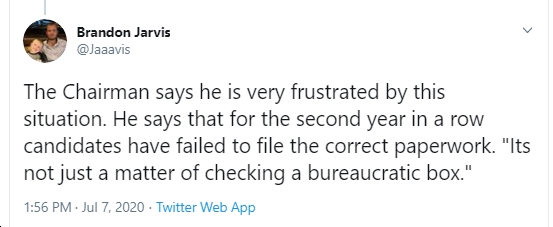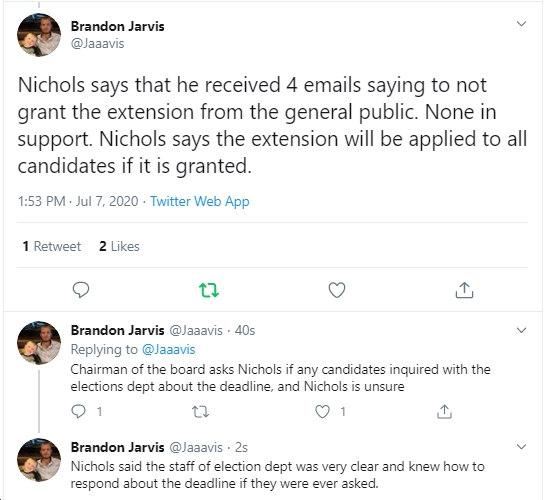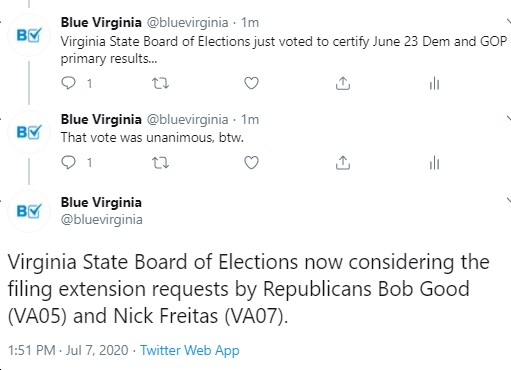 Va. elections commish Chris Piper says don't expect quick presidential results in Nov. due to mail ballots.

"As you look on election Twitter, you will see a real town crier appeal that election night is now election week. And we should all probably be thinking about it that way"

— Graham Moomaw (@gmoomaw) July 7, 2020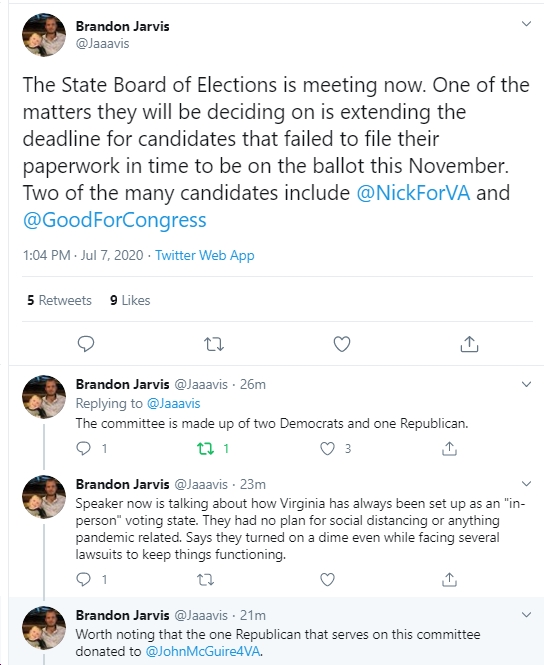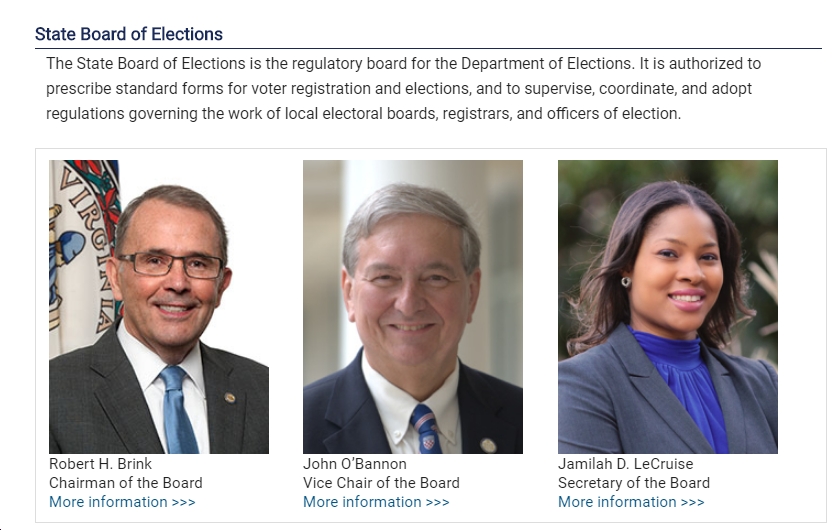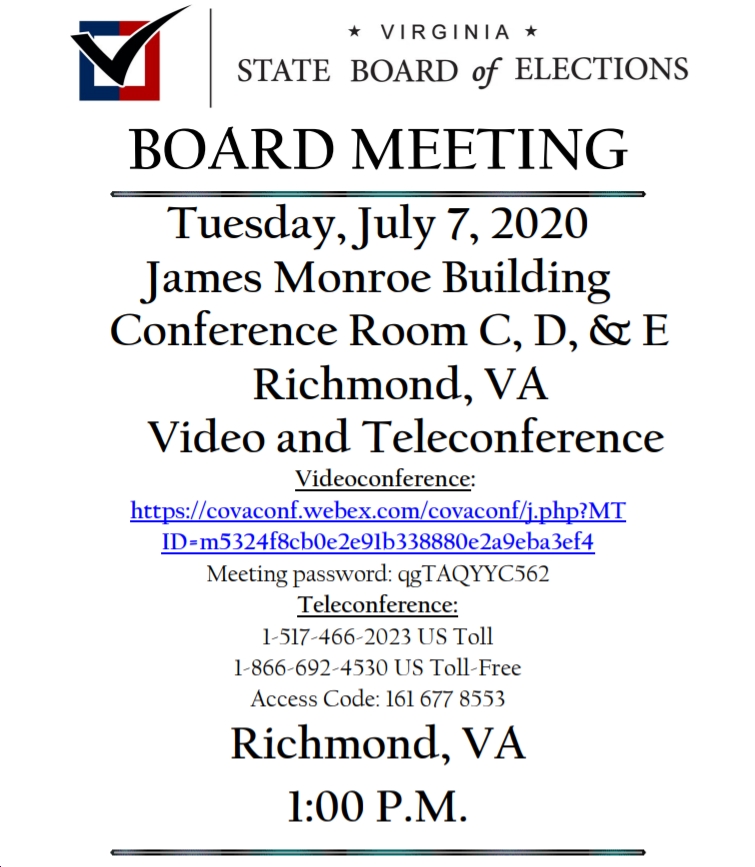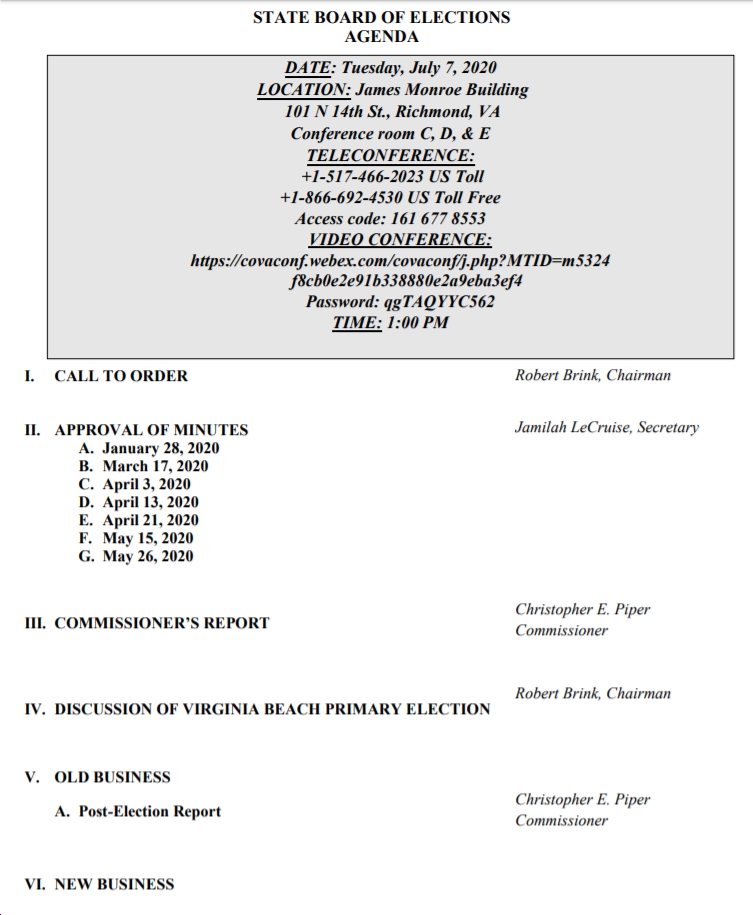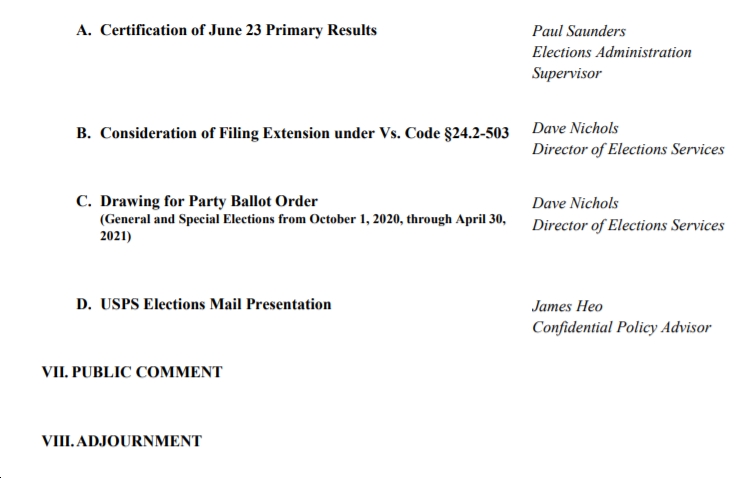 There's no paywall on Blue Virginia, and we definitely want to keep it that way! If you want to help support our work, you can donate here - thanks!
Also, you can
sign up for our weekly email list here
.