Advertisement

This morning's NY Times has a fascinating article looking in detail at racial disparities in the COVID-19 pandemic:
"Early numbers had shown that Black and Latino people were being harmed by the virus at higher rates. But the new federal data — made available after The New York Times sued the Centers for Disease Control and Prevention — reveals a clearer and more complete picture: Black and Latino people have been disproportionately affected by the coronavirus in a widespread manner that spans the country, throughout hundreds of counties in urban, suburban and rural areas, and across all age groups."

Latino and African-American residents of the United States have been three times as likely to become infected as their white neighbors, according to the new data, which provides detailed characteristics of 640,000 infections detected in nearly 1,000 U.S. counties. And Black and Latino people have been nearly twice as likely to die from the virus as white people, the data shows.
The disparities persist across state lines and regions. They exist in rural towns on the Great Plains, in suburban counties, like Fairfax County, Va., and in many of the country's biggest cities.
See below for the map of Virginia, and a few things that jumped out at me.
First, per the NY Times, "Latino people have also been infected at a jarringly disparate rate compared with white people. One of the most alarming hot spots is also one of the wealthiest: Fairfax County, just outside of Washington, D.C. Three times as many white people live there as Latinos. Yet through the end of May, four times as many Latino residents had tested positive for the virus, according to the C.D.C. data."
The numbers in Fairfax County are: 269 per 10k for Hispanics, 50 per 10k for Blacks, 23 per 10k for whites.
In Arlington County, Hispanics are at 229 per 10k, Blacks at 61 per 10k and whites at 30 per 10k.
The Eastern Shore is very striking: in Accomack County, Blacks are getting COVID at a rate of 547 per 10k, Hispanics at 311 per 10k, and whites at just 43 per 10k. Massive, massive difference. And in Northampton County, Blacks are at 343 per 10k compared to 58 per 10k for whites.
In Buckingham County, Blacks get COVID-19 at a 168 per 10k rate, compared to 86 per 10k rate for whites.
In Loudoun County, Hispanics are at 98 per 10k, Blacks at 24 per 10k and whites at 16 per 10k.
In Prince William County, Hispanics are at 163 per 10k, Blacks at 42 per 10k and whites at 21 per 10k.
In Culpeper County, Hispanics are at 451 per 10k, whites at 15 per 10k and Blacks at 7 per 10k.
In Spotsylvania County, Hispanics are at 92 per 10k, whites at 10 per 10k and Blacks at 5 per 10k.
In Rockingham County, Hispanics are at 184 per 10k, whites are at 25 per 10k.
So those are just a few examples of racial disparities in Virginia COVID-19 cases. What jumps out at you?
UPDATE 1:07 pm – From Fairfax County Board Chair Jeff McKay…here is a "summary of the interventions Fairfax County has taken to reduce risk and address disparities in the Latino community."
"Establishing a High-Risk Communities Taskforce within the Health Department to coordinate activities addressing disproportional impacts of COVID-19 in specific groups.
Engaging with Latino advocacy groups and listening to their insights and suggestions.
Actively recruiting and hiring bilingual Community Health Specialists and Community Health Workers to expand culturally competent public health outreach.
Working with federally qualified health centers (HealthWorks of Northern Virginia and Neighborhood Health) and non-profit clinics to increase routine testing opportunities to populations who may lack health insurance or a medical home.
Promoting increased COVID-19 testing and holding community testing clinics in collaboration with safety net medical providers in areas of increased disease.
Working with trusted non-profit and interfaith partners to enhance public health outreach to limit disease spread in the home setting.
Working with trusted non-profit and interfaith partners to provide needed supports for families including emergency food and housing financial assistance.
Promoting support services through the Coordinated Planning Services (CSP) line, to include a Service Navigation Support Team for COVID-19 referrals.
Providing locations (hotels) where infected individuals capable of self-care can isolate or quarantine in a temporary shelter.
Collaborating with One Fairfax to develop broader initiatives to address community needs and underlying factors that increase COVID-19 risk.
Using targeted media to provide culturally appropriate materials to provide education and links to resources.
Hosting a COVID-19 telebriefing for Spanish-language news media and making frequent appearance on Spanish-language radio to share health information with Latino audiences.
Developing a COVID-19 language portal that features information and resources in several languages including Spanish and providing Spanish-only text service.  Users can text FFXCOVIDESP to 888777 to get COVID-19 updates from the county."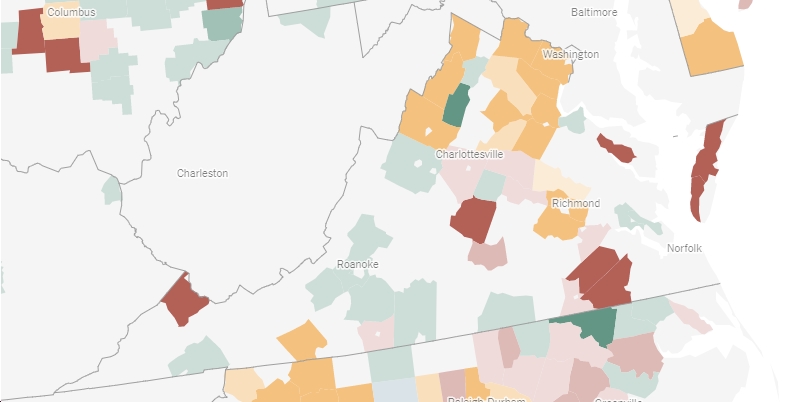 There's no paywall on Blue Virginia, and we definitely want to keep it that way! If you want to help support our work, you can donate here - thanks!
Also, you can
sign up for our weekly email list here
.