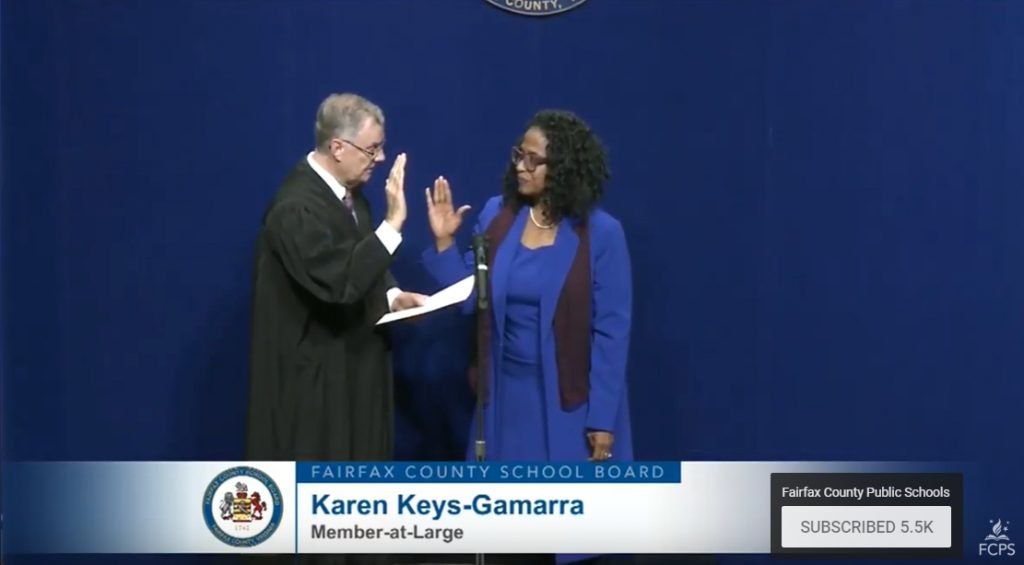 by Fairfax County School Board member Karen Keys-Gamarra
Zoom calls are not supposed to end because an African-American elected official hears racial epithets and the "N word" hurled across a virtual room. But today's political climate seems to have encouraged just that as I, a Fairfax County School Board member at-large, wrapped up my comments for a meeting with the Sully Democrats last night.  I am accustomed to contrary opinions, but this incident only inspires me to continue advocating for our students, families, and staff.  With the focus on racial injustice, urgent school board work should address issues of access to opportunity and any disparate impact of our policies.
COVID-19 has provided circumstances that allow us to reflect on the inequities present in our schools. That is why I have advocated strongly for addressing racial disparities. I am proud to say that I wrote the first Juneteenth resolution for our Board. Just last week, my colleagues pledged to eradicate systemic racism from our schools.  In preparation for that work, I submitted two important topics detailing specific actions for the Boards' consideration.
From my view, the Board should consider these specific actions.  First, in support of the move to identify racist practices, I challenged my colleagues and our leadership to consider our decision making process as a possible impediment to progress. Next, I wrote an action item to address systems within FCPS:  1) to examine the principal selection process; and, 2) to examine our discipline practices and the impact of SRO's in our schools.  I'm aware of the call to remove SRO's from our schools, and this Forum Topic places a magnifying glass on that program and allows for public comment.  Such Forum Topics are the vehicle through which the Board takes action. I believe my colleagues want the same, and I have every intention of using my skills from my day job to assist us in getting the job done.
When I signed up to run for school board back in 2017, I had no idea that I would be a part of the "blue wave" that has resulted in an all-Democratic school board.  When I ran for office this past November, I had no idea that we would experience a pandemic and watch our nation erupt with resolve against the injustices that face black folk in their everyday lives.  And I did not foresee the avalanche of appropriate concern for the safety of students and staff.  I can't ignore any of these concerns.  I will work to address the matters mentioned above and press to make sure that we are listening to our staff members to develop the right policies to protect our two most vital assets – our staff members and our students.
We need to reopen schools with an eye toward safety for all concerned.  I am advocating for six feet of separation between students to maximize safety.  I want personal protective equipment and an evaluation of the needs of various populations in our schools so that the plan to return to school reflects the reality of in-person education in a brick-and-mortar setting.  I will work to hear the concerns of all and let the best available science, as well as common sense, guide my advocacy.  This isn't an easy job, but when I think of that ridiculous man screaming in my Zoom call, I truly realize that we must press on and not allow the words that lack wisdom define the day.