UPDATED 8:22 pm


UPDATED 5:27 pm
UPDATED 2:17 pm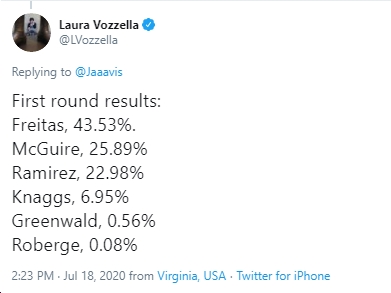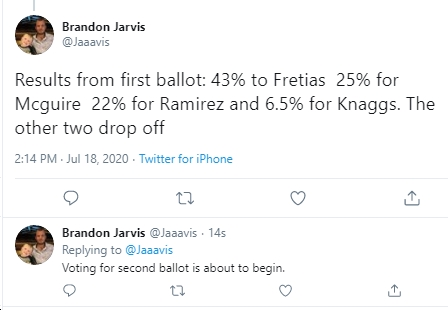 At long last, after being delayed from April due to COVID-19, the 7th CD GOP convention will finally take place today in Doswell, with "more than 5,000 people" participating as delegates.
Under rules adopted by the 7th District Republican Committee, delegates will walk through an exhibition hall to cast ballots, then wait either outside the building or in their vehicles for the votes to be tallied. Additional rounds of voting will be conducted in the same manner if needed for one candidate to amass a majority.
The two candidates who have raised the most money are both U.S. military veterans: Freitas, a former Army Green Beret who lives in Culpeper, and fellow state Del. John McGuire, a former Navy SEAL who resides in Goochland.
Chesterfield resident Tina Ramirez, founder of an international nonprofit that promotes religious freedom, and former Defense Department official Andrew Knaggs, are Nos. 3 and 4 on the fundraising scoreboard, respectively.
Pete Greenwald, a retired Navy commander and Chesterfield high school teacher, and Coast Guard veteran Jason Roberge round out the field.
See below for the cash balances as of June 30 for the 7th CD candidates – Rep. Abigail Spanberger (D) WAYYYY ahead, with over $4 million (!), followed by Republicans Nick Freitas ($353k), John McGuire ($258k), Tina Ramirez ($37k), Andrew Knaggs ($26k), Jason Roberge ($689), Pete Greenwald (negative $219). Note that all of VA07 GOP candidates are very, very far to the right ideologically, and of course none of them deserves to be elected to Congress, let alone over Rep. Abigail Spanberger (D-VA07). Anyway…the leading two Republican candidates here are Freitas and McGuire, with the most likely winner being Freitas. We'll see how it goes today…see below for more information and stay tuned for updates.