Advertisement

Yesterday, Virginia Republicans elected former Delegate Rich Anderson as their Chair, succeeding current Chair Jack Wilson. Anderson takes over following abysmal results the past few years – getting clobbered for governor, Lt. Governor and Attorney General; also getting their butts kicked for U.S. Senate; losing control of the Virginia State Senate and House of Delegates; dropping to just four U.S. Representatives out of 11, AND – as an added bonus – basically having no money to speak of. LOL
So who is Rich Anderson?  As I wrote last night, he's a *former* delegate, having represented the 51st district (Prince William County) since 2009, but who then lost his seat in 2017 to Democrat Hala Ayala, then lost a rematch to Ayala in 2019. In the legislature, as you can see from Project Vote Smart, Anderson racked up a pretty much hard-right voting record…although sometimes he tried to act like a moderate, in increasingly "blue" and highly diverse Prince William County. But in his run for VA GOP chair, there was no need to pretend anymore, so he let his inner right-wingnut out…and it worked.

Speaking of Anderson's inner right-wingnut, see below for a bit more on that topic. First, as Del. Hala Ayala – who defeated Anderson not once but *twice* – points out, "Virginians rejected [Anderson's] extremist anti-choice, anti-immigrant rhetoric twice before and I know we will again." And, as Prince William County Supervisor Kenny Boddye adds, "*Former* @DelRichAnderson is just a reminder of where Virginia used to be, not where we're going."
What are Ayala and Boddye referring to? On immigration, check out Anderson's record – voted "to pass a bill that requires law enforcement officials to determine the U.S. citizenship status of any individual he/she arrests and takes into custody"; voted "to pass a bill that prohibits undocumented immigrants from enrolling in public post-secondary institutions of higher learning"; etc. Re the "anti-choice" stuff, how about his zero rating in 2016 from NARAL Pro-Choice Virginia; his vote "to prohibit Department of Health from entering into contracts with providers that perform non-federally qualified abortions"; etc?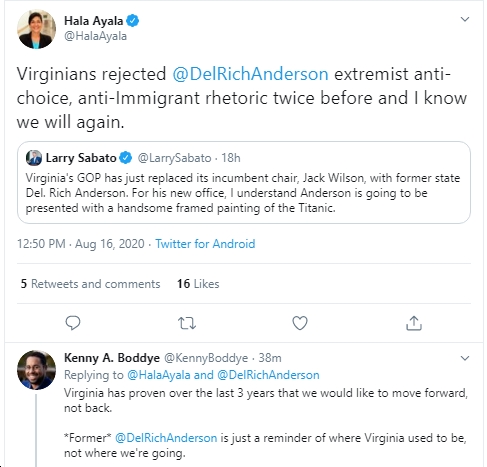 Oh, and speaking of "where Virginia used to be, not where we're going," how about the following two items? First, see below for Anderson's 2012 legislation "remov[ing] the prohibition against carrying certain firearms or other weapons in air carrier airport terminals." Brilliant, huh? Fortunately, that legislation basically went nowhere, even in a heavily Republican-controlled House of Delegates at the time.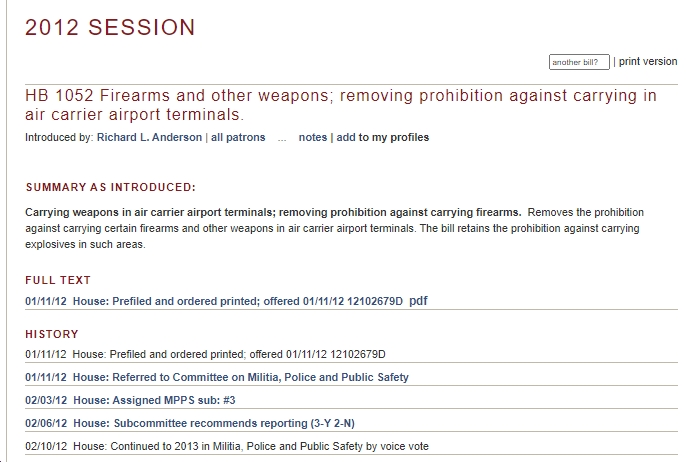 Oh, and check out this video of then-Delegate Rich Anderson, back on May 15, 2012, arguing strenuously against the nomination of Chief Deputy Commonwealth Attorney (for Richmond) Tracy Thorne-Begland – who is gay – to the Richmond District Court. Writing at the time, the far-right Family Foundation praised Anderson and other Republicans who spoke against Thorne-Begland's nomination, saying they "spoke passionately during the House floor debate about their concern over Thorne-Begland's violation of his military oath…that the real issues here concerned integrity, truth, duty and an oath of office," as well as "the integrity of the courts…at stake with this vote." As Del. Mark Keam wrote at the time, "this vote came at the end of a contentious legislative session where the Republicans' divisive social issues like gays, abortion, religion, etc., dominated the agenda." And then-Delegate Rich Anderson, now the VA GOP Chair, was at the forefront of those "divisive social issues."
Anyway, expect a lot more of that over the next four years from new VA GOP Chair Rich Anderson. Which means, of course, that we all need to make sure we vote in *every single election* during that time period, so that none of Anderson's far-right values ever get enacted into law, and also so that his party's candidates keep up their epic losing streak that's turned our state "blue."
There's no paywall on Blue Virginia, and we definitely want to keep it that way! If you want to help support our work, you can donate here - thanks!
Also, you can
sign up for our weekly email list here
.