Advertisement

Back in June, Del. Elizabeth Guzman (D-HD31) announced that she was "exploring" a candidacy for Lieutenant Governor of Virginia in 2021, with a potential Labor Day launch. I interviewed Del. Guzman at the time; she emphasized that she would be "become the first Latina, the first woman" Lt. Governor of Virginia; talked about her accomplishments; and said "I will make my case to voters…that I have worked really hard to earn this promotion." Now, Del. Guzman has formally announced her candidates for Lt. Governor of Virginia in 2021, arguing, "I'm running for Lieutenant Governor because the Senate needs a progressive voice," adding that "the Senate needs a fighter for workers so that everyone – no matter who you are or where you're from – can find their American Dream." Guzman also notes that she was "co-chair of Bernie Sanders' campaign in Virginia and now serves on Joe Biden's National Latino Leadership Council, with "her current focus…on helping Biden and Kamala Harris defeat Donald Trump, so a more formal campaign launch is planned for November."
Currently, by the way, VPAP lists Del. Hala Ayala, Paul Goldman and Xavier Warren as Democratic 2021 LG candidates; also, see here for a (long) list of actual/potential candidates (at this point, I'd remove Nick Rathod's name, as it sounds like he's not running after all; I'd also move Del. Sam Rasoul up a notch to "strongly rumored as likely candidates"). And with that…here's Del. Guzman's announcement.

Delegate Elizabeth Guzman Opens Campaign Committee to Run for Lieutenant Governor 
DALE CITY, Va.-– Delegate Elizabeth Guzman (D-31) has filed the paperwork to open her campaign committee to run for Lieutenant Governor.
"I'm running for Lieutenant Governor because the Senate needs a progressive voice," said Guzman, who would be the first woman and first Latinx person to serve in that position. "I came to this country as a 25-year-old single mother with $300 to my name, and I had to work three minimum wage jobs with no health care and no paid sick days just to afford a one-bedroom apartment. But my struggle is not unique to immigrants, and millions of Virginia families are living paycheck to paycheck, just barely getting by. Over a million people alone do not have any paid sick leave. The pandemic has only made things worse, especially for our frontline workers and communities of color. Virginia is ranked #1 for business but last for workers, and the Senate needs a fighter for workers so that everyone – no matter who you are or where you're from – can find their American Dream."
Guzman is a social worker and public administrator with two master's degrees and a 17-year career in human services. She is a union member and division chief for the City of Alexandria's Center for Adult Services, where she oversees a $20 million budget for a 200-person staff serving some of our most vulnerable populations, including the elderly and people struggling with addiction. She is a former employee of Fairfax County Public Schools and the Fairfax County Office for Children. She has also worked to prevent child abuse as a court-appointed special advocate (CASA).
Guzman was the co-chair of Bernie Sanders' campaign in Virginia and now serves on Joe Biden's National Latino Leadership Council. Her current focus is on helping Biden and Kamala Harris defeat Donald Trump, so a more formal campaign launch is planned for November.
Guzman and her husband Carlos have lived in Virginia for over two decades. They reside in Dale City with her mother and the couple's four children.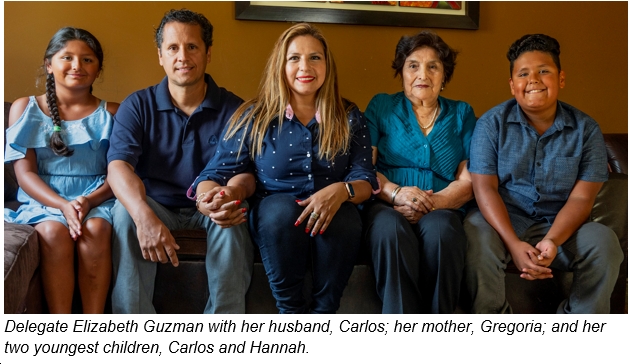 Background and Qualifications
Guzman said, "I see the role of lieutenant governor as a promotion for a successful legislator, and I will make my case to voters that I have earned that promotion."
Her key accomplishments include:
If elected, Delegate Guzman will have served in the Virginia House of Delegates for four years when she becomes the first woman and first Latinx person to serve as lieutenant governor. A social worker with a 17-year career in human services, Guzman is Chair of HWI's Social Services Subcommittee.
Delegate Guzman is the Vice Chair of the Education Committee, which made a historic investment in public education this year. In her first year as a legislator, she introduced legislation to reduce the caseload of school counselors and special education aides, and a measure to fund universal pre-K. In 2020, she was named "Legislator of the Year" by the Virginia Education Association.
Delegate Guzman's bill lifted Virginia's blanket ban on public sector collective bargaining, which a University of Toledo law professor told the Washington Post "would lift the spirits of labor in the United States."
Delegate Guzman's bill raised the age at which children are automatically tried as adults from 14 to 16, which the Daily Press called a "sweeping rethinking of how to deal with kids accused of felonies". The paper noted Guzman had waged a "three-year campaign" to successfully pass the bill.
Delegate Guzman, along with every member of the Democratic House Caucus, campaigned on and passed Medicaid expansion, which expanded health care access to 400,000 Virginians. This was a team effort.
Delegate Guzman has sponsored a paid sick days bill in every session. The initiative passed the House but was killed this year in the Senate. During the emergency special session – which was convened to address the pandemic and police reform – Guzman sponsored a paid quarantine bill which passed the House but was killed by the Senate Commerce and Labor Committee. Bloomberg Law highlighted her bill in an article titled "Virus Paid Leave Expands Even as Democrat-Led Virginia Says 'No'".
Delegate Guzman was chief co-patron on the bill that decriminalized marijuana. She has also sponsored legislation to expunge low-level offenses, ban private prisons, and collect racial data on use of force cases. Her bill to restructure the Commonwealth's Law Enforcement Training Board passed the Senate and is expected to be voted on when the House reconvenes this week.
Delegate Guzman was chief co-patron on the bill to raise the minimum wage and a voice against delaying its implementation. Her bill to remove the farm worker's exemption was successfully rolled into the House version of the bill, but was stripped out in the Senate. Factoring in cost of living, Virginia has had the lowest minimum wage in the country.
Delegate Guzman, as a newly-appointed member of Prince William County's jail board, led the charge to end the county's 287(g) partnership with ICE. WAMU reported, "At the end of the meeting, Guzman thanked the ICE officials for their attendance. 'We need to use our local dollars to fix our own problems'"
Delegate Guzman co-founded the Virginia Green New Deal Coalition and sponsored a resolution declaring a climate emergency, which was passed by the Virginia House of Delegates. She does not accept money from Dominion and was quoted in USA Today when Dominion pulled out of the Atlantic Coast Pipeline. She also supports de-regulating the energy market so that Dominion does not have a monopoly as we transition to a clean energy economy. Delegate Guzman has received an A+ rating from the Sierra Club and an A with "Extra Credit" from the Virginia League of Conservation Voters. She also received a 2020 Legislative Leader award from the Virginia LCV for the legislation she passed this session, including a bill to require localities to consider transit-oriented development in their comprehensive plans and a bill to study and create recommendations for regulating PFAS in water. She also sponsored a budget amendment to study extending the Blue Line to Quantico. A clip of Guzman discussing the intersection of public health and environmental justice in a forum with the League of Conservation voters can be viewed HERE.
(Now)-Speaker Nancy Pelosi asked Delegate Guzman to give the Spanish language response to Trump's State of the Union address in 2018. She wrote the speech herself.
Delegate Guzman defeated a 16-year Republican incumbent by nine points and raised $1 million last year in her re-election effort. She was elected as the chair of the freshman class and this year was elected the first Latina to represent Virginia as a DNC member. She had the most votes of anyone in the state.
As one of a few Democrats in the General Assembly to represent a district that is partly rural, Guzman is dedicated to bridging the Rural Divide. She traveled throughout the state when campaigning for Senator Bernie Sanders and told Transition Virginia's Michael Pope that "I've seen … the excitement, hope on the faces of individuals when you talk about college affordability, when you talk about health care for all". Virginian-Pilot columnist G.C. Morse has written that "Guzman has obvious political gifts and conveys both thoughtfulness and an easy authenticity" and mused "Could she sell more collectivist (liberal) politics to rural areas short on answers?"
Delegate Guzman has introduced legislation to create a hiring preference in state government for people in the disAbility community. She received the "Trailblazer Award" from the Democratic Party Of Virginia's disAbility Caucus.
Delegate Guzman introduced a bill to require state employees to complete a LGBTQ+ cultural competence training and is continuing to work on legislation to expand the definition of child abuse to include bullying a child based on gender identity or sexual orientation.
Delegate Guzman is the chair of the Southern Region for the National Hispanic Caucus of State Legislators. In that capacity, she represents Hispanic legislators from 10 different states. Her resolution to address climate change was adopted as a national model for the group, as was her resolution on comprehensive economic reforms for military families.
###
Paid for and Authorized by Elizabeth Guzman for Virginia
There's no paywall on Blue Virginia, and we definitely want to keep it that way! If you want to help support our work, you can donate here - thanks!
Also, you can
sign up for our weekly email list here
.