UPDATE 7:53 pm – Good news, Dems win HD02, in addition to HD90. Nice job!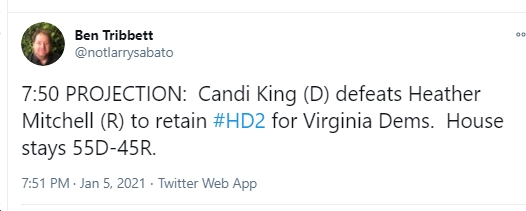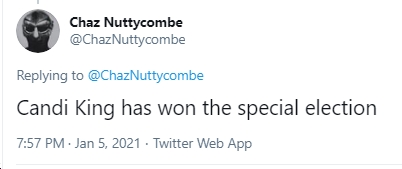 UPDATE 7:45 pm – With 21 of 23 precincts reporting, it's now King (D) 4,175-Mitchell (R) 3,912.
UPDATE 7:38 pm – Final results in the Stafford County portion of HD02 are Mitchell (R) 2,926-King (D) 1,763. Dems are going to need a big night in Prince William County to pull this one off! Ben Tribbett just tweeted, "With all of Stafford in, and PWC absentees all Candi needs to win is 776 margin on election day in PWC. I think she can do this but let's see."
UPDATE 7:36 pm – Ben Tribbett just tweeted, "Most of Stafford now in for #HD2 and GOP margin is around 1200 so far. That should be possible to make up in PWC but not a lock with low turnout today." And Chaz Nuttycombe tweeted, "Stafford is almost entirely in. Nothing from PWC yet. Here are the swings. It's looking pretty bad for Democrats, I'd rather be the Republican right now. Democrats better have worked their ass off in PWC or else this is going to flip."
UPDATE 7:32 pm – With 11 of 23 precincts (10 in "red" Stafford County and 1 in "blue" Prince William County) reporting in HD02, it's now Mitchell (R) 2,999-King (D) 2,223. C'mon Prince William County!
UPDATE 7:26 pm – With 5 of 23 HD02 precincts reporting (all in "red" Stafford County so far), it's Heather Mitchell (R) 1,341-Candi King (D) 870. In HD90, with 9 of 22 precincts reporting, Angelia Graves (D) is winning easily (1,805-629) – congratulations!
**********************************
With everything going on these days, it would be easy to forget that there were two special elections for House of Delegates today in Virginia. But there were – in HD02 (parts of Prince William County and Stafford County) and HD90 (Norfolk). The candidates in HD02 are Democrat Candi King and Republican Heather Mitchell, and in HD90 the candidates are Democrat Angelia Williams Graves and Republican Sylvia Marie Bryant. HD02 is a strongly Democratic-leaning district (e.g., Kaine won it 65%-34% in 2018), but this is a special election (after Jennifer Carroll Foy announced on 12/8 that she was resigning her House of Delegates seat, and turnout will be very low, so anything could happen. As for HD90, it's even bluer (Kaine won it 71%-28% in 2018), so Dems should be good there (note: this special is being held because Joseph Lindsey resigned as delegate to become a judge).