See below for video of CNN's segment on the 2021 Virginia governor's race. The segment is framed, incorrectly in my view, as "a test of Trump's sway over this party," and whether the "split in the GOP" between their "MAGA-esque frontrunner" and what CNN misleadingly calls "more conventional Republicans" means that Virginia's "blue state transformation will be permanent."  This is really not a great analysis of what's going on here. Why not?
Basically all of the Virginia GOP's statewide candidates are Trumpian to varying degrees and basically all are hard right. I mean, can anyone point to substantive differences on the issues between Amanda Chase and Pete Snyder or Kirk Cox, for instance? If so, what are they exactly?
Virginia is "blue" when Democratic voters turn out in large numbers, as we saw following Trump's election…in 2017, 2018, 2019 and 2020. The question is, will this continue now that Trump's out of the White House?
 By the way, what is a "more conventional Republican" at this point? The kind that was common back in the 1970s? 1980s? 1990s? 2000s? Again, who among the statewide Republican candidates qualifies as "more conventional," whatever that even means?
I do agree, however, that the 2021 Virginia governor's race represents "an off-year election that'll be one of the earliest tests of strength and strategy for both political parties."
As for the interviews with Speaker Filler-Corn and Sen. Chase, click here or on the image below for the video, and also see below for highlights.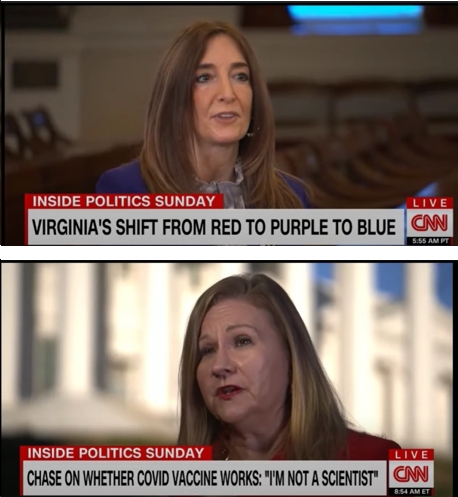 Filler-Corn says there was no debate in her mind about removing the statue of Robert E. Lee, that "it was an easy decision."
Filler-Corn: "We are doing exactly what we told Virginians we would do and I think that's important too."
Chase says she believes Joe Biden "is the president," but does not believe "the elections results fully represented the will of the people." Huh?
Chase calls herself a "firebrand Republican," contrasting herself to "weak-kneed Republicans."
Filler-Corn says that if Virginia Republicans continue to follow a Trumpian path, "they will continue to lose and Virginia will continue to shift [blue]."
Chase says she believes that taking a COVID-19 vaccination is "everyone's personal choice." She says she's "not a scientist" when asked whether the vaccines work (which, of course, they absolutely do!). Chase claims that the virus will "run its course…people are going to develop natural immunities to it…Vitamin D…supplements…"
Chase claims – falsely – that she (supposedly) has "many studies" that supposedly show hydroxychloroquine works to combat COVID-19. As CNN host Abby Phillips explains, "Chase's assertions are not rooted in science and are potentially dangerous; these views and others are why Virginia Republicans have been not so subtle about trying to sideline her candidacy" (note: it's probably more that Virginia Republicans believe Chase would get wiped out and hand the Democrats easy wins in November 2021).