Advertisement
When first rolled out in late March, President Biden's American Jobs Plan was described as "a $2 trillion plan…to overhaul and upgrade the nation's infrastructure…a transformational effort that could create the 'most resilient, innovative economy in the world.'" The objective would be to "create millions of jobs in the short run and strengthen American competitiveness in the long run." President Biden added that the American Jobs Plan is "a once-in-a-generation investment in America," "the largest American jobs investment since World War II," and a plan that will "lead to a transformational progress in our effort to tackle climate change with American jobs and American ingenuity."
As the White House website explains:

"The President's American Jobs Plan is a historic public investment – consisting principally of one-time capital investments in our nation's productivity and long-term growth. It will invest about 1 percent of GDP per year over eight years to upgrade our nation's infrastructure, revitalize manufacturing, invest in basic research and science, shore up supply chains, and solidify our care infrastructure. These are investments that leading economists agree will give Americans good jobs now and will pay off for future generations by leaving the country more competitive and our communities stronger. In total, the plan will invest about $2 trillion this decade. If passed alongside President Biden's Made in America corporate tax plan, it will be fully paid for within the next 15 years and reduce deficits in the years after."
Sound good? Well, according to a new poll by Hart Research in the "purple"/"swing district" VA07 – a crucial district for Democrats to win if we're going to maintain our U.S. House majority – it sounds *great*! A few topline results from the new poll include:
"By nearly two to one (59% to 31%), VA-07 voters favor the American
Jobs Plan, including more than one-third (35%) who strongly favor it."
"On multiple measures, voters in this district clearly signal that the
provisions of the American Jobs Plan that focus specifically on addressing
climate change and reducing pollution (with an emphasis on investing in
clean energy) add to their favorable assessment of the proposal. Simply
put, the climate and clean energy components of the plan are a significant
selling point for voters in this district."
"Setting a goal of generating 100% of America's electricity from clean energy
sources by 2035 to reduce carbon pollution receives a similarly enthusiastic
response, with more than three in five (62%) voters in favor of this aim."
"Voters express overwhelming support for a broad set of core components
of the American Jobs Plan. In fact, all six aspects of the proposal that
were tested—ranging from improving roads, bridges, and mass transit to
investing in clean energy—are viewed favorably by solid majorities of
voters, in most cases by margins of better than two to one. Notably, more
than two in three voters support the AJP's goal of addressing the
challenge of climate change."
"In fact, district voters are so positive toward the American Jobs Plan that,
by 20 points (57% to 37%), they say they want Congresswoman
Spanberger to vote in favor of it. And overwhelmingly, voters say the AJP
should pass as long as it has the support of Americans across the partisan
spectrum (and it does), rather than holding out for support from
Republican members of Congress."
"…three in five support rolling back the 2017 corporate tax cuts and ending federal subsidies for oil and gas companies to pay for it."
In sum, the American Jobs Plan is highly popular in the classic "swing"/"purple" VA07, and presumably is in other such districts around the country. It's also excellent substantively, of course. So let's not water it down or kill it, as Mitch McConnell, Kevin McCarthy, Marjorie Taylor Greene, Bob Good, etc. want to do, but instead let's pass it right away and start reaping the benefits – substantive and political!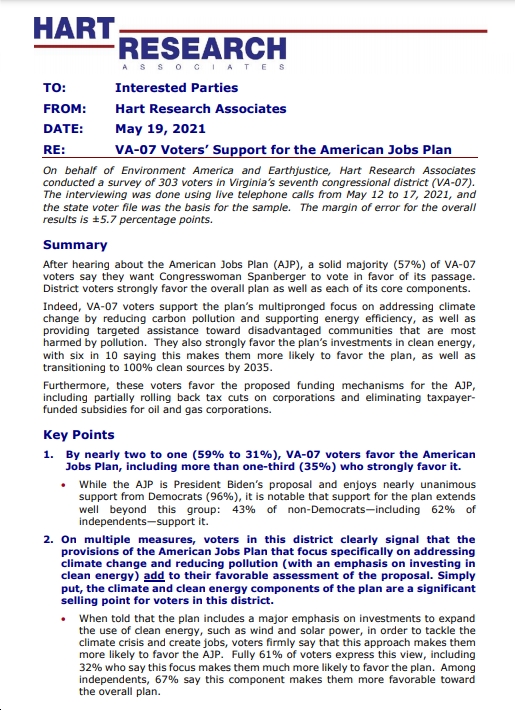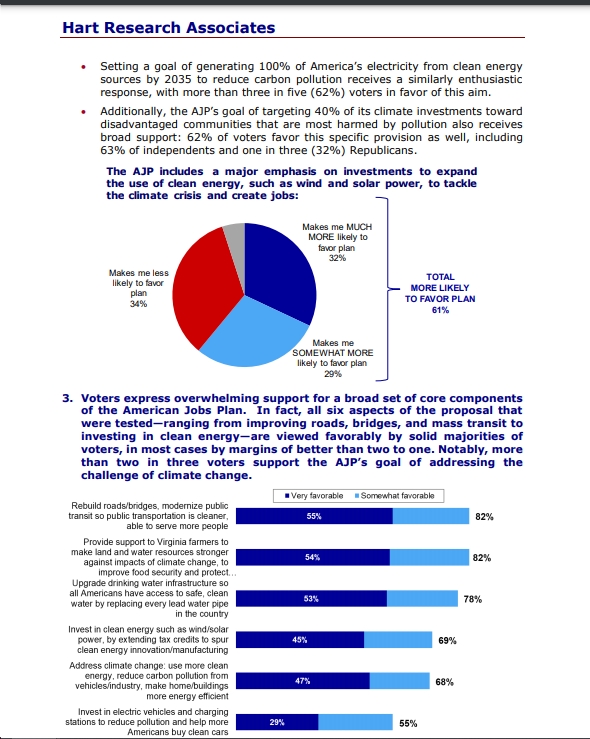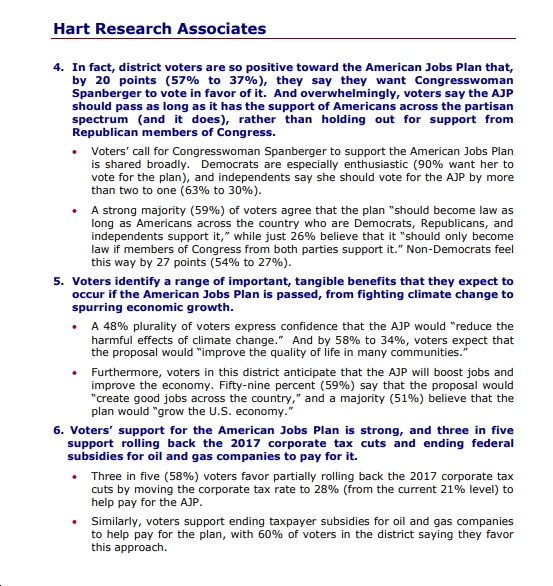 There's no paywall on Blue Virginia, and we definitely want to keep it that way! If you want to help support our work, you can donate here - thanks!
Also, you can
sign up for our weekly email list here
.