Advertisement

This morning's Energy News Network has some good news with regard to solar power in Virginia:
Virginia's solar industry is on a roll, and its momentum is only expected to gain speed and gigawatts as the state's 2020 Clean Economy Act kicks in.

Nationwide, Virginia ranked fifth with 236 megawatts of new solar capacity installed in the first quarter of this year, according to a report released Tuesday by the Solar Energy Industries Association and Wood Mackenzie. That's more than the state added annually in 2018, 2019 and any year before 2017.
So why is this happening all of a sudden, after many years of Virginia lagging behind under Republican leadership and Dominion Energy's obstructionism? A few reasons, including the fact that clean energy sources like utility-scale solar have become the cheapest, as well as the cleanest, forms of electricity around. As Ivy Main recently pointed out:
"It's been three years since solar became the cheapest form of new power generation in Virginia, and prices continue to drop. The International Energy Agency declared last year that falling prices mean solar is "becoming the new king of the world's electricity markets," poised to become the primary source of new electricity generation worldwide by 2030. (Did you read about the solar project in Saudi Arabia that will deliver solar at barely over a penny per kilowatt-hour?)."
Of course, growth in solar power isn't just happening in Virginia; as the new Solar Market Insight Report by the Solar Energy Industry Association explains:
"In Q1 2021, the U.S. solar market installed just over 5 GWdc of solar capacity, a 46% increase over the first quarter of 2020 and the largest Q1 on record.
With Q1 additions, cumulative solar capacity in the U.S. has officially surpassed 100 GWdc and is expected to pass 100 GWac next year."
Of course, economics is a big part of why solar power is booming, but that doesn't explain why Virginia specifically is moving up the solar PV installation rankings so quickly. So why is that, then? According to the Energy News Network:
"In Virginia, the landmark Clean Economy Act is a major catalyst for the state's giant jump."
"Broadly, states like Virginia and the Carolinas are leading the charge" on the policy front and stating "this is what's possible," said Will Giese, Southeast regional director for the trade association, in an interview.
Giese, who tracks Virginia and 10 other neighboring states, said the "secret sauce" of Virginia's leap forward is a mix of several ingredients. 
One is that the state is well-suited geographically and population-wise for the full array of solar possibilities — utility-scale, rooftop, and community or shared models. Another is the progressive General Assembly that emerged a few years ago when both chambers gained Democratic majorities for the first time in more than a generation.
On the energy policy side, that culminated in legislation essentially saying that Virginia is going to be a leader for the Southeast, Giese said.
Great stuff, and yet ANOTHER reason why Virginians should never, ever return this state to Republican (mis)governance!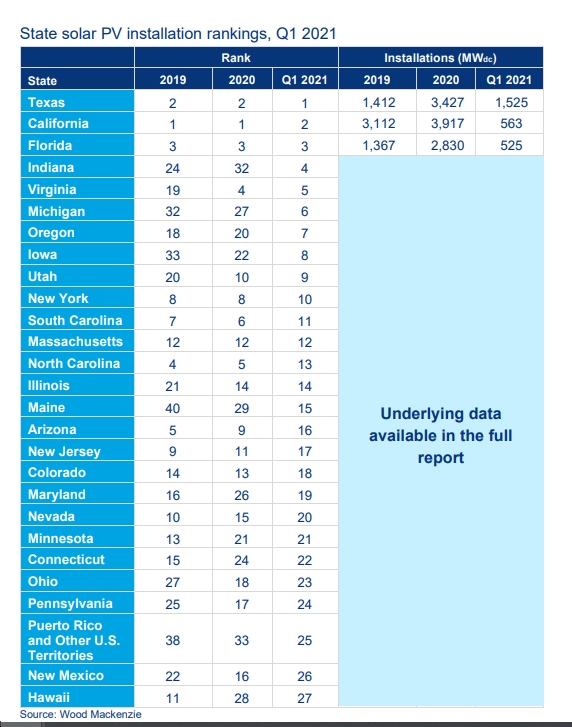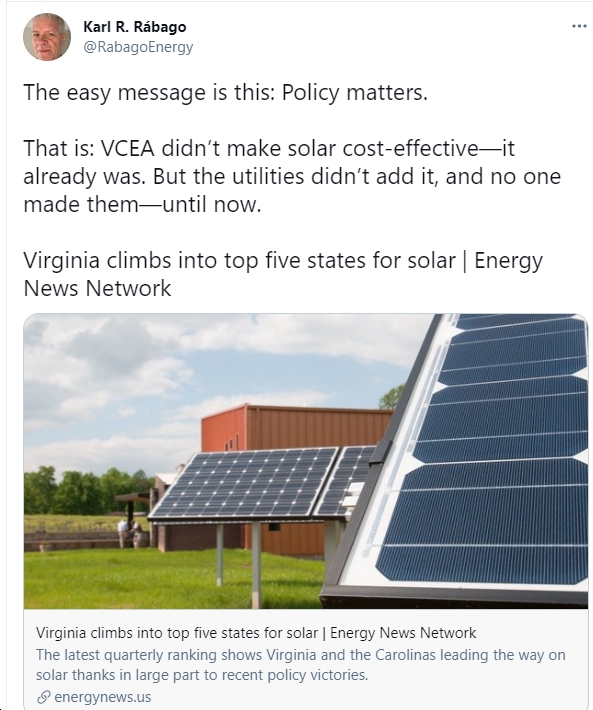 There's no paywall on Blue Virginia, and we definitely want to keep it that way! If you want to help support our work, you can donate here - thanks!
Also, you can
sign up for our weekly email list here
.