See below for some photos from today's gun violence prevention roundtable with Gabby Giffords (founder of "Giffords: Courage to Fight Gun Violence"), along with Virginia Speaker Eileen Filler-Corn, former Gov. Terry McAuliffe, Democratic Lt. Governor nominee Hala Ayala, AG Mark Herring, etc. Also see below for some information on today's event from the McAuliffe campaign; and see here for Giffords' statement, "Giffords Endorses Slate of Gun Safety Champions in Virginia." Needless to say, none of those people are Virginia Republicans, who are 100% in the pocket of the gun industry…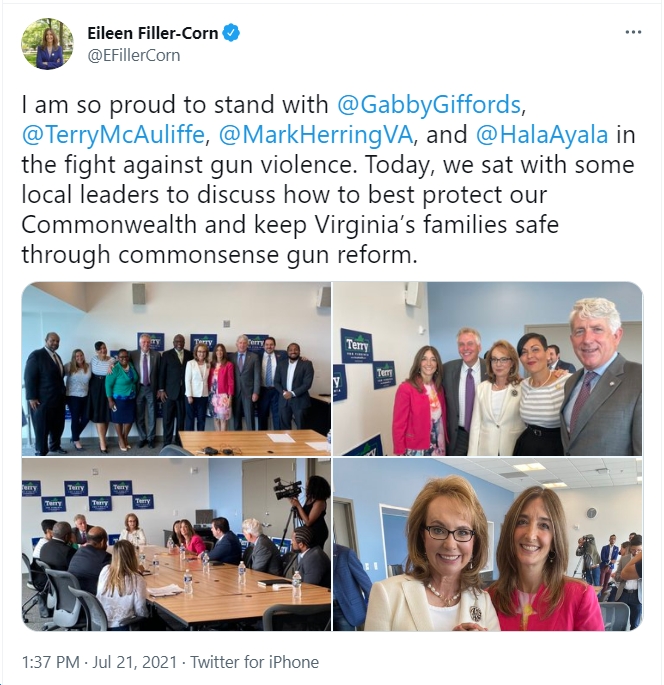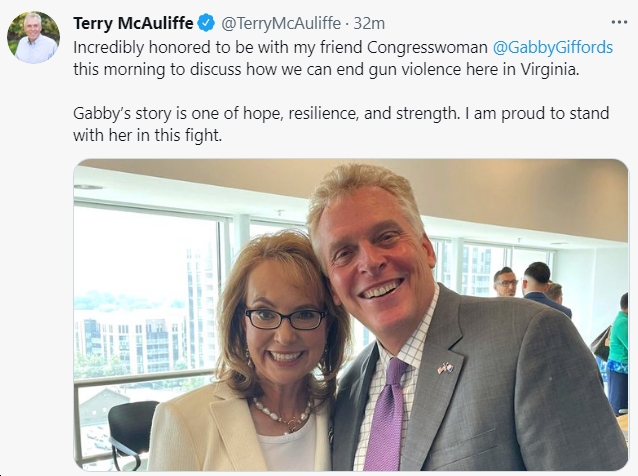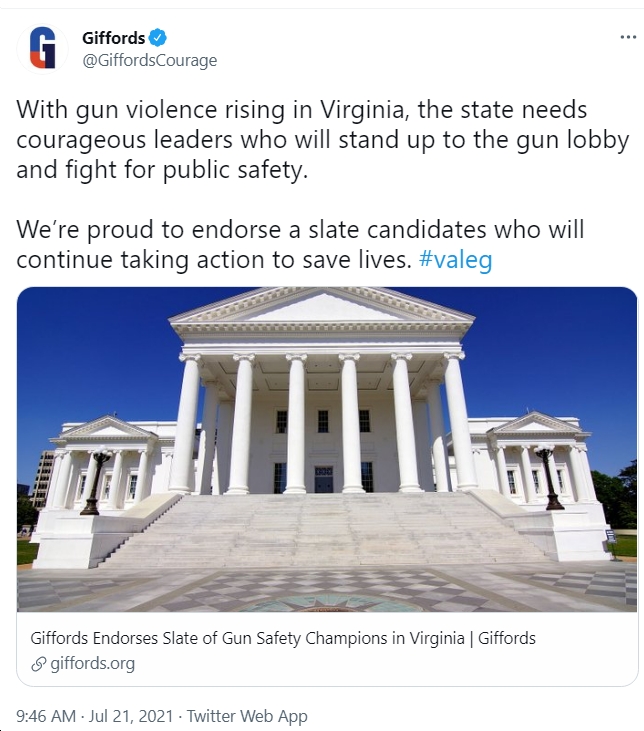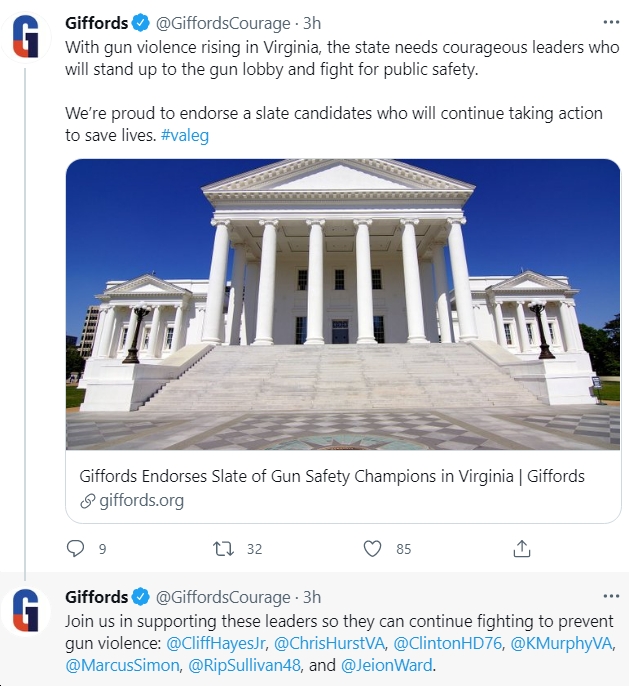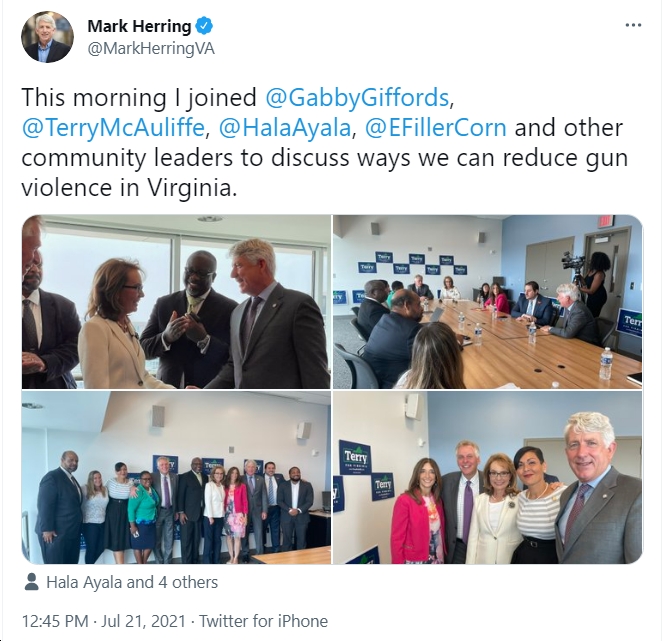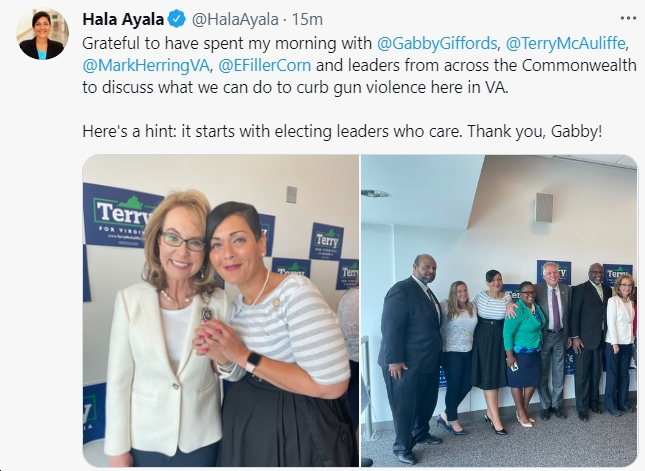 Today, at 11:00 AM, Terry McAuliffe [hosted]  a roundtable event with former Congresswoman Gabrielle Giffords in Northern Virginia to discuss rising gun violence and how community violence intervention programs are critical to combating gun violence and keeping communities safe. The event [included] representatives from leading gun violence prevention organizations, community organizations working on violence intervention, health care organizations, and public safety professionals in order to demonstrate the multidisciplinary approach needed to keep Virginians safe from gun violence. 
Terry [was] joined by Congresswoman Gabby Giffords, Attorney General Mark Herring and Delegate Hala Ayala, Democratic Candidate for Lieutenant Governor. In June, Giffords, the gun safety organization founded by former Congresswoman Giffords, endorsed Terry McAuliffe for Governor.
As Virginia's 72nd Governor, Terry passed a bipartisan agreement on gun violence prevention that included one of the toughest domestic violence laws in the nation. His opponent, Trump-endorsed Republican candidate Glenn Youngkin, has made clear that he would roll back critical gun safety legislation that Democrats have passed in Virginia. That includes measures like background checks on gun sales, the extreme risk law that has demonstrated tremendous success in keeping guns out of the hands of domestic abusers, people wishing to harm themselves, and others, and the life-saving domestic violence law that will ensure people convicted of domestic violence offenses cannot access guns. As governor, Terry vetoed 18 right-wing Republican gun bills that would have loosened Virginia's gun laws. 
Terry's plan will address gun violence head-on here in Virginia by banning the sale of military-style assault firearms, requiring background checks on firearm transfers, prohibiting open carry of firearms in certain public spaces and giving localities the flexibility to ban open carry more broadly when there are credible public safety threats. In addition, Terry will create an Office of Gun Violence Prevention to identify and coordinate solutions to gun violence across state agencies and open a Center of Excellence for Gun Violence Prevention at a Virginia university.
Terry has released 17 detailed plans to strengthen Virginia's education system and dramatically increase teacher pay, help secure Virginia's economic recovery from COVID-19, reform our criminal justice system, ensure Virginians have access to regular nutritious meals, address the broken, predatory system of prescription drug pricing, confront the gun violence epidemic, make Virginia the best state in the nation for Science, Technology, Engineering, Mathematics and Health Care (STEM-H) and computer science education, tackle the housing crisis in the Commonwealth and invest in Virginia's workforce in the post-COVID economy, ensure Virginians have access to high-quality, affordable health care, tackle climate change and secure Virginia's clean energy future by 2035, lift up Black Virginians as the Commonwealth rebuilds from the COVID-19 pandemic, further advance LGBTQ+ rights, create a flourishing rural economy, support entrepreneurial ecosystems and tackle rising costs and meet the health care needs and make higher education more affordable.
*******************************************************
P.S. Compare and contrast to the Republican ticket, including…