From FWIW Virginia:
Welcome to FWIW Virginia, where we analyze digital spending trends on both sides of the aisle in the 2021 Virginia statewide and legislative elections. Each week, we look at how campaigns are investing in digital engagement and the online tactics they use to reach voters across the Commonwealth. Was this email forwarded to you? Click here to subscribe. 
Digital spending in races up and down the ticket continued to ramp up in the final days of August. Terry McAuliffe's campaign cracked its weekly record for spending on Facebook and Google, while we also saw lots of new spending from Delegate campaigns in competitive districts across the commonwealth.
Which delegate campaigns are getting their digital programs off the ground? And which delegate campaigns are leading the spending race? We take a look in this week's edition of FWIW Virginia.
2021 by the Numbers
FWIW, here are the top 10 spenders specifically targeting Facebook users in Virginia last week.
And here are the top 10 spenders specifically targeting Virginians on Google's platforms.
Zooming out nationally, here is how total digital ad spending (national and local targeting) on Facebook and Google stacked up this week in Virginia's statewide races.
McAuliffe's campaign continued its digital onslaught this week, spending big in Virginia and across the country on persuasion and donor acquisition ads. This week, his team launched new creative highlighting McAuliffe's support for vaccine mandates in the commonwealth's K-12 and higher education systems – the ads come after a Crooked Media-sponsored poll with Change Research showed that Virginians favor mask and vaccination mandates for schools 59-41, and that getting COVID under control was a top issue for voters overall and among undecided voters.
Speaking of vaccines, we also noticed this new digital ad on Facebook from Glenn Youngkin's campaign trying to counter any possible association with the anti-vax movement: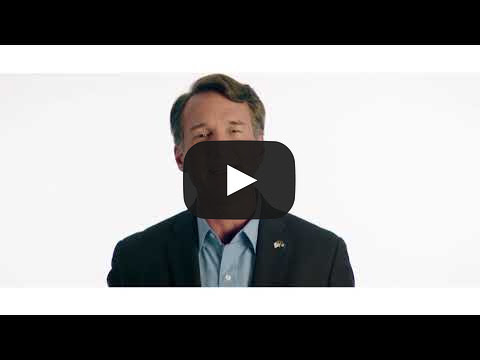 Of course, Youngkin's attempts to, well, not be crazy are being met with calls of "RINO" in some GOP circles. Sebastian Gorka, a former Trump administration official, bashed Youngkin so hard on his radio show that a Youngkin staffer faked their identity during a call-in to push back against Gorka.
We're also tracking cumulative digital ad spending across the state, including spending from candidates for statewide offices, competitive or potentially competitive Delegate races (any race under a 15 point margin in 2019), and partisan outside groups with spending specifically targeted at Virginia elections.
Checking in on the House
Republican delegate campaigns opened up a small digital ad spending advantage over their Democratic counterparts earlier this summer as Democratic incumbents mostly relied on a large outside spending effort to provide early online support. However, direct spending from Democratic campaigns has continued to grow in recent weeks as more and more delegate campaigns start to launch ads to define themselves with voters online. Now that Labor Day is upon us, we expect spending from all sides to skyrocket til' E-Day.
And FWIW, here are the top 10 delegate campaign spenders on Facebook and Google this week:
We covered the ads from a number of delegate campaigns earlier this month, but with so many new spenders in recent weeks, we wanted to break down the spending + creative from new additions to the online campaign.
The most notable new addition to this week's top delegate campaign spenders on Facebook and Google is Del. Wendy Gooditis (HD 10) – Gooditis first won her Loudoun County-based district in 2018, narrowly defeating incumbent GOP Del. Randy Minchew. Gooditis slightly expanded her margin of victory in a 2019 rematch, winning by 4.7 points, and is expected to face another close election against newcomer Nick Clemente.
Like most other Democratic incumbents, Gooditis is running ads highlighting the popular accomplishments of the Democratic majority, including Medicaid Expansion and capping the price of insulin. However, while we've seen most Republicans make broad attacks against "one-party rule" or red meat issues like "critical race theory," Gooditis is also among the first Democratic candidates we've seen explicitly running online attack ads against her Republican opponent, attacking Clemente for his background as a coal lobbyist.
HD 40 is another key swing district in Northern Virginia, where Army veteran and one-term Del. Dan Helmer is running for re-election against GOP nominee Harold Pyon. Helmer first won the district in 2019 by defeating longtime incumbent Tim Hugo by 4.7 points. Pyon, a Korean immigrant and a veteran himself, appears to be a strong challenger, but Helmer ended the most recent June 30th finance deadline (the next filing deadline is Sept. 15) with a nearly two-to-one cash advantage.
Helmer's campaign was dark on digital all summer, but his campaign launched their first digital ads of the year this week. Their first Facebook ad highlights Helmer's military service and how his wife's experience as a public school teacher inspired him to pass a law expanding free school meals for Virginia students.
Meanwhile, Harold Pyon has been running Facebook ads all summer focused on acquiring new donors – it's certainly not unheard of for downballot candidates to focus on donor acquisition, but this summer, Pyon's campaign was one of the most aggressive Delegate campaigns in terms of investing in donor acquisition ads. In recent weeks, Pyon's digital ads began to pivot to persuasion with a 30 second YouTube pre-roll ad focused on his biography and platform.
Digital advertising continues to ramp up in Virginia, and with just 61 days until Election Day in Virginia, we'll continue to track how campaigns up and down the ballot are reaching voters where they're at  – online.
Thanks for reading this week's FWIW Virginia! We're so excited to be back following these critical elections in the Commonwealth. If you enjoy reading this type of content each week, we hope you'll support our work by clicking share and tweeting out this newsletter below! As always, email us with ideas of what you'd like us to dive into next.
You can also sign up to receive our national newsletter, FWIW, here.