This is 100% UNACCEPTABLE by Glenn Youngkin. The fact is, the climate crisis is THE existential issue facing humanity this century, and if you don't understand that, you are not fit to be elected to ANYTHING, let alone *governor*!  Note that 97%-98% of climate scientists agree that humans are primarily/overwhelmingly responsible for the dangerous heating of the planet, through fossil fuel combustion, deforestation, etc…but Glenn Youngkin pathetically says "I don't know what's responsible for climate change!" Totally disqualifying.  As Terry McAuliffe says:
"Youngkin thinks climate change is some kind of joke. This is anything but a joke, Glenn. Virginians in Hampton Roads are among the hardest hit by the effects of climate change in America. Our next governor MUST take this seriously."
By the way, even friggin' Mitch McConnell, a fossil fuel industry tool if there ever was one, has admitted that climate change is caused by HUMANS. So basically, Glenn Youngkin is further to the right and worse on this absolutely crucial than even the odious Mitch McConnell!
Glenn, climate change is real and it's caused by humans. Get with it or get out of the way.pic.twitter.com/CIqC41ZfeL

— Terry McAuliffe (@TerryMcAuliffe) October 8, 2021
100% UNACCEPTABLE: "Youngkin thinks climate change is some kind of joke. This is anything but a joke, Glenn. Virginians in Hampton Roads are among the hardest hit by the effects of climate change in America. Our next governor MUST take this seriously." https://t.co/m2wo2zNY7I pic.twitter.com/s0rsgCTZYA

— Blue Virginia (@bluevirginia) October 8, 2021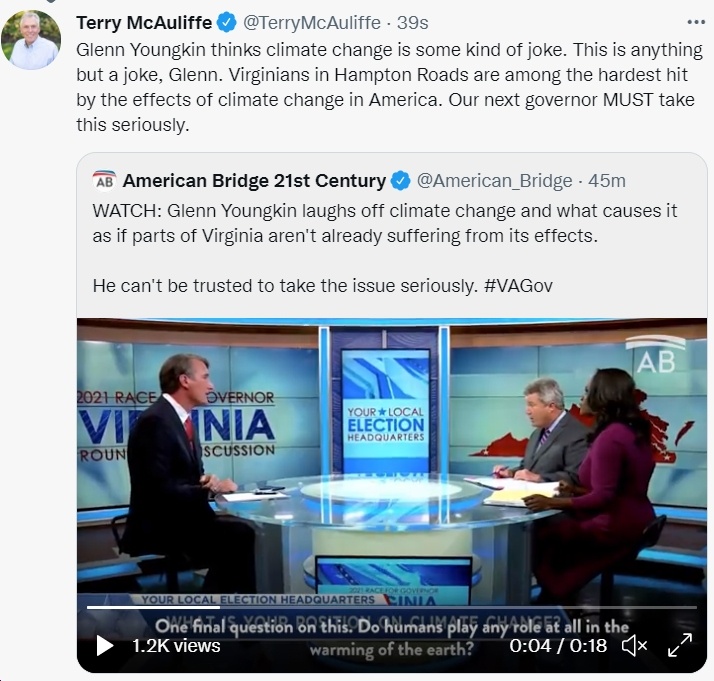 Disqualifying. Seriously, watch this drivel. #vagov https://t.co/cc2KLlJ0DO

— Max Steele (@maxasteele) October 8, 2021