To date, Glenn Youngkin has mostly picked fairly "normal" Republicans to his Cabinet (and by "normal," I don't mean particularly good or anything…just not extremists or Trumpists, at least not obviously so). This morning, unfortunately, that changed…for the far, far worse: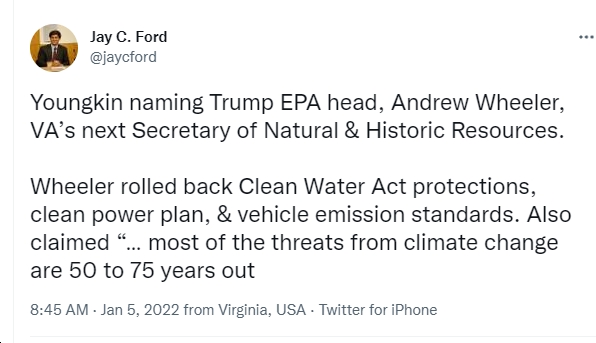 This pick is beyond appalling, for a host of reasons. For more background on Trump's EPA head, Andrew Wheeler, see here, including Wheeler's wildly false claim that the climate crisis isn't an "existential threat" (which of course it is!); his completely batshit comment that "the threat posed by climate change is '50 to 75 years out'"; the fact that he is – and no, this is not parody – "Vice President of the Washington Coal Club" (WTF???); his refusal to "raise environmental standards for fine soot pollution"; his weakening of mercury regulations; etc. In short, Wheeler was one of the worst, if not the worst, EPA administrator in history.
Also, see here for Wheeler's testimony to the Fairfax County Board of Supervisors, against a 5-cents-per-single-use-plastic-bag tax. Democratic members of the Fairfax County Board of Supervisors then proceeded to rip Wheeler's idiocy. Check out, in particularly, Supervisor James Walkinshaw's remarks, as follows:
"I can't allow his comments to go unresponded to. He claimed that during his tenure he made improvements in the environment. And I would say, if we could substitute 'destroy' for the word 'improve,' he'd be right on. Except those aren't my words, those are the words of Republican former EPA administrator Christine Todd Whitman. Another Republican former EPA administrator described his work like this – 'there has been nothing like an administration on the environment in the last 50 years to compare with the dereliction that characterizes this administration….So Mr. Wheeler's tenure at the EPA was a *disaster* from an environmental perspective, and I would recommend for us on this Board if Mr. Wheeler says we should turn right on an environmental issue, we should turn left. If he says we should go down, we should go up. If we says we should do x, we should do y. And that will help guide us, I think, tonight."
Of course, Youngkin didn't pick this anti-environment extremist randomly. Already, Youngkin has declared war on clean energy and climate action, "pledg[ing] to pull Virginia out of the Regional Greenhouse Gas Initiative (RGGI), a program that represents our best chance to advance the Commonwealth to a clean energy future"; stating that he "[doesn't] know what's responsible for climate change"; etc. So yeah…this administration's going to be a disaster when it comes to Virginia energy and environmental policy. It's time for Virginia Democrats to focus 100% on this threat (as opposed to forming the ol' "circular firing squad")  and to defeat it.
SCOOP in @Morning_Energy this morning. Virginia's Republican Gov.-elect @GlennYoungkin will nominate former Trump EPA chief Andrew Wheeler later today as his Secretary of Natural Resources pic.twitter.com/EYe9D2nbpE

— Joshua Siegel (@SiegelScribe) January 5, 2022