See below for statements by Virginia's Democratic US Representatives on passage of a continuing resolution to keep the government funded and prevent a shutdown. Note that every Democrat voted for the continuing resolution, while 201 Republicans – including all four from Virginia – voted against to shut down the government. Very, very telling!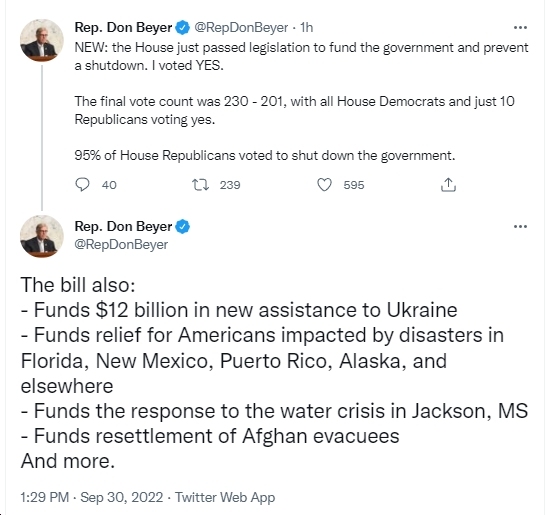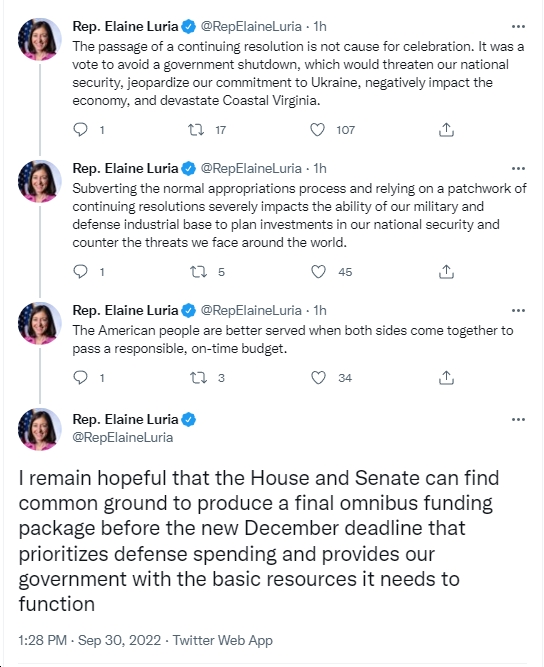 Spanberger Statement on Vote to Keep Government Open, Avoid Shutdown
WASHINGTON, D.C. — U.S. Representative Abigail Spanberger today voted with a bipartisan majority of the U.S. House to pass a short-term agreement that would keep the federal government open through December 16, 2022.
"Today, I was glad to see bipartisan support among my colleagues to keep the doors of our government open. While I am glad the U.S. Congress has not left the financial certainty of hundreds of thousands of federal workers and their families hanging in the balance, protecting the paychecks of the men and women who keep our government functioning — U.S. Postal Service workers, U.S. Customs and Border Protection personnel, federal law enforcement officers, military personnel, and so many others — is truly the bare minimum.
"The American people are all too familiar with this stopgap, Groundhog Day process that involves narrowly avoiding a government shutdown year after year. Democrats and Republicans must work together to improve our budget procedures — because families in Virginia and across our country deserve the peace of mind that their lawmakers will keep the government open and protect their jobs, livelihoods, and access to government services."
McEachin Votes to Keep the Government Open
House Passes Continuing Appropriations and Ukraine Supplemental Appropriations Act to Fund the Federal Government
Washington, D.C. – Today, Congressman A. Donald McEachin (VA-04) helped pass the Senate Amendment to H.R. 6833, the Continuing Appropriations and Ukraine Supplemental Appropriations Act, to continue government funding through December 16, 2022. The CR extends funding for vital federal agencies, including education, health, housing, and public safety programs to allow Congress time to complete its work on Fiscal Year 2023.
"It is imperative that our government remains open and working for the American people, which is why I voted for today's stopgap funding measure," said Rep. McEachin (VA-04). "Not only does this bill fund our federal government, it includes important provisions to help hardworking Virginians with rising costs. Furthermore, this legislation provides necessary resources to help communities impacted from recent natural disasters and additional assistance to support the Ukrainian people, as Russia continues its aggressions. During this extension, we will continue working to advance all the necessary appropriations bills to fully fund our government for the coming fiscal year."
The Continuing Appropriations and Ukraine Supplemental Appropriations Act includes:
Billions in relief for New Mexico, Puerto Rico, Florida, Alaska and other communities hit by natural disasters, especially in the wake of Hurricane Ian
$12.3 billion to power the fight for freedom in Ukraine, including new security, economic and humanitarian assistance
More resources to respond to the water crisis in Jackson, Mississippi: an emergency that poses a direct threat to the health and well-being of Mississippi families
Bolstering funding for the Low-Income Home Energy Assistance Program: this will help working families pay for higher energy bills as we enter the winter months
Five-year reauthorization of FDA user fees: ensuring no interruption to the FDA's life-saving work reviewing and approving new prescription drugs coming to market
More resources to continue resettling brave Afghan evacuees
Read the one-page fact sheet here and the section-by-section summary here.