See below for video and some reactions to the announcement today by Speaker Nancy Pelosi – the great Speaker in U.S. history – that she's stepping back from leadership, but will continue to represent San Francisco in the U.S. House. A grateful nation thanks Speaker Pelosi for her decades of service to our nation, not to mention playing a huge role in saving our democracy!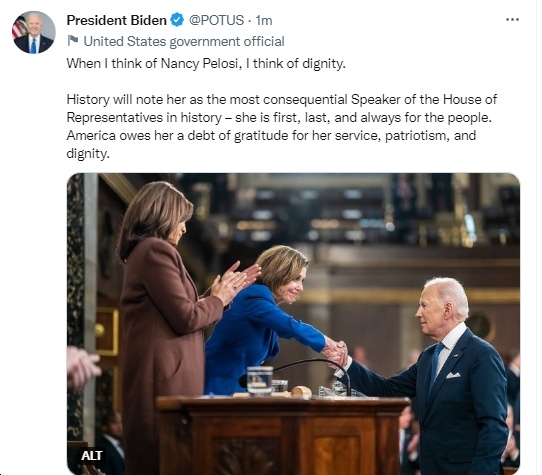 Statement by President Joe Biden On Speaker Nancy Pelosi Stepping Down from Democratic Leadership in the House of Representatives
When I think of Nancy Pelosi, I think of dignity.
History will note she is the most consequential Speaker of the House of Representatives in our history. There are countless examples of how she embodies the obligation of elected officials to uphold their oath to God and country to ensure our democracy delivers and remains a beacon to the world. In everything she does, she reflects a dignity in her actions and a dignity she sees in the lives of the people of this nation.
In 2007, she made history as the first woman Speaker, but that was just the beginning of the history she has made during her four terms. I know because I've seen her in action during my career as Senator, Vice President, and now as President. With Nancy, you see a father's daughter who learned by his side how to win and govern. With her leading the way, you never worry about whether a bill will pass. If she says she has the votes, she has the votes.  Every time.
History will record her leadership with President Obama to rescue the economy in crisis from the Great Recession. With her sheer will, passing the Affordable Care Act to ensure health care is a right not a privilege.  Ending Don't Ask Don't Tell so patriotic Americans can serve the country they love no matter who they love. The list goes on, including her leadership in defending democracy and advancing human rights around the world.
In the first two years of my presidency, she is a singular force securing once-in-a-generation bills that will define our nation for decades to come. The American Rescue Plan to get us through COVID-19. The Bipartisan Infrastructure Law to rebuild our roads and bridges. The CHIPS and Science Act to ensure the most advanced manufacturing is done here in America. The most significant gun safety law in nearly thirty years – for the children. One of the most significant bills helping veterans and their families exposed to toxic materials. And, the Inflation Reduction Act that took on Big Pharma and won, and reflects the most aggressive action ever to tackle the climate crisis.
Because of Nancy Pelosi, the lives of millions and millions of Americans are better, even in districts represented by Republicans who voted against her bills and too often vilify her. That's Nancy – always working for the dignity of all of the people. And, as a fierce defender of democracy through our laws, history will also note her fierceness and resolve to protect our democracy from the violent, deadly insurrection of January 6th. It's a threat of political violence and intimidation that continues and she and her family know all too well, but that will never stop her from serving our nation.
She might be stepping down from her leadership role in the House Democratic Caucus, but she will never waiver in protecting our sacred democracy.
Nancy Pelosi is first, last, and always for the people.  Jill and I count Nancy, Paul, and their family among our dearest friends. As a nation, we owe her a deep debt of gratitude for her service, her patriotism, and above all, her absolute dignity.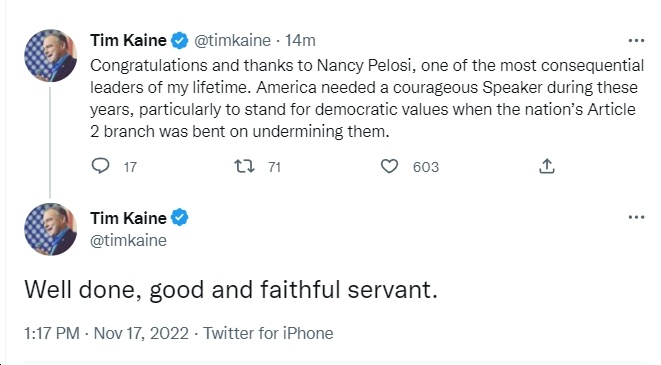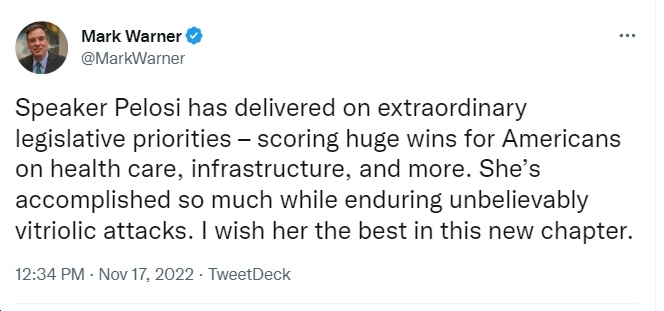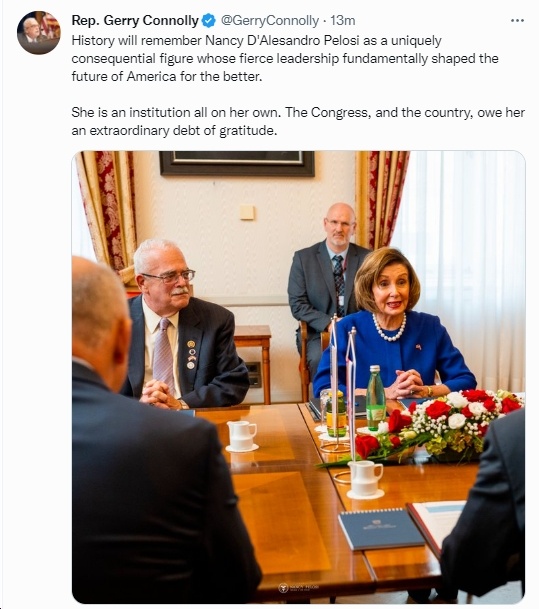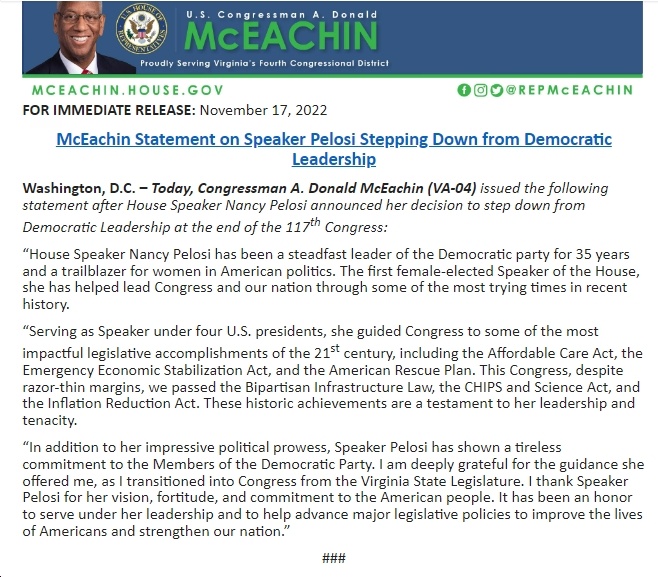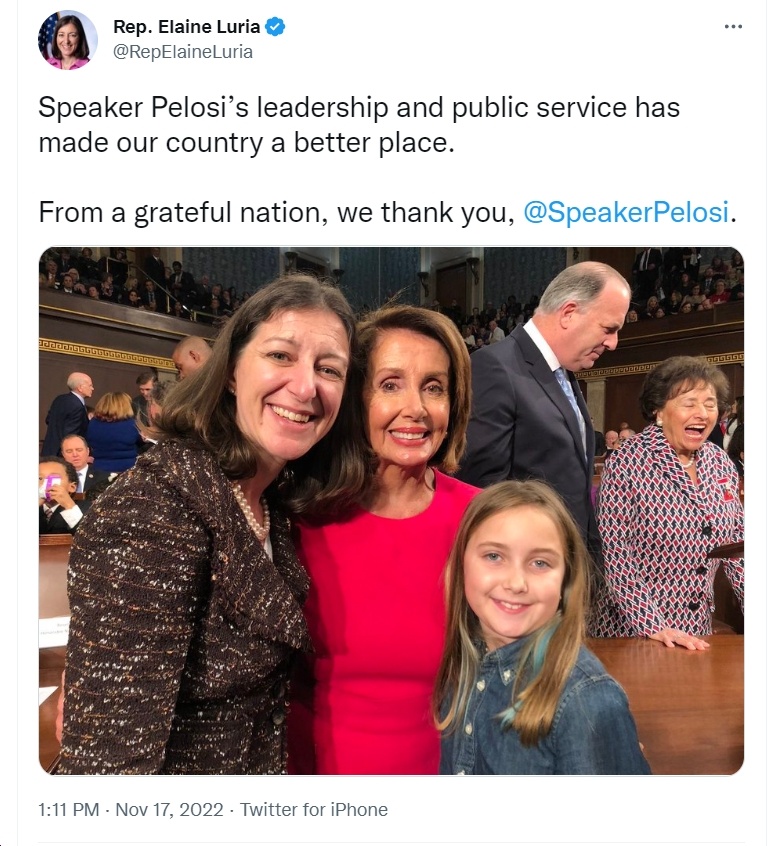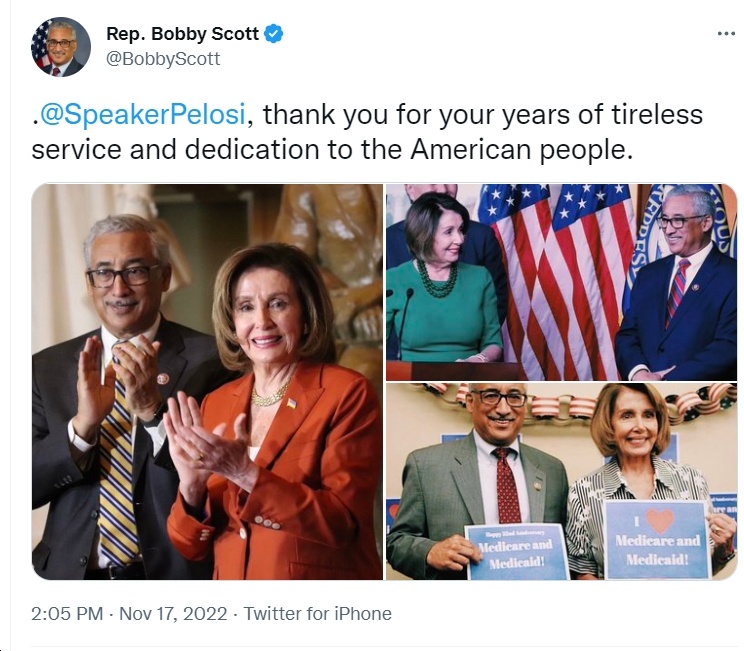 Beyer Statement On Speaker Nancy Pelosi
November 17, 2022 (Washington, D.C.) – Rep. Don Beyer (D-VA) today issued the following statement:
"Nancy Pelosi is one of the greatest and most consequential leaders in American history.
"It is hard to overstate her legacy as a warrior for the downtrodden and the needy, a fighter for American families, and a committed public servant who helped make this country better. Her accomplishments in two decades as Democratic leader, including historic legislation on health care, on climate, on building a fairer economy, and in so many other areas, have materially improved the lives of people in this country and around the world, and will continue to do so for decades to come.
"The name 'Nancy Pelosi' is an indelible part of the House of Representatives as an institution, and will remain so long after her eventual departure. As a barrier-breaking party leader she has endured misogyny and threats of violence few others in her position ever faced, and through it all remained one of the strongest Speakers the Congress has ever known. She has been a guide, mentor, and teacher for generations of lawmakers, and it is hard to imagine the House without her.
"I look forward to continuing to work with Nancy Pelosi for as long as she remains a member of this body, and I thank her for her service to the United States of America."
Speaker Pelosi has delivered on extraordinary legislative priorities – scoring huge wins for Americans on health care, infrastructure, and more. She's accomplished so much while enduring unbelievably vitriolic attacks. I wish her the best in this new chapter.

— Mark Warner (@MarkWarner) November 17, 2022
Thank you doesn't begin to describe our gratitude for @SpeakerPelosi. She has led us through some of our darkest days, always puts Americans FIRST, and damn straight can she pull off a good pant suit. Madam Speaker, you deserve a cocktail and a foot rub!

— Susan Swecker (@SusanRSwecker) November 17, 2022