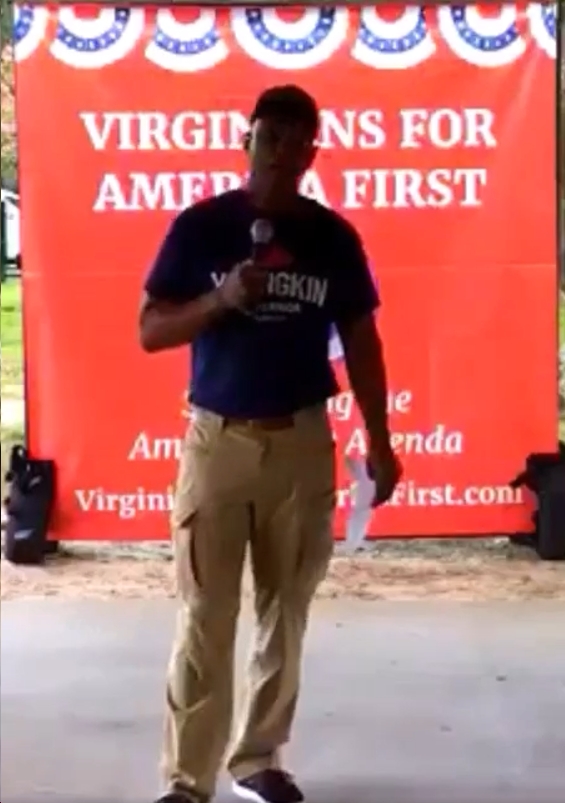 Back on December 9, I posted about SD07 Republican nominee Kevin Adams praising a post ("Brilliantly Truthful!") by anti-abortion extremist Roy Moore, which said that people are "Too Soft To Place A Killer In A Well Deserved Tomb, But Brave Enough To Kill A Baby Before He Leaves The Womb." The post also pointed out that Adams also volunteered at a "crisis pregnancy center" "run by anti-abortion activists."
So right there, it's clear why SD07 voters need to elect Democrat Aaron Rouse, for a host of reasons, including the fact that the only thing stopping Glenn Youngkin from enacting his hard-right agenda, including seriously restricting women's reproductive freedom in Virginia, is Democrats' VERY narrow, 21-19 majority in the State Senate (it's actually 21-18 at the moment, with the resignation of Republican Jen Kiggans following her unfortunate victory for US House back in November, but if Dems don't win the SD7 special election on January 10, it will go back to 21-19…).
But wait, there's even more reason to make sure that Kevin Adams doesn't become a State Senator. Check this out – Adams' "special guest appearance at the 9/11 'Make Virginia Red Again' rally hosted by Virginians For America First" back in the fall of 2021. What is "Virginians for America First?" As the name indicates, this is obviously a pro-Trump group. Specifically, this group – founded by VA04 Republican nominee Leon Benjamin –  says it's focused on "stopping Virginia's slide into the totalitarian abyss" and "on election integrity from the grassroots level." And by "election integrity," of course, these folks mean disproportionately suppressing Democratic voters by ending most early and mail-in voting, enacting strict voter ID laws, encouraging their supporters to monitor ballot drop boxes, etc.
In short, groups like "Virginians for American First" used the pretense of "election integrity" (in fact, U.S. elections have a very, very high degree of integrity, with close to zero "voter fraud") to push for more restrictive voting laws that intimidate and disenfranchise voters. As Greg Sargent of the WaPo explained it, this entire argument is the "insultingly disingenuous baloney that because GOP voters have reasonable grounds to merely lack confidence in the results, all sorts of new voting restrictions are justified." Sargent also referred to it, accurate, as a "bundle of falsehoods and pathologies," particularly given that "the 2020 election actually proved to be a remarkable civic success amid exceptionally challenging conditions…'the most secure in U.S. history, with no evidence of widespread voter fraud, and the highest turnout in 120 years'."
For more information on "Virginians for America First," see this article by the Brennan Center for Justice, which discusses who this group is funded by:
"Former Overstock.com CEO Patrick Byrne said he has spent $20 million trying to convince people that the 2020 election was stolen. He participated in a December 2020 Oval Office meeting discussing the possibility of the military seizing voting machines. Byrne is the main funder of the America Project, a nonprofit that pushes election denial narratives. In the current election cycle, Byrne and the America Project have donated over $330,000 to election denial candidates and super PACs supporting election deniers."
[…]
Byrne said he donated about $8 million to launch "Operation Eagles Wings," an "election integrity" drive that trains election denial activists in swing states to work polls and knock on voters' doors in an attempt to find evidence of fraud. In addition, Byrne has funded an "election integrity" group called Virginians for America First; paid for flights in support of the now-discredited investigation of voting machines in Antrim County, Michigan; and, through the America Project, supported a group called One More Mission that recruits military veterans to monitor polls with videos of war imagery saying "beat the cheat."
Also check out this article in The Guardian, which explains:
In Virginia, the America Project [which "boasts Donald Trump loyalists and 'big lie' pushers Roger Stone and Michael Flynn as key advisers"] has forged ties with Virginians for America First, a local group started by Leon Benjamin, a black pastor who in 2020 lost a race for a House seat by a whopping 23 points. Benjamin, who is running for a House seat again this fall, would not concede, citing "potential voter fraud", in an echo of Trump's bogus fraud claims.
Last fall, Byrne and Flynn's brother Joe, the president of the America Project, attended a fundraiser in Richmond, Virginia, for Benjamin's group, to coincide with its release of a report calling for new curbs on voting, including ending early voting and absentee voting, and requiring voter IDs.
Besides their roles with Eagles Wings, Flynn and Stone have been featured speakers along with rightwing pastors at "ReAwaken America", which involves revival-style rallies in many states that have spread falsehoods that Trump lost due to fraud, and a distorted view of America's separation of church and state.
Finally, check out this NY Times article, which reports:
"In Virginia, for example, [Cleta Mitchell, a Republican lawyer and architect of Donald J. Trump's failed efforts to overturn the 2020 presidential election] helped a nonprofit organize a coalition that includes Virginians for America First, a group advocating for hand-counting ballots. It's a position popular among some of those who believe conspiracy theories about foreign hacking in the 2020 election. The group was funded by Patrick Byrne, the former Overstock.com executive who is now a major benefactor of the election denial movement."
So unless you want someone who made a "special guest appearance" at a rally sponsored by this group, then make sure you do everything you can to support Democrat Aaron Rouse in the upcoming special election for State Senate!