From the Virginia Senate Democratic Caucus:
Democrats Rebuttal To Governor Youngkin's State of the Commonwealth
Richmond, VA — In response to Governor Youngkin's State of the Commonwealth address, Democratic Senate Caucus Chair Mamie Locke and House Democratic Leader Don Scott gave the following rebuttal: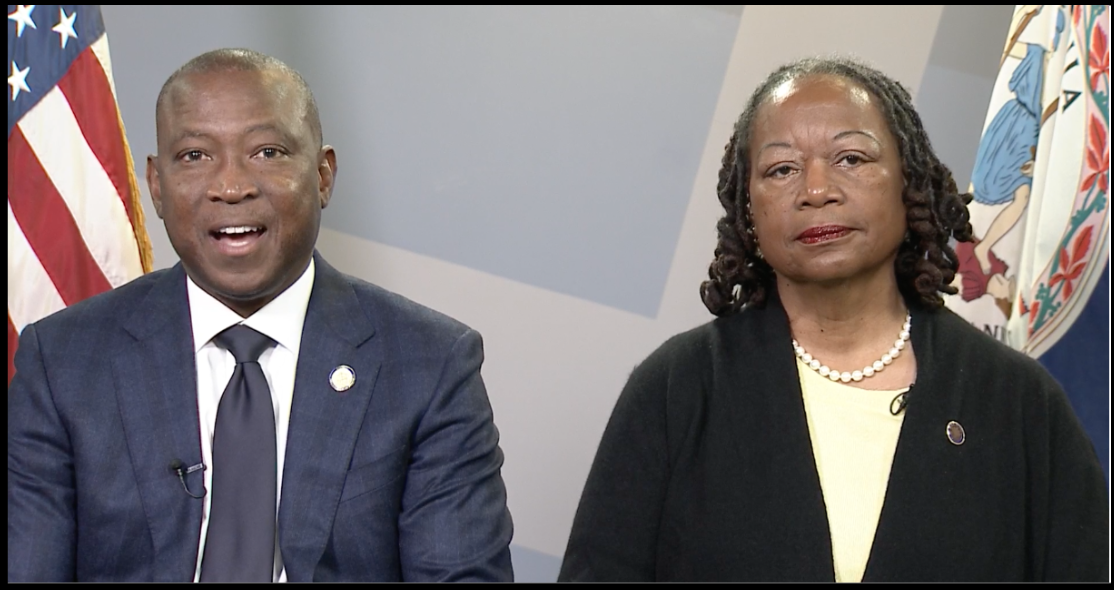 You can also download the full video here: https://vpm.files.com/f/c82c00493e3168ba.
Below are the full remarks of Leader Scott and Chair Locke.
Leader Don Scott Remarks:
I'm Don Scott, the Democratic Leader of the House of Delegates.
Allow me to get right to the chase on what we Democrats are for: solving problems for Virginia families.
Lowering costs for hardworking Virginians. Delivering a world class education to kids.
Protecting freedoms of all Virginians. Making every community safer.
And as House Democrats – we're ready to get things done on all these fronts for Virginia families.
And it's in our plan. The Vision for Virginia. A vision that meets the real problems Virginia faces with real solutions.
It's what the people of Virginia deserve, and it's what they're gonna get from us.
We're ready to work with anyone to get our Commonwealth back on track. I earnestly hope the Republican Party joins us.
Now let's get to the speech we just heard.
We heard from a Governor focused on running for president and appeasing the MAGA movement – not looking out for families.
A Governor who wants to give handouts in tax breaks to the wealthiest…
House Democrats want to cut taxes for working families and small businesses.
A Governor wants to take freedoms away from Virginia…
House Democrats will always protect women's right to choose.
A Governor who's reckless on climate change and wants to take us backward…
House Democrats believe in science and acting to mitigate climate change.
A Governor who refuses to use all the necessary tools to improve public safety…
House Democrats believe in strengthening gun laws and funding law enforcement to make our communities safer.
Look, Governor Youngkin seems to get his inspiration from the MAGA movement.
The House Democratic caucus takes our inspiration from the people – our friends, families, neighbors, constituents – who know how to come together to solve problems.
Now, we Democrats are prepared to come together the way all Virginians do… by rising above the partisan noise and MAGA culture wars to focus on what really matters.
We're going to spend this session looking to deliver on real issues: common sense gun reforms, a world class education, and building an economy that works more for hardworking Virginians.
It's what the people deserve, and it's what they'll get from Democrats this session.
Chair Mamie Locke Remarks:
Good evening Virginia.
My name is Senator Mamie Locke and I am the Chair of the Senate Democratic Caucus.
Tonight we heard Governor Youngkin tout his plan to help the wealthy and massive corporations, but nothing to help hardworking Virginians and their families.
We see it differently.
Democrats have a vision for Virginia, a Vision for an economy that works for everyone, not just a select few.
We have a Vision that our freedoms, from reproductive rights, LGBTQ rights, to voting rights remain protected.
We have a vision of delivering a world class education for every child, no matter their zip code.
And we have a vision for keeping our communities safe and healthy, so Virginia can be the best place to live, work, and raise a family.
And in 2023 Democrats will not stop fighting for our VISION.
This session we are getting to work on day 1 ready to work for YOU.
Democrats are going to make a more affordable Virginia by passing bills that address skyrocketing prescription drug costs, the affordable housing crisis, and energy costs.
We are going to fight to ensure we fully fund our public schools and stop efforts to funnel money away, address the crumbling infrastructure of our public schools, and invest in our children's' future.
We will stop efforts to politicize our schools, attack our students, teachers, even our own history and get back to our schools being schools.
And lastly we're going to fight for a safe and healthy Virginia by addressing the recent tragedies of mass shootings, stopping republican efforts to roll back critical environmental protections, and rise to the challenge of the mental health care crisis with long term solutions and investments.
Our vision is inclusive to all, not just a select few.
Democrats will not stop fighting for you, your families, and Virginia.
Thank you.