See below for photos and video from the ceremony earlier today at the Virginia House of Delegates unveiling a portrait of Eileen Filler-Corn, "the first woman to hold the Speakership in the 400-year history of the House of Delegates." Congratulations and mazel tov to Eileen Filler-Corn, who very much deserves this honor, not just for being the FIRST female and FIRST Jewish Speaker, but for the literally HUNDREDS of pieces of transformative progressive, clean energy and environmental bills passed thanks in significant part to her leadership. Also note that Eileen Filler-Corn played a major role in Democrats winning the majority in the first place, and she definitely deserves credit for that too!
P.S. Last week, Del. Filler-Corn announced that she would not be running for reelection, and there was a lot of speculation that she might run for governor in 2025. If she does so, and if she wins, she could make history yet again, this time as the first female governor, on top of being the first female Speaker.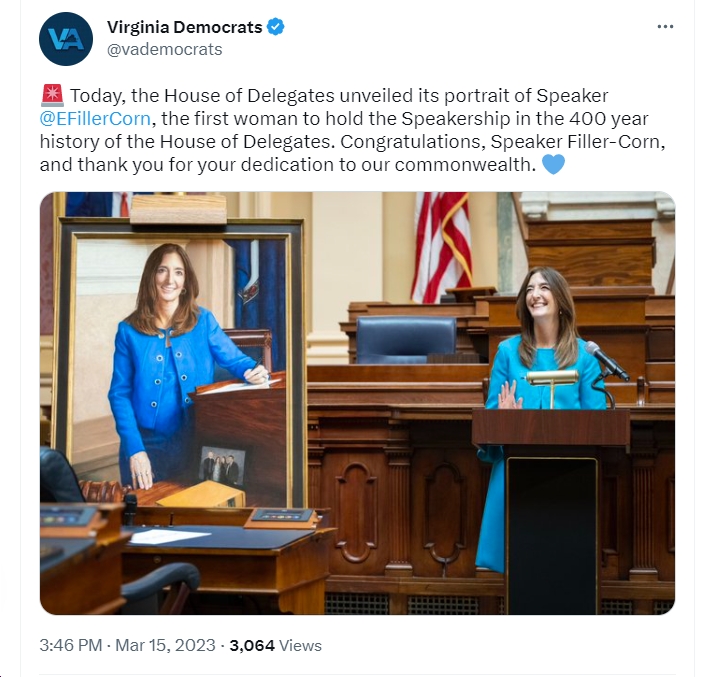 Thanks to former Del. Hala Ayala for this video of the ceremony for former Speaker Eileen Filler-Corn's portrait unveiling today!
More photos, courtesy of Del. Angelia Williams Graves, of today's portrait unveiling of former Speaker Eileen Filler-Corn.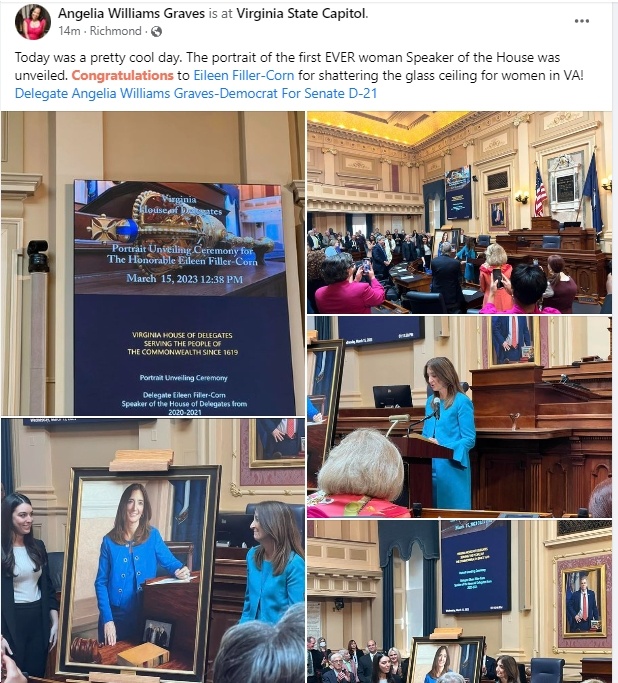 Thanks to former Del. Debra Rodman for the photo of the "unveiling of the portrait of the first woman/Jewish person to be the Speaker of the House of Delegates."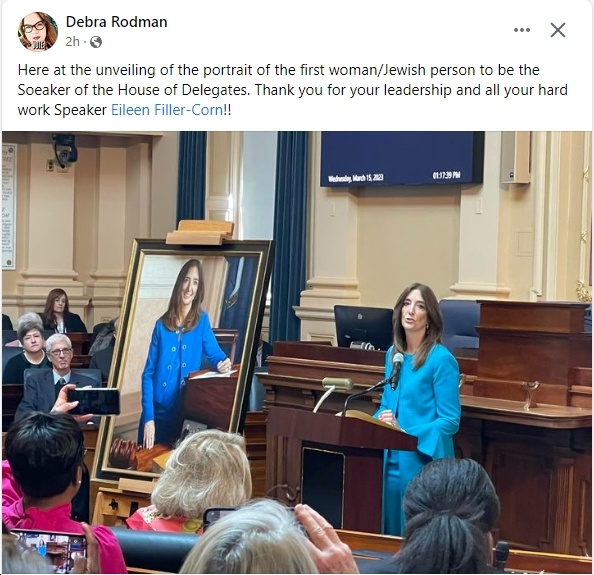 Press release from Del. Filler-Corn's office:
Official Portrait of Former Speaker Eileen Filler-Corn unveiled in Virginia House of Delegates Chamber
Event marks the first time a portrait of a woman will be displayed in the legislature's 404-year history
Richmond – Delegate Eileen Filler-Corn, 56th Speaker of the Virginia House of Delegates, was joined in the House Chamber by over 200 colleagues, friends, and family Wednesday for the unveiling of her official Speaker portrait.

"This portrait represents thousands of women and others who were told they didn't look the part or have the right background, faith, skin color, gender identity or sexual orientation to be where they deserve to be. Today in the Virginia House of Delegates, we say you belong. My portrait might be the first, but I know there will be many more to follow," said Eileen Filler-Corn.

In January 2020, Filler-Corn became the first woman and the first person of Jewish faith to be sworn in as Speaker of the Virginia House of Delegates, which traces its origins back to the House of Burgesses in 1619. During her tenure, the House made record investments in public education and transportation, made communities safer from gun violence, supported working families, expanded reproductive freedom, rooted out discrimination, secured voting rights, protected the environment, kept Virginia the top state for business in the nation, and more.

"I have not known a Speaker in my 40 years in Virginia who has had an impact on the quality of life in the Commonwealth that you have had," said United States Senator Tim Kaine in recorded remarks.

"In so many areas you moved Virginia to a national leader. I thank you for your service, and I know you are not finished with public service in Virginia," added United States Senator Mark R. Warner

Earlier this month, Delegate Filler-Corn announced she would begin a new chapter in her career and not seek re-election to the House of Delegates this year.

Additional speakers included:
Anne Holton, Former First Lady, Secretary of Education, and Interim President of George Mason University
Pamela Northam, Former First Lady and Chair of the Northam Administration's Children's Cabinet
Delegates Delores McQuinn and Jeion Ward who were among the first Black women appointed as committee chairs in the history of the House of Delegates.
Suzette Denslow, who served as the first female Clerk of the House of Delegates.
As well as citizens impacted by legislation passed during Filler-Corn's tenure including 2021 Virginia Teacher of the Year Anthony Swann, child welfare advocate Allison Gilbreath, and gun violence survivor Lisette Johnson.
Internationally acclaimed realist artist Kathy Morris was selected to complete the official portrait that will hang in the House of Delegates chamber for decades to come. Morris's award-winning portraits have been featured in International Artist Magazine, Western Art and Architecture,The Best of Drawing Magazine, Artists Magazine and more. By age three, a series of high fevers had destroyed most of Morris's hearing. She describes her hearing loss as a blessing in disguise that has gifted her with increased visual perception, sensitivity and insights.
As per tradition, the portrait will be displayed to the left of the dais. The chamber currently displays the two most recent Speakers' portraits behind the dais with additional portraits hung along the west wall and outside the entrance to the chamber dating back to Speaker Edmund Pendleton (1721-1803).
See images below. Additional full resolution photos from the ceremony are available here.
Delegate Filler-Corn with her daughter, Alana Corn, who unveiled the portrait on Wednesday
Delegate Eileen Filler-Corn with Delegate Delores McQuinn, former Delegate Roslyn Tyler, and Delegate Jeion Ward (from left) who became the first Black women ever appointed as committee chairs in 2020.
The portrait was displayed on an easel for Wednesday's event. It will be placed on the wall of the House Chamber later this week per tradition.