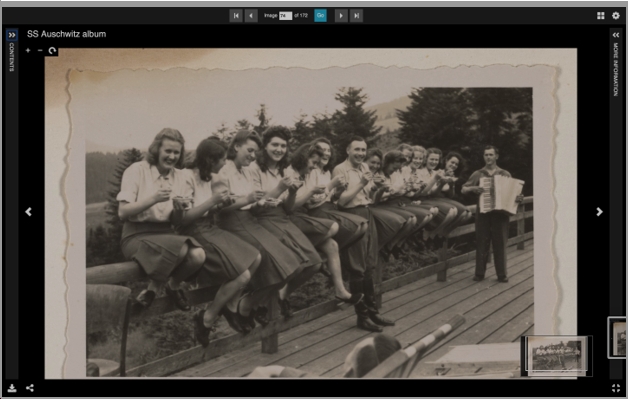 by John F. Seymour, a long-time resident of Arlington, Virginia
"Here There Are Blueberries":  Touched by a glowing review in the Washington Post (the Post's drama critic, Peter Marks, has both a finely-oriented moral compass and a superb eye for theater), my wife and I attended the Shakespeare Theatre Company's recent production of "Here There are Blueberries."  The play — named after the caption to the photo above — revolves around the United States Holocaust Memorial Museum's receipt of an album of photographs depicting life at Auschwitz-Birkenau — the infamous concentration camp in Poland where more than one million Jews and other persecuted minorities were murdered by the Nazis.  Unlike nearly all of the images in the Museum's collections, the photos in the album do not depict victims.  Rather, they show SS officers and their female auxiliaries in private moments— socializing, trimming a Christmas tree, and snacking on blueberries — all while countless victims were killed only steps away.  (In the photo below, an accordionist leads a staff sing-along celebrating the camp's successful gassing of more than 300,000 Hungarian Jews, even as the Russians approached from the East).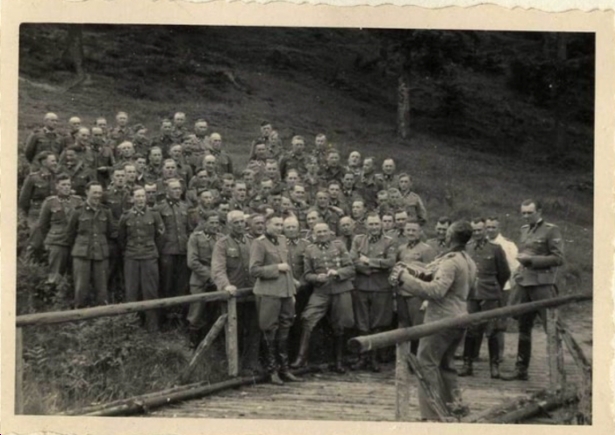 The drama in the play revolves around the Museum staff's meticulous, lengthy, and highly deliberative process to authenticate the photos before their release to the public.
The play is, at bottom, a paean to the truth and those who revere and preserve it.  It celebrates the most unlikely of heroes — the professional archivists, curators, historians and, eventually, documentary playwrights and journalists, whose job it is to excavate historical facts, even those of appalling callousness, brutality, and racial venom, verify their accuracy, and communicate them to an often disbelieving public.
A Rising Tide of Anti-Semitism:   We need such heroes today more than ever.  The Anti-Defamation League (ADL) recently reported an increase of 35% in anti-Semitic incidents in the United States from 2021 to 2022 alone— the highest number of incidents since the ADL began tracking those numbers in 1979.   Like many other states, Virginia too saw an increase in anti-Semitic incidents, with the highest number of such incidents recorded in the most recent reporting year.
Evidence of anti-Semitism is everywhere today, particularly since the rise of the extreme right wing, enabled by Donald Trump's presidency.  This month, the criminal trial of Robert Bowers began.  Bowers is accused of murdering eleven worshippers during a morning prayer service at the Tree of Life Synagogue in Pittsburg in October 2018— the deadliest anti-semitic attack in U.S. history.  During the January 6, 2021 insurrection at the United States Capitol, some rioters displayed Nazi regalia with one rioter even sporting a "Camp Auschwitz" sweatshirt, emblazoned with a skull and bones.  Earlier this year, ex-President Trump demonstrated his inerrant talent for ignoring the lessons of history and normalizing extremism by hosting a dinner with prominent white supremacists and antisemites at his home in Mar-A-Lago.
Virginia is No Stranger to Anti-Semitism:  At the infamous 2017 "Unite the Right" rally in Charlottesville, Virginia, hundreds of Tiki-torch-wielding neo-Nazis and other representatives of America's right-wing marched through Jefferson's university chanting "Jews Will Not Replace Us."  During the past year alone, more than 100 separate towns and cities in Virginia have seen the distribution of anti-Semitic flyers, particularly in northern Virginia.  Yet some local politicians appear to have little appetite to quell anti-Semitic fervor, particularly if it can be harnessed for political advantage.  Indeed, a former Republican Central Committee member was forced to resign following his posting of a quote urging voters to choose a "Christian for their ruler,' during a Fairfax County race where the GOP faced a Democratic Jewish candidate.  And anti-semitic tropes and stereotypes have been prominent features of other Virginia GOP electioneering efforts.
The President's Strategy to Counter Anti-Semitism  Deeply troubled by evidence of the growing rise in anti-Semitism, President Biden released late last month his National Strategy to Counter Anti-Semitism.  The Strategy included a large menu of actions to be taken to combat hate in all its forms, including hatred against Jews, as well as against the LGBTQ and Muslim communities, each of which, the Report emphasized, is "rooted in white supremacy, the greatest threat to the nation today."  Among other efforts to meet the current "moment of escalating hatred," the Strategy urged a more accurate and truthful portrayal of anti-Semitism in the nation's public schools.  Lessons in civics and history should be enhanced, the President noted, to promote a better understanding of anti-Semitism, its roots, its enduring presence in America, its apogee in the Holocaust, and particularly its close kinship with other forms of bigotry and prejudice endemic in America— racism, Islamophobia, homophobia, transphobia, and misogyny.
Anti-Semitism "Lite" in Virginia.  Virginia too has taken steps to better understand and address anti-Semitism, although with considerably less fervor.  The Report of the Youngkin Administration's Anti-Semitism Commission did condemn the rise in anti-Semitism in the Commonwealth, but also took great pains to avoid defining bigotry more generally or to address some of its peculiarly American analogues — Christian nationalism, homophobia, and Islamophobia.  Indeed, the Report directed much of its condemnation at "elite sectors of American society and American colleges and universities" for their questioning of Israel's treatment of Palestinians and opposition to Israel's resettlement policies.  The Report castigated what it called "adherents of the Boycott, Divestment and Sanctions (BDS) hate movement" who advocate for Palestinian rights and who criticize the policies of an increasingly right-wing Israeli government.  While struggling mightily to create a moral equivalence between the actions of neo-Nazis and those of groups urging greater social justice in the Middle East, the narrative's arguments likely convince no-one except the extreme right wing.  For others, the Report simply adds the BDS movement to an already over-crowded assemblage of right-wing boogeymen —  George Soros, "antifa," "grooming" librarians, and the environmental, social, and corporatel governance investing movement.  They all serve as proxies for their chief enemy — the spread of progressive values in a civil society."  The document does serve well as a fixed and fervent "anti-wokeness" manifesto.  It cannot, however, be considered a trustworthy or balanced report on anti-semitism. 
Educational Efforts to Combat Anti-Semitism:  Both the federal and state plans do take pains to emphasize the need for better "anti-Semitism" literacy in public education.  The need for enhanced education in history and civics has been underscored quite dramatically by recent data on students' school performance.  Earlier last month, the federally-administered National Assessment of Educational Progress released test scores showing a marked decline in student knowledge of both history and civics.  With respect to anti-Semitism in particular, the first 50-state survey of Holocaust knowledge among Millennials and Generation Z Americans found, in 2020, that most lacked even the most basic understanding of history.  Nearly two-thirds did not know that 6 million Jews were murdered in the Holocaust and nearly 60% could not identify Auschwitz as a concentration camp.
To better address gaps in historical understanding, and to debunk conspiratorial narratives and misinformation, the federal strategy emphasized the need for accurate, relevant, and accessible resources on anti-Semitism and other forms of bigotry, as well as information informing the reasons for their growth nationally.  Virginia's report, too, recommended methods to increase knowledge of anti-Semitism, particularly in public education.  Although the Youngkin Report recommended adoption of the new proposed standards of learning for anti-Semitism and the Holocaust, it nowhere addressed the politically-motivated and historically illiterate draft SOL standards originally proposed by the Youngkin administration.  Those standards were widely ridiculed by historians because of their ideological bias, whitewashing of history, and de-emphasis of racism, anti-Semitism, and other forms of bigotry.  The Director of the Virginia Holocaust Museum took particular issue with the standards dealing with the Holocaust, finding them "vague, incomplete, and completely lacking."
Conclusion:  The lesson of "Here There Are Blueberries" is that the battle against anti-Semitism is, in no small part, a battle for historical truth.  That battle continues today, with the stakes as high as ever — the survival of democracy and civil society itself.  Powerful forces on the right, continue to oppose educator efforts to craft a more truthful national narrative.  Republican-controlled state legislatures have enacted laws that discourage educators from developing curricula that depict history in all its complexities and prohibit the introduction of diversity, equity, and inclusivity programs in schools.  The project of Christian Nationalism itself targets those who are not white and Christian as lesser Americans and undeserving of the nation's protections.  (The photo below depicts an SS officer lighting a Christmas tree at Auschwitz during the last few months of the war).
As the play illustrates dramatically and as the cautious and painstaking work of the Holocaust Museum staff prove every day, historical research can discover essential, though oftentimes uncomfortable, truths.   The truth at issue here is priceless — an indisputable visual depiction of what can happen in a democratic society when hatred and bigotry go unchecked, and when citizens fail to speak up when their neighbors are victimized.  We owe them both a debt of gratitude.