See below for reactions by Virginia Dems and others to the U.S. House vote – with overwhelming Democratic support – a few minutes ago to avert a disastrous government shutdown.
McClellan Votes to Avoid a Government Shutdown, Protect Virginian Workers

Washington, D.C. – Today, Congresswoman Jennifer McClellan (VA-04) voted in support of H.R. 6363, the Further Continuing Appropriations and Other Extensions Act, 2024, to temporarily fund the federal government and avoid a government shutdown.
"Since the first day of the 118th Congress, House Republicans manufactured crisis after crisis. They brought our nation to the brink of a devastating default, nearly shut down the government, ousted the Speaker and left the House unable to operate for three weeks, and pushed their extreme partisan agenda and poison pill policies," said Congresswoman McClellan. "In September, House Democrats bailed Republicans out and delivered the necessary votes to pass a continuing resolution and avert a devastating shutdown through November 17th. Today, House Democrats again put people over politics and passed this temporary stopgap measure."
H.R. 6363 extends Fiscal Year 2023 funding levels for federal agencies and programs that would otherwise shutdown on November 18th. The following appropriations bills are funded through January 19th, 2024:
Agriculture, Rural Development, Food and Drug Administration, and Related Agencies.
Energy and Water Development.
Military Construction, Veterans Affairs, and Related Agencies.
Transportation, Housing and Urban Development, and Related Agencies.
Funding of the remaining spending bills would be extended through February 2, 2024:
Commerce, Justice, Science, and Related Agencies.
Defense.
Financial Services and General Government.
Homeland Security.
Interior, Environment, and Related Agencies.
Legislative Branch.
State, Foreign Operations, and Related Programs.
The bill also includes temporary extensions for several programs including:
Health care extenders, including Community Health Centers and national health security authorities, through January 19th, 2024.
Farm Bill programs, which are extended through September 30th, 2024.
National Flood Insurance Program, which is extended through February 2nd, 2024.
"I voted for this Continuing Resolution because a government shutdown would be catastrophic for our Commonwealth and country," continued Congresswoman McClellan. "This was a necessary piece of legislation to protect the American people from Republican dysfunction and ensure our government remains open. I will continue to fight back against extreme MAGA Republicans' draconian cuts and harmful policy riders they are trying to force through on must-pass appropriations bills. House Democrats stand ready to pass a responsible budget that fully funds the government and addresses the challenges the American people face. House Republicans should abandon their extreme agenda and work with us to pass the remaining appropriations bills."
The Continuing Resolution passed on a vote of 336 to 95. Read the full text here.
Spanberger Statement on Vote to Keep Government Open, Protect Virginia's Economy
WASHINGTON, D.C. — U.S. Representative Abigail Spanberger today released the following statement after voting with a bipartisan majority of the U.S. House to keep the federal government open and to protect Virginia's economy.
"A government shutdown would devastate so many of the Virginians I represent — like the federal workers who would be furloughed or work without pay, the government contractors who would not see a cent of backpay, and the small business owners who would not get back lost revenue. The impacts would threaten Virginia's economic stability. Our Commonwealth cannot afford a shutdown.
"Virginians and Americans across our country are tired of Congress's inability to fulfill our fundamental responsibilities. Today, I cast my vote to protect our local economy and the livelihoods of so many Virginians. But going forward, the U.S. House Republican majority must work in a bipartisan way to keep our government open, strengthen our economy, and put an end to this Groundhog Day cycle of kicking the can down the road."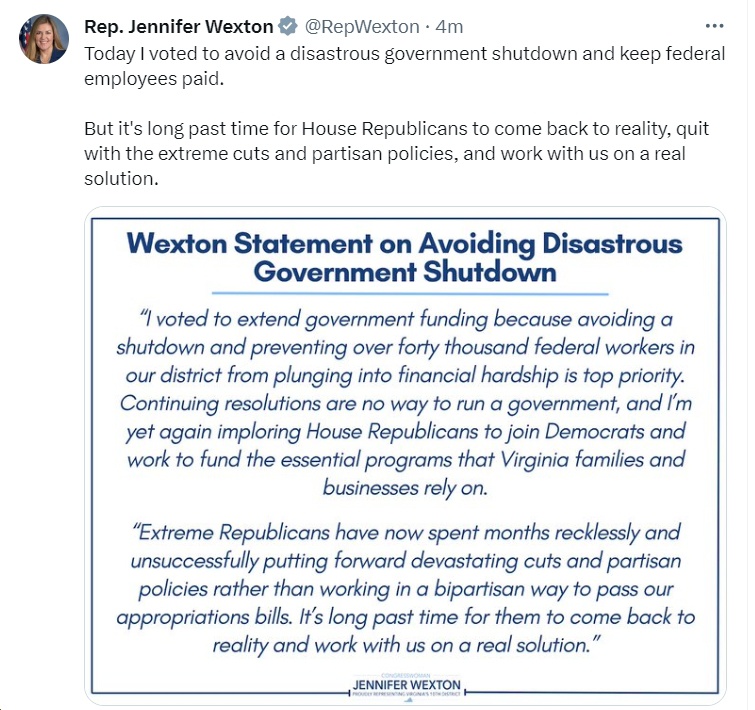 As the mother to two young children in public school, I am appalled by MAGA Republicans' draconian funding cuts for students, teachers, public schools, and mental health/substance abuse resources. I will continue to fight back against their extreme agenda. pic.twitter.com/iJhriJ0DOH

— Congresswoman Jennifer McClellan (@RepMcClellan) November 14, 2023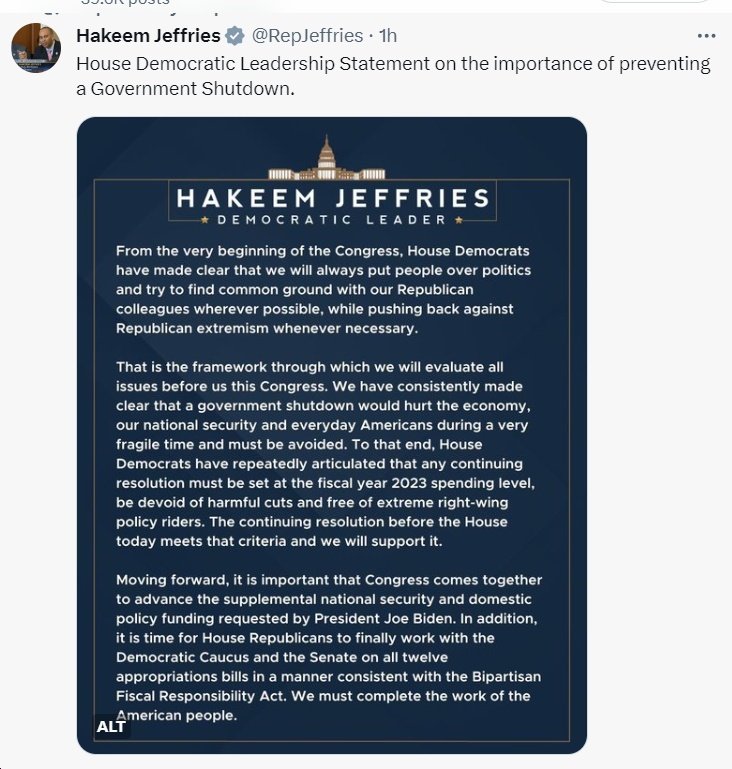 Ranking Member @BobbyScott just took to the floor to speak out against the House GOP's extreme funding bill that would have devastating consequences for students, workers, and families.

📺Watch⤵️ https://t.co/94QpC2aSIH

— Committee on Education & the Workforce Democrats (@EdWorkforceDems) November 14, 2023