First let me just state the obvious: I have had a LOT of "issues" with Virginia State Sen. Chap Petersen over the past few...
Yesterday was another banner day on right-wing talk radio in America (snark). Case in point: former Trump Virginia chair and Virginia right-wing radio host...
The award for the most absurd Virginia-politics-related quote(s) yesterday goes to...drum roll please...State Sen. Chap Petersen (D-Fairfax), who clocks in with this beauty: "I think... Yesterday State Senator
Chap Petersen posted some thoughts on Facebook
about what he called "the latest scandal du jour in the VPAP clips." It was a rather nonchalant introduction to some surprising comments:
I've known Paul Reagan for fifteen years, as an official for Mark Warner, Jim Webb and now Terry McAuliffe. (Back in the 90′s, he also served on the Consumer Protection Commission, where I used to appear as an attorney). I regard him as one of the most honest and reputable people I've met in Virginia. Nothing he said or suggested with Senator Puckett has changed my opinion. I'll leave it at that.
Because, as we all know, people with long and distinguished careers in public service never wreck those careers and self-destruct by breaking the law. No, that
never
happens.
The next "thought" Senator Petersen rolled out was this:
The Puckett investigation is a road to nowhere and we're slowly getting there. While Phil's actions in resigning just before a key vote were wrong (in my humble opinion), that is a matter between him and his friends. It does not involve the U.S. Attorney. This is not "McDonnell Part Deux." There is nothing illegal about resigning from a public office to take a better-paid position, either with the private sector or with state government. If it was, then you could lock up a lot of people in River City right now.
It's true enough that people often leave good jobs for better jobs. Indeed, that used to be the American dream, to build a career by taking a series of increasingly challenging jobs, succeeding in them, and moving on to better compensated opportunities. That's not what Phil Puckett did. Phil Puckett tried to trade control of the Virginia State Senate for not one, but two six figure jobs with the state judiciary and the state tobacco commission--the first for his daughter and the second for himself. There is a strong possibility that this attempted exchange of influence might be a violation of federal public corruption laws. It stretches credulity to suggest that Petersen--by all accounts a talented attorney--does not understand that.
But Petersen did not stop there; he dug deeper: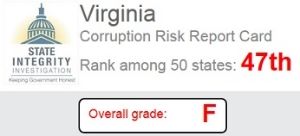 It isn't politicians alone. Commercial media never called out a horribly flawed Governor and Attorney General. Less than two dozen citizens showed up for a public forum on ethics. And the newspaper that hosted that event obscured references to specific instances of malfeasance. Truth is, it's always open season here.
Monday, the outgoing Lieutenant Governor issued a memorandum he penned proposing changes to existing ethics standards. Where was he when it was revealed that his fellow Republican statewide office-holders violated the very standards he proposes? Or anytime during his almost two decades in the Senate chamber? Wednesday members of the House of Delegates offered up what was termed a "sweeping bipartisan ethics reform agreement." The only thing it sweeps is the issue under the carpet. I am ashamed it's called bipartisan. And consistently the media has offered up little in the way of objective or substantive reporting on ethics violations.
Maybe the citizens of Virginia don't care that the state is rated one of the most vulnerable to corruption by the Center for Public Integrity. When the Richmond Times Dispatch held one if its Public Square events last October, it was sparsely attended. When it reported on the discussion, the transcript that publisher Tom Silvestri promised was delivered redacted, removing the most compelling discussion, much of which was about politicians the paper regularly supports.
A couple of things before I continue. No doubt Tom Silvestri would be a super game show host and is certainly an entertaining addition to any cocktail party guest list, but I wouldn't count on his paper or any Media General product for my news. Delegate Jimmie Massie (R-72nd) will come across in what follows as at best naïve and sometimes self-serving, but gives no cause to suspect his personal integrity. At least Delegate Massie puts himself out there and should be applauded for showing up and his openness during this discussion. But there are a number of things you might not know if you rely on the redacted transcript (or "highlights" to use the paper's term), you weren't among the twenty or so at the forum, or you can't find the full video online because the Times Dispatch has made that difficult to search by titling it Public Square 1008 on YouTube. This was Public Square 48. The great endorsement given to DNC committee member hopeful for Virginia Ben Tribbett by Chap Petersen and Leslie Byrne brought up an important phrase, "positive endorsement", that I have been as guilty as anyone else at neglecting. The shame of "negative endorsements" for Ben is that his stellar political record speaks for itself, no negativity need apply. Beyond Ben's political record, though, are the ideas that Ben stands to bring to the DNC and how these can sustain Democratic Party power, and consequently a better America for all Americans, for the foreseeable future.
Blue Virginia's own interview series with Ben revealed some of his ideas about pushing the DNC and the Democratic Party into the 21st Century with confidence and momentum. The first idea surrounded social media and its use to enhance the effective use of the Voter Activation Network. Secondly, Ben is a "grassroots guy" who understands the dynamics, concerns, and wants of the folks who are the backbone of the Democratic Party. You can't run a representative body effectively unless you actually know what those you represent want, duh! Lastly, and following the second point, Ben will bring a democratic sentiment to the DNC. Administrating within a political organization like the DNC is about looking out for those who are governed for and Ben knows this.
In these passionate political times, it's easy to "go negative," even against members of our own party who have served with some distinction.
But guys like Ben who truly care about "the people" and REALLY want to make a difference in for the better are rare, so rare that winning with whatever means necessary seems reasonable.
Ben's political record and compassion speak for themselves, however. When the votes are completely tallied, that should be all that's needed to elect Ben to the DNC.
Even through the GOP's
war on women's rights
in Richmond, a few rays of sunshine are emerging from the smoke:
Today the Virginia House of Delegates unanimously passed Senator Chap Petersen's "Cost Effective" Public Buildings Act (SB160) which requires state agencies to use environmentally-friendly protocols, such as LEED design and recycled materials, in constructing or renovating state buildings.

"This bill is about saving taxpayer money. It does that by using natural light, conserving electricity and water and reusing materials in new construction. Using these techniques, we will save money," [said Petersen.]

SB160 will require new state buildings to achieve standards such as the LEED (Leadership in Energy and Environmental Design) 'Green' and 'Silver' ratings. LEED buildings use modern technology to recycle materials, conserve energy and water, and lower operational costs. According to Petersen, LEED design techniques increase construction costs by 1-3%, but deliver immediate savings through cheaper utility costs.
Congratulations to Sen. Petersen for sticking with this effort through five frustrating years of inaction in Richmond, and congratulations to Virginia taxpayers, who (assuming Gov. McDonnell signs it) will start saving money soon.
Well, that didn't take long for Virginia Senate Republicans to start abusing their newfound power, going for the
power grab
, acting in an arrogant/high-handed manner, etc. Kicking the superbly qualified Chap Petersen off the Courts of Justice Committee simply epitomizes what they're doing here. I sure hope Virginia voters are paying attention!
Senate Republicans Remove Petersen from Courts of Justice Committee

RICHMOND, VA - Today, in a widely anticipated move, the Republican leadership of the Virginia Senate seized majority control of the chamber with the tie-breaking vote of Lt. Governor Bill Bolling.

In consolidating power, the Republicans removed Senator Chap Petersen (D-Fairfax) from the Courts of Justice committee, where he sat on the Civil Laws subcommittee. Senators are typically assigned to committees based on experience and interests.

Senator Petersen has practiced law for 18 years and is an equity partner in the firm of Surovell, Petersen, Isaacs & Levy, PLC. He was recently commended as one of the top 30 Virginia "Leaders of the Law" by Virginia Lawyers Weekly. He has served on the Courts of Justice committee since the 2010 legislative session.

"Obviously I would have liked to stay on the Courts of Justice committee, where my experience and legal analysis could be best utilized. I will continue my efforts to represent the people of Virginia in my other committee assignments."

The Senate Courts committee is now composed of eight Republicans and seven Democrats.

Senator J. Chapman "Chap" Petersen (www.FairfaxSenator.com) represents Virginia's 34th Senate district, located in Fairfax County. The district includes the City of Fairfax, the Town of Vienna, portions of Fairfax, Oakton, Dunn Loring, and portions of Centerville. Currently serving his second term in the Virginia Senate, Senator Petersen has previously served as Delegate and City Councilman for the City of Fairfax. Crossposted at ProgressVA.
Opposition to a blatantly anti-labor bill is beginning to build in Virginia, and State Senators Dave Marsden and Chap Petersen and Delegate David Englin are among those voicing criticism. House Bill No. 2, introduced by Delegate Bob Marshall, would prohibit Virginia from providing funding for Phase 2 of the Dulles Corridor Metro Project if it is subject to a project labor agreement (PLA).
PLAs don't actually require projects to only hire union workers--they are a tool for taxpayer accountability. PLAs require the use of trained workers and safety standards for contractors, and worked great on Phase 1 of the project, as we pointed out previously. State Senator Dave Marsden said in a statement this week,
"What concerns me is that this bill appears to stem from an anti-union mindset that places ideology over public good and job creation. It could lead to experienced workers who performed well on Phase I being excluded from Phase II, and create the need for the expense of training new workers. Just as importantly, the PLA will create local jobs for a largely local workforce... A PLA is not always necessary on public projects, but I would ask my good friend Delegate Marshall, 'what problem are you trying to solve with this legislation?' It seems that continuing the PLA during Phase II is in keeping with good public policy. Let's not remove what has proven to be successful tool from consideration."
(More below the fold.) What do Republicans have against clean water, anyway? Do they all have something against it? Sometimes you'd think so, given the ongoing anti-environmental assault by teahadists in Congress. Closer to home, check out the following press release from the
Chap Petersen for Senate reelection campaign
for yet another example of this phenomenon. In this case, we have another apparently fanatic, anti-environment, extreme Teapublican candidate opposing a crucial environmental law, one that passed the Virginia Senate AND House unanimously (and was signed by Gov. McDonnell), that was
totally
non-controversial, and that clearly needed. Why is she opposing it? Because she claims it "was using environmental laws to shut down a local business." This is, frankly, nuts. By Culipher's "reasoning" (to use the word VERY loosely), if a corporation wanted to dump nuclear waste and coal sludge in the middle of your neighborhood, any effort to oppose that would be going against business and should be opposed. I mean, seriously, where do Republicans FIND these crazy candidates?!? Anyway, I'm just glad that Chap Petersen's in the State Senate, and that he's likely to be reelected (overwhelmingly, if his opponent is really this extreme) in a few weeks. Go Chap!
A Clear Choice: Chap Petersen for Fairfax

Culipher attacks Petersen for standing up to the owners of the Pickett Road Tank Farm, saying, "It's not the role of the legislature" to protect our communities from a known environmental polluter.

Vienna, VA- At Thursday's debate at American Legion Post 177 in the Town of Vienna, Republican challenger Gerarda Culipher criticized Senator Chap Petersen (D-Fairfax) for bringing legislation to clean up the Pickett Road Tank Farm, which has been a continuing source of petroleum spills and water contamination for the past twenty years.

"I'm proud to have stood up to the owners of the Pickett Road Tank Farm for their disregard for our families, our waterways and Fairfax, because legislation that I sponsored they will have to come up to current safety standards or shut down" said Senator Petersen.