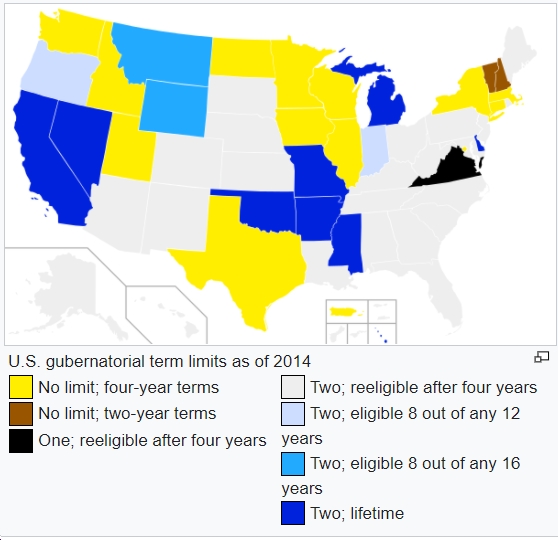 This past Friday night, while the vast majority of Virginians were presumably not paying rapt attention, the Virginia State Senate was busy debating some very important issues impacting our Commonwealth. One of those, as you can see in the following video, was Sen. Adam Ebbin's SJ271, a constitutional amendment which would do the following:
"Permits a Governor elected in 2025 and thereafter to succeed himself in office. The amendment allows two four-year terms (either in succession or not in succession) but prohibits election to a third term. Service for more than two years of a partial term counts as service for one term."
As Sen. Ebbin explains, Virginia's "a bit of an oddity being the only state without a two-term governor." Reasons to change this include: 1) "continuity" ("allows stability and continuity among cabinets and other agencies"); 2) "accountability" ("we should rehire governors who are doing a good job and who keep their promises and dismiss those who are not after four years…the Virginia government employees more people than many Fortune 500 companies, but we would never expect a Microsoft or a Disney to fire their CEO every four years without a performance evaluation"); 3) "budgets" (a governor "only has to live with one budget they've prepared themselves"). Bottom line: it's "time that we move into the 21st century." Makes sense, right?
As for the counterarguments, they basically were that: 1) we supposedly (according to Sen. David Suetterlein) already have continuity in our cabinet offices, even though that's clearly – as Sen. Ebbin points out – the "exception rather than the rule"; 2) the governor supposedly has "immense power"/"extraordinary powers"/"one of the most powerful governors in ALL of America" and we shouldn't cede more power to him or her in absolute terms or vis-a-vis the legislature (according to Sen. David Suetterlein, Sen. Chap Petersen, Sen. Ryan McDougle, Sen. Tommy Norment); 3) that our deliberations in Virginia supposedly are "superior to the other 49 states" (that asinine "argument" – in air quotes – was made by Sen. Chap Petersen, who is a true believer in the inherent superiority of Virginia…lol); 3) it ain't broke so don't fix it (Sen. Ryan McDougle).
So…are any of these counterarguments true? See below the video for several graphics from this paper by Thad L. Beyle, who was a distinguished professor of Political Science at the University of North Carolina at Chapel Hill from 1967 to 2002, and who was an expert who wrote numerous papers and books on the powers of U.S. governors. According to Prof. Beyle's research, as you can see, the power of Virginia's governor relative to the other 49 states is "moderate" – basically right in the middle.
And yet, somehow or other, those 49 states not named "Virginia" manage to survive with governors who can run for reelection. In other words, unless you actually believe that Virginia is inherently superior relative to every other state in the country, or that somehow we have a finely tuned balance in Virginia that would be upended if we did what every other state did, then the arguments against letting Virginia's governor run for reelection are clearly specious. What's actually going on, as far as I can tell, is that folks like Tommy Norment and Chap Petersen have convinced themselves of the inherent superiority of Virginia's system of government, and probably of themselves personally, and don't want to risk diminishing their greatness. Other than that, it's really hard to think of any serious, fact-based reason why our state can't have a governor run for reelection, and the fact that the State Senate rejected Sen. Ebbin's amendment really says more about them and their highly muddled thinking on this issue than anything else…