See below for video of today's "Ask the Governor" appearance by Gov. Northam on WTOP, as well as my comments/"live blog." Also note that...
by Lowell Here are a few national and Virginia news headlines, political and otherwise, for Saturday, September 9. 'Heed the warnings': Officials sound alarm as...
by Lowell Here are a few national and Virginia news headlines, political and otherwise, for Friday, September 9. Category 5 Irma stays on perilous path...
by Lowell Here are a few national and Virginia news headlines, political and otherwise, for Friday, October 7. Also, check out Republican political strategist and...
Here are a few Virginia news headlines, meteorological, political and otherwise, for Friday, August 26. For a discussion of Hurricane Irene by the National Weather Service,
click here
. For the latest local forecast,
click here
. Good luck this weekend; stay safe and dry!
*Hampton Roads preparing for the worst in the face of Irene's fury
*McDonnell warns Virginians to prepare for 'very dangerous' hurricane
*Irene posing serious threat to Eastern Virginia region
*With Hurricane Bearing Down Cantor Spox Says Disaster Relief Should Be Paid For With Spending Cuts (Please feel free to discuss in the comments section the ways in which you despise Eric Can'tor. Your challenge is to not use profanity. Good luck! lol)
*Dominion: System is better than it was during Isabel
*Elite firefighters awed by potency of Dismal Swamp wildfire (presumably, Irene will finally put an end to this fire?)
*Va. officials: Large-scale, coastal evacuation not warranted
* UPDATE: Irene weakens slightly but continues dangerous path
*Climate Science: The Mann Act (even the Republican-friendly Richmond Times-Dispatch editorial board says, "At this point, the decent thing for Virginia Attorney General Ken Cuccinelli to do would be to drop his own inquiry, apologize to Mann and then apologize to the taxpayers.")
*Virginia colleges close down, urge evacuations
*Martin Luther King Jr. Memorial dedication postponed due to hurricane
*Va. to release draft abortion rules
*Fairfax County School Board election uniquely partisan
*Jamie Radtke feuds with conservative blogger
*Virginia Tea Party candidate asks conservative blogger to apologize
*U-Va. turns over documents in global warming case (this entire episode has been a disgrace and an embarrassment; in fact, the people who should be investigated are the professional climate science deniers, most of whom are bought and paid for by the fossil fuel industry)
*In Fairfax, Cook, Oleszek camps agree to debates
*Sen. Warner visits firm expanding in Southside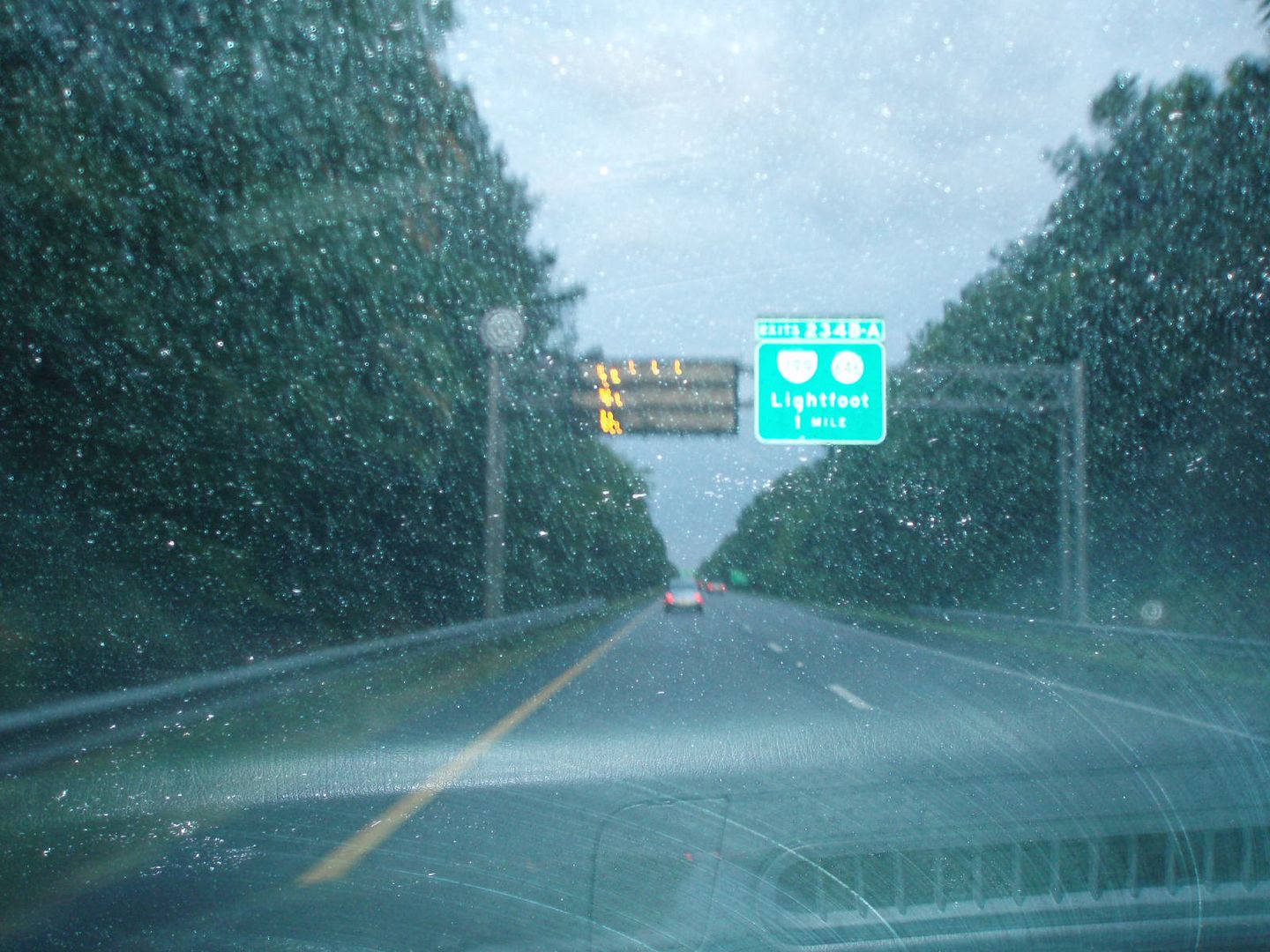 The VDOT emergency information system was ineffective and inoperable in Hampton Roads during a torrential downpour yesterday. The Highway Advisory Radio transmissions were overpowered by the storm's electrical discharges and the electronic variable message signs displayed random lights. Note to Republican gubernatorial pretenders: those signs are a constant McAuliffe reminder.
This should concern Hampton Roads evacuation planners: the chaos of a more chronic weather event such as a hurricane will not be mediated by the VDOT system. A two hour storm rendered it ineffective. The low power transmitters used by VDOT are simply insufficient (actually, even during "good" weather). Yesterday, the transmissions were completely overwhelmed by the atmospheric conditions. And the signs...well you can see how helpful. This one is near Williamsburg at the end of the storm, but was typical of the entire system before, during and after. The only thing missing were HOV reversible control and exit ramp gates raising and lowering on their own.
But I understand. We probably need to sell off the ABC Stores before we can fix this.