Good to see, especially given the Trump administration's assault on the environment. I'd just point out - broken record alert! - that we also...
You might have missed it, because it happened late last night (when nobody was watching, of course!), but this horrible amendment by Rep. Bob...
Terry McAuliffe still has a couple more weeks to go until he starts running for president completes his term-limited four years as governor of...
by Glen Besa, immediate past director of the Sierra Club's Virginia chapter I'm voting for Ralph Northam for a lot of reasons but not for...
Good stuff by Del. Mike Mullin (D-HD93, Hampton Roads area) as Donald Trump and his merry band of anti-environment vandals launch their attacks on...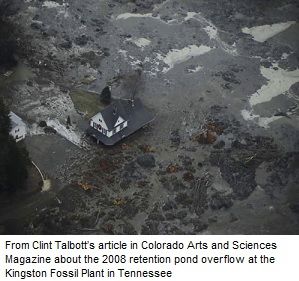 Chesapeake is concerned. The City Manager indicates that
this issue rises from the Dan River spill last February
and the city's action to protect the Elizabeth River is not directed at Dominion. But there's history there and Dominion has provided no reason to trust its motives.
This isn't just Chesapeake's concern. The Elizabeth is really only a tidal estuary that runs to the mouth of the James River on the way to the Chesapeake Bay through Portsmouth and Norfolk. It is about six miles long. The Dan River spill created a 70 mile coating of toxic sludge. So this should have the attention of Virginia Beach and the Eastern Shore too. But Chesapeake is center stage because it already knows how difficult it is to force Dominion Power to take responsibility for its mess.
Battlefield Golf Club was built using fly ash. Something the coal power industry has been advertising as a "good thing" in an attempt to rid itself of this pesky poisonous residue of energy production. Maybe if they can just spread all of it thin enough over hill and dale, insert it into concrete, and sweep it into wastewater systems no one will notice the damage. The proper cost of disposal has never been calculated into the cost of energy produced from coal. War on coal? How about coal's war on the planet?
Now almost five years into litigation over the damage caused during the Battlefield Golf Club construction, only one thing is clear: once any area is contaminated, you have to wait for a proper class to fall victim to the damage before anything can be recovered. That is essentially what is going on with the lawsuits over the golf course. For now the damage has been "limited" to the ground water under the golf course. And since the local residents have been connected to city water on Dominion's dime, the judge has basically said that they have not been damaged. The Environmental Protection Agency's findings of that limited damage have actually helped the defendants' case(s). Residents will have to wait for cancer, birth defects, or however this eventually manifests to demonstrate they have been harmed.
Every nation has and needs a natural symbol or symbols to represent its vibrancy, its past, its present, and its future, and its ties to the land upon which it has built its civilization. On the Atlantic Coast of the United States, the Chesapeake Bay is undoubtedly one of those symbols. Once a point of social and communal life for a number of Native American tribes, the Chesapeake Bay became a point of arrival and commerce for the newly arriving and established colonists. In other words, the Chesapeake Bay is a natural land mark that tells a story of our country's past. But it also tells a story of our country's future.
And if the health of the Chesapeake Bay is any indication of where the United States is headed, our future won't be a very clean one and, consequently, one worth striving for. A new technical report by the Environmental Protection Agency goes beyond the TMDL discussions and research and explores the toxic contaminants that are present in the Bay, and the results aren't savory.
Some of the contaminants that are "widespread in the Chesapeake Bay" include the following: polychlorinated biphenyls (PCBs); polycyclic aromatic hydrocarbons (PAHs); mercury; and pesticides. Other toxics that were found in some areas and not others include the following: dioxins; petroleum hydrocarbons; chlorinated insecticides; aluminum; and lead.
Gov. Bob McDonnell announced on Friday that "significant reductions" of phosphorous and nitrogen stemming from wastewater treatment plants has put Virginia in line to reach pollution reduction goals towards cleaning the Chesapeake Bay.
According to Virginia's secretary of natural resources, Doug Domenech, progress towards cleaning the Chesapeake Bay "clearly shows that a restored bay is possible." How Domenech defines a "restored" Chesapeake Bay remained unclear. Restored to what?
The Chesapeake Bay Foundation, one the leading nongovernmental groups pressuring Virginia's government to clean the bay, praised McDonnell's "recognition of the importance of a healthy and productive Chesapeake Bay."
Despite the progress that has been made so far, though, the University of Maryland's Center for Environmental Science gave the bay a D+ on a yearly report card issued in 2011. Thus, the Chesapeake Bay is clearly a ways away from the level of clean that I have in mind.
It should also be remembered that the McDonnell administration seemed reluctant to commit to the Chesapeake Bay clean up goals set forth by the Environmental Protection Agency (EPA), goals which McDonnell is now boasting about having met.
Virginia took its next step to clean up the Chesapeake Bay on Friday when it submitted its revised cleanup plan to the U.S. Environmental Protection Agency (EPA).
The revised plan seeks to decrease runoff pollution from land during rainfall that runs out of sewage plants or washes off farm fields, just to name two point sources of pollution.
According to Ann Jennings, Virginia director of the Chesapeake Bay Foundation (CBF), the plan needs more specifics that are supported at the state level.
The lack of specifics isn't surprising given the McDonnell administration's antagonistic relationship to the EPA regarding the Chesapeake Bay cleanup plan in particular.
In a more general sense, the lack of concrete goals and clear state-level support for environmental projects is a mainstay of Virginia's current Republican body of politicians.
Nevertheless, understanding the importance of environmental conservation and the political benefits that accompany it, Republican political figures in Virginia have paid lip service to the idea of conservation while avoiding any substantive moves to promote environmental conservation in a sustainable way.
That is, Republican politicians in Virginia like Gov. McDonnell have attempted to score political points for promoting green policies that are less than certain in their goals and long-term financial support.
It is supremely unfortunate that such a clear cut issue like the cleanup of the Chesapeake Bay has been bogged down by the politics of our day (and many days before!).
Virginians must therefore keep pushing to set a precedent in Virginia: conservation of our historic sites and places will not be sacrificed to parochial political considerations either now or in the future. It's time for Virginia's leaders to finally do the right thing and restore the bay.
With so much on the line for human and environmental health during this year's session of the VA General Assembly, Conservation Lobby Day comes as a much needed momentum booster to implement an agenda based upon reason and environmental health.
Conservation Lobby Day kicks off tomorrow at 9AM at Richmond Center Stage (600 E. Grace St.) and at 10AM at the Virginia General Assembly Building on 910 Capitol Square. The purpose of Conservation Lobby Day is to show your elected representatives as well as Virginia's lobbyists that you support environmental protection.
Even though Gov. McDonnell has signaled a call to continue the ban on uranium mining in Virginia in 2012, it seems clear that this is a political tactic drawn out by the McDonnell administration and Virginia Uranium Inc. to mollify the opposition and take away from the powerful arguments of those opposed to the unacceptably risky practice of uranium mining and milling.
The Chesapeake Bay requires appropriate funding to successfully complete Virginia's latest plans to clean the bay and its tributaries. One of the highest priorities will be sustaining the share of state surplus deposited into the Water Quality Improvement Fund.
Whatever issue you choose to come out and show your support for, make sure you come out! Our health and the future of our environment in VA depend on your active participation!